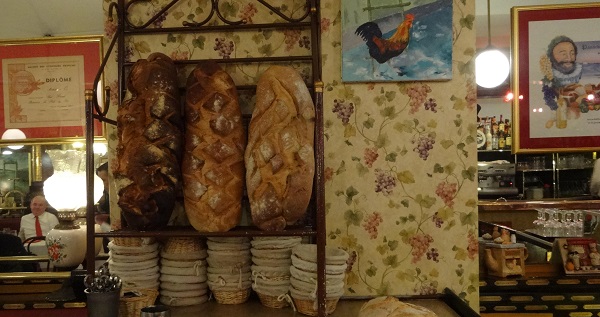 It's 2am on a Tuesday night and I'm enjoying a bowl of French onion soup at La Poule au Pot in the Halles quarter in central Paris. What may sound like an unreasonable hour to be out dining on a weekday is in fact the perfect time to get to know one of the most esteemed traditional bistros and most venerable bistro owners in the capital.
To eat late is easy in Paris, and to eat well is, too. But too eat late and well is rare. And to do so in the presence of one of Paris's most esteemed purveyors of traditional bistro fare is a privilege.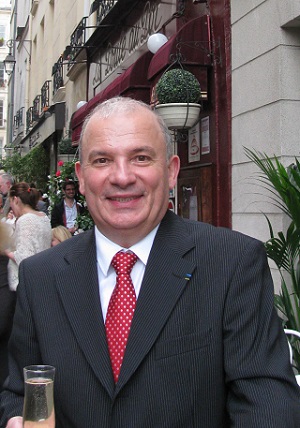 I'm sitting with Paul Racat, owner of La Poule au Pot since 1974. Our soupe gratinée may seem simple enough but I know of no better setting in which enjoy in a single bowl all of the basic French food groups: onions, cheese, bread, chicken bouillon and white wine. Furthermore, when served at La Poule au Pot one can actually taste the history: the history of of the old central food market, dubbed "the belly of Paris" by Emile Zola; the history of this bistro whose décor has scarcely change since 1935, and, while classic French songs of the 1950s play softly in the background, the history of Paul Racat's restaurant as a staple of late-night sustenance for greater and lesser names of fashion, film and pop music since the 1970s. I add to that my own personal history since I have been coming to La Poule au Pot for a late-night fix of onion soup for over 25 years.
As the waiter clears away our empty bowls, Racat brings out guest books containing the signatures, comments and drawings of some of the hundreds of familiar names and faces that have dined here: musicians, actors, comedians, designer, models, architects, chefs, models, and others that Racat collectively refers to them as "les artistes."
La Poule au Pot has been known to have a party atmosphere in the middle of the night—as when some of the Rolling Stones first came after a recording session in Montmartre in the mid-80s or when Michel Petrucciani, a well-known French jazz pianist who passed away in 1999, stood on a banquette and tell raunchy jokes—but this was never a place to see and be seen, rather a place to enjoy the classics of hearty fresh bistro fare amiably served at any time of night. One is far more likely to see couples or friends in discreet conversation, as tonight, whether they're artistes or not. And it isn't unusual to see someone dining alone after midnight. Racat recalls Bruce Springsteen sitting quietly in a corner in the early '80s, writing, perhaps lyrics to a song.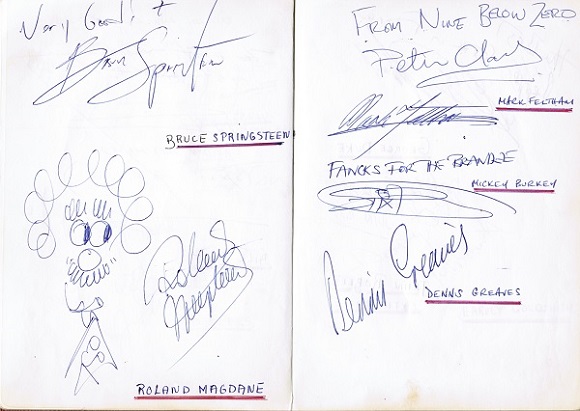 Guardian of fresh traditional bistro fare
"When I started out I imagined developing four or five restaurants, but I ended up staying with one for my entire career," says Racat.
Not only has he remained devoted to his first and only restaurant, but to the menu of traditional bistro fare that he opened it with: escargots, soupe gratinée, os à moelle, fried camembert, chicken and rice with a cream sauce, steak tartare, poule au pot Henri IV (the restaurant's namesake dish of long-simmered chicken and vegetables in broth), veal kidneys, salmon, lamb, tarte tatin, crème brulée, profiteroles, etc..
His dedication to preparing quality versions of such traditional dishes has made Racat one of the capital's guardians of such cuisine. He is the Paris representative of the fraternal gastronomic order La Marmite d'Or, which honors the preservation of traditional cuisine and products. He is also a member of the Prosper Montagné Gastronomic Club, named for the renowned chef and author (notably of Larousse Gastronomique, an encyclopedia of French gastronomy) of the first half of the 20th century. Racat often repeats Montagné's motto "On ne fait du bon qu'avec du très bon"—You can only make something good from something very good).
Paul Bocuse, Joel Robuchon, Guy Savoy, and other chefs known for their high gastronomy have signed Racat's guest book. And he has been honored by the French State with Knighthood in the Order of Agricultural Merit and in the National Order of Merit. Can the Legion of Honor be far behind?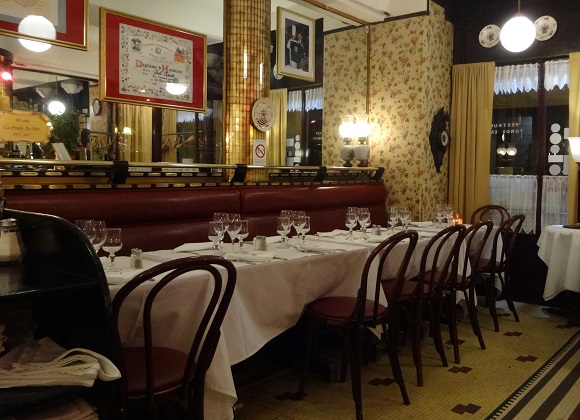 Attracting show biz folk
Racat grew up in the Borbonnais area of Allier (Auvergne) and studied at the Beaux-Arts school in Moulins. After the premature death of his father there was no longer sufficient family funds for him to stay in a school leading to an uncertain future, he says, so he switched to a hotel-restaurant school with the idea of working as a chef. Cooking had been a passion since childhood. At 18 he was hired for his first kitchen job in Paris at the gastronomic restaurant Prunier. Brief stints followed at a series of stellar restaurants—Tour d'Argent and Plaza Athenée in Paris, Trianon Palace in Versailles—along with a gig in England preparing a hunting meal for the royal family.
In addition to gaining culinary experience during those six years, Racat says that he also learned "how poorly waiters and kitchen staff were treated by chefs and bosses at the time." Together those valuable lessons led him at age 24 to want to strike out on his own.
"A partner and I were looking for a business and we came upon this one. A business at Les Halles may have been worth more than one on the Champs-Elysées during the time of the market, but with the market gone [Paris's central food market moved to Rungis is 1969] it wasn't worth much at all."
Racat and his business partner bought La Poule au Pot in 1974. Racat created the menu and ran the kitchen. His partner oversaw the dining room. Several years later their teamwork turned wobbly, so Racat bought him out. Racat then hired a chef and began working as the front man. He would eventually acquire the property as well.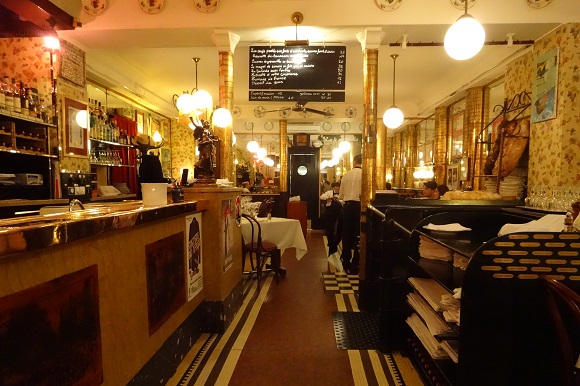 The décor of 1935
Racat and his partner were only the second owners of La Poule au Pot. They purchased the business from its original owners, the Penigueys, a couple who created the restaurant in 1935 and had scarcely changed the décor over the next 40 years. After her husband passed away, Suzanne Peniguey placed the restaurant under management, but, says Racat, the business turned sour, so at age 82 she was forced to take it back. Too old to operate it herself she decided to sell.
"She asked me not to change the décor until she died," says Racat, "and I promised that I wouldn't."
His promise has held long beyond that. Peniguey passed away at the age of 98, yet the original décor still remains largely intact. Over the years Racat has changed some of the wallpaper, updated the overhead lighting and added some photographs and paintings, including a naïve painting of the front of the restaurant painted that he painted himself. Nevertheless, with its mirrored walls, copper bar counter, deep red banquettes, mosaic floor tiles, gold glass tiles around columns and various decorative elements passed on from the Penigueys, the bistro spirit of pre-war Les Halles remains in the décor as it does in the cuisine. The Penigueys' cash register is still there, too, though no longer used.
La Poule au Pot might best be considered a luxury bistro. But the luxury here is in no way association with pretention or snobbery. What is luxurious is instead Racat's insistence on simplicity, tradition, quality, kindness and the possibility to linger through the night. A 3-course meal runs 50-60€ without wine. Yet one might simply come for an after-midnight bowl of onion soup and a glass of white wine, before being tempted by a blueberry tart or a tarte tatin.
Hundreds of plaques of the names of celebrities
Racat and his partner didn't set out to create a venue for celebrities, but thanks to friends of the partner and their decision to keep the restaurant open through the night, La Poule au Pot attracted people from show biz early on.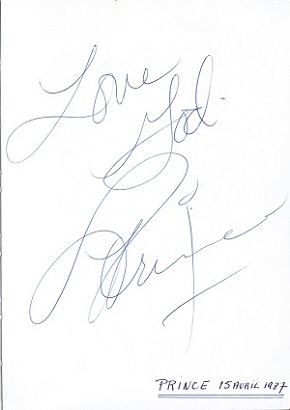 Typically it's the record or production company that calls to say that the artist is coming. They come after their show accompanied by musicians, producers, friends or others. Sometimes a limousine pulls up, as when a little fellow arrived with a tall and beautiful blond on his arm and two hefty bodyguards close behind. "Love God. Prince," the fellow signed in the guest book.
Musicians and actors still come, but gone are the days when there would be a haze of illicit smoke in the street. "The 1970s and 1980s were what they were," Racat says, "but I never tolerated drugs inside the restaurant."
Among Racat's additions to the décor are the hundreds of little plaques that border the banquettes and side panels indicating the names of artists that have signed the guest books. It's now the artists who ask for a plaque with their name to be placed here, he says.
La Poule au Pot has three categories of guest book: one for artists, one for politicians, one for everyone else. But only the artists have the right to a plaque. "Artists remain," he says, "politicians just pass through." One of the plaques toward the back bears his own name.
You may be disappointed coming to La Poule au Pot solely for the purpose of celebrity spotting, particularly if arriving early in the evening. Nevertheless, the banquette you slide into may have once been occupied by members of The Rolling Stones, The Police, Santana, Motorhead, Simply Red, INXS, Status Quo and other groups; Cliff Richard, Donovan, Marianne Faithfull, Alice Cooper, Mark Knopfler, Dave Davies, Joan Baez, Chrissie Hynde, Christopher Cross, Bruce Springsteen, Prince, Patti Smith; Frank Sinatra, Sigourney Weaver, Bill Murray, Dustin Hoffman, Robin Williams, Jeanne Moreau, Miou-Miou; Jean-Paul Gaultier, Christian Lacroix, Pierre Cardin, Jean Nouvel, Paul Bocuse, Joel Robuchon, Guy Savoy and many more French and international celebrities, architects, chefs and fashion folk. Photocopies of choice pages of the guest books are available for patrons to examine upon request.
La Poule au Pot, 3am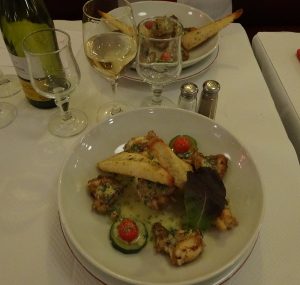 The stars aren't out much tonight, or at least not the recognizable ones. A waiter whispers to us that the man at the window table has introduced himself as an Israeli musician. Racat points out writer across the room.
The pace of a meals slows as the night unfolds. Diners lingers in the knowledge that waiters won't be piling chairs up around them. The wait staff has a gracious deadpan approach. They have a tendency to feign surprise that one would ever want the pay the bill and call it a night with so much of the night ahead.
At 3am Racat suggests that we have frog legs. They arrive, sautéed in a light flour batter with garlic and parsley. Though several decades removed from operating the ovens at La Poule au Pot, Racat still tastes and, when necessary, "corrects" dishes. He nods in approval of the frog legs.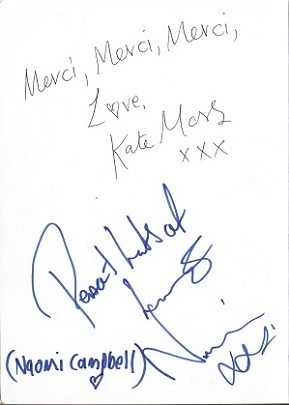 A woman now enters and comes over to our table to greet Racat. She has high fashion written all over her, from couture hat to elegant shoe. A former model, he tells me. She lives in the area and occasionally orders something to go… at 3:30am.
I mention seeing that Kate Moss and Naomi Campbell once signed his guest book after dining here together. What could they have possibly eaten here in this home of hearty traditions?
"Normal," he says, "They ate normally."
Looking at the decades of guest books, it appears that the heyday of international headliners has slowed since the turn of the century, though without disappearing altogether.
"It's now the children of artists that come," says Racat.
Some time ago, Thomas Bangalter, one half of the helmet-wearing duo Daft Punk, arrived with a friend one evening. Though unrecognizable to his fans, Racat immediately knew who he was since Bangalter had been coming here since he was a child, when he came with his father, a music producer. It was Bangalter's dining companion that evening that Racat had never met until Bangalter introduced him to his friend Kanye West. "To La Poule au Pot where I've come with so much pleasure since childhood!," Bangalter wrote in the guest book. "Thank you for all these meals and for all the evenings I've spent here!"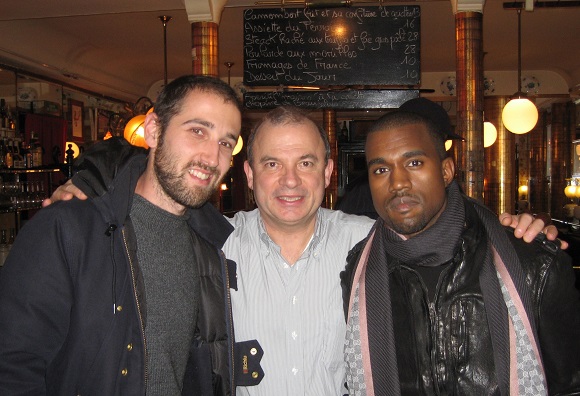 Thumbing the nose at passing time
In 2012 Racat was awarded the Vermeil Medal of the City of Paris for his contribution to gastronomy in the capital. In accepting the medal he said, "La Poule au Pot thumbs its nose at passing time."
Yet time has passed, and at 65 years old Racat, though he looks young enough to have many years ahead of him at the restaurant's helm, says that he'll willingly retire when the right buyer came along. "Operating a restaurant takes its toll and operating an all-night restaurant even more so," he says.
His wife, Pascale, worked with him in the 1980s, but working nights together was untenable once they had children. They have two sons, born in 1985 and 1989. "Both are gastronomes, but neither is interested in taking over the restaurant," he says.
Perhaps some famous chef or other entrepreneur or a well-financed group will purchase the place, but it's unlikely that the next owner will maintain the quartet of qualities that make La Poule au Pot the institution that it is today: the 1935 décor, the fresh traditional bistro fare, the night-only hours and, perhaps most important of all, the all-seeing owner on the premises. At least one or two of that quartet will disappear in the name of profitability. The time to spend a few hours at La Poule au Pot is therefore now, while Racat is still on duty.
La Poule au Pot's historical counterpart in the Halles quarter is Le Pied de Cochon, the brasserie on the opposite site of the park, by Saint Eustache Church. Opened in 1947, it, too, is an all-night institution. But whereas La Poule au Pot's authenticity comes from the dedication, presence and character of its owner, Le Pied de Cochon, like the vast majority of the historical brasseries of Paris, was long ago gobbled up by a large group. (It currently belongs to the Bertrand Group.)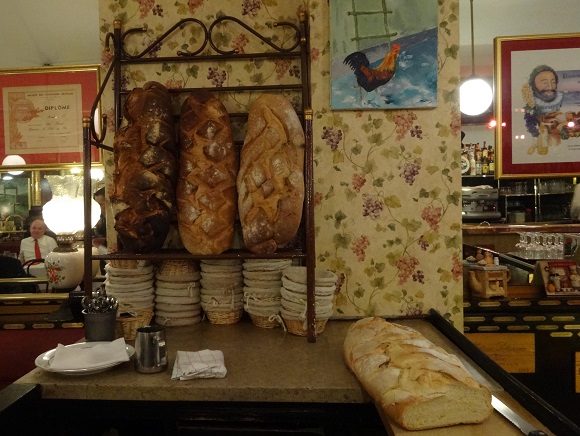 La Poule au Pot, 4am
At 4am two men and a woman arrive. One of the men, apparently a regular, says that they've just finished a gig at a club in the 6th arrondissement and asks if it isn't too late to eat.
"Certainly not," says Racat, and he nods to a waiter to seat them.
A long discussion follows as to what they might like to eat. The waiter goes over the entire menu. When they finally choose it's clear that these three aren't looking for a late-night snack. They've come to dine.
I leave at 4:30am as the waiters deliver a steaming vessel of poule au pot and other dishes to their table.
"Looks like I'll be staying a little longer," says Racat.
La Poule au Pot
9 Rue Vauvilliers, 75001 Paris
01 42 36 32 96
Open 7pm-5pm except Monday night.
© 2017, Gary Lee Kraut
An earlier version of this article first appeared in The Connexion.