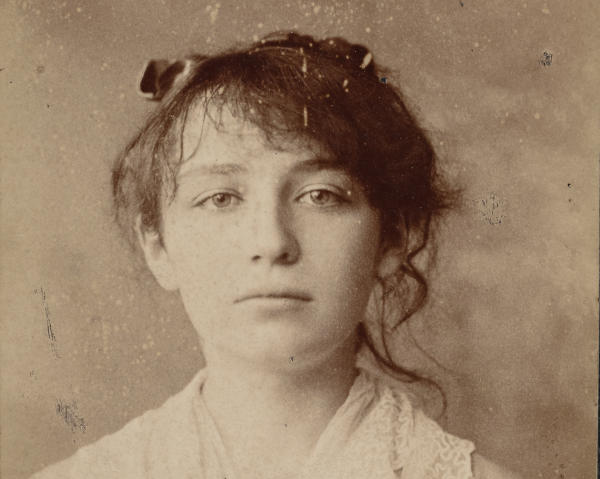 Portrait of Camille Claudel by César, circa 1884 © Musée Rodin, Paris
The opening this year of the Camille Claudel Museum in Nogent sur Seine, 65 miles southeast of Paris, not only brings the sculptor out of the shadows of her teacher, lover and nemesis Auguste Rodin, it also shines light on Claudel's work as a talented and innovative sculptor of the late 19th and early 20th centuries in her own right.
In an interview with Janet Hulstrand for France Revisited, Camille Claudel's great-niece, Reine-Marie Paris, one of the driving forces behind the museum's creation, explains how she came to appreciate Camille Claudel's work and to understand the mental illness that caused her to destroy much of her own work and led to her eventual confinement in a series of psychiatric institutions, where she spent the last 30 years of her life.
Reine-Marie Paris is an art historian and the author of a number of books on the life and work of Camille Claudel (1864-1943).
This original interview, conducted in French, has been translated by Janet Hulstrand.
Janet Hulstrand: When did you first learn that your great-aunt was a famous artist? Or was she not really so famous when you learned about her for the first time? What did you learn about Camille Claudel, growing up in your family?
Reine-Marie Paris: My first encounter with Camille Claudel, my great-aunt, was, you might say, somewhat accidental. In fact, until I was a married woman no one in the Claudel family—my grandparents, my uncles and aunts, my mother, no one ever mentioned her in front of me. Later I understood that the subject was taboo, because bringing it up might reignite an old argument about her internment in a psychiatric asylum, which was considered abusive.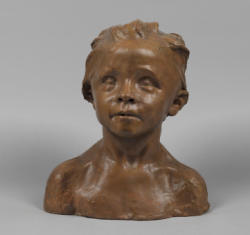 My earliest memory of her work goes back to when I was 10 years old. I was returning from a swimming lesson not far from the home of my grandfather, Paul Claudel, on the Blvd. Lannes, and I stopped to visit my grandmother. There, on the chest where she had put the cookies for my treat, was La Petite Chatelaine in bronze. I couldn't take my gaze away from this little girl, who seemed to me to be lost, facing the mysteries of life.
My curiosity about the artist who had created this sculpture wasn't awakened until much later, when a dealer specializing in Art Nouveau objects asked me if I would be interested in acquiring some of the work of Camille Claudel. From that day on, I have never stopped being interested in her life and work. Is it because of familial devotion? It's not only that. The objects I bought from the dealer seemed to me to express a kind of beautiful melancholy. I decided to plunge in blindly and to learn whatever I could about the personality of this great artist, who was so little known.
JH: When and why did you decide to study the work of Camille Claudel and to learn about her life?
RMP: Once again, it was by chance. I encountered the historian Jacques Cassar who, in his pioneering work, had come across the name of Camille Claudel while doing research on Paul Claudel. It was he who put me on my path of exploration and gave me my first questions to research. His first work on Camille Claudel should have been signed by the two of us, but he died, putting an end to our joint efforts.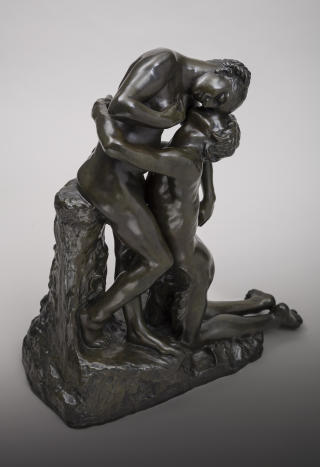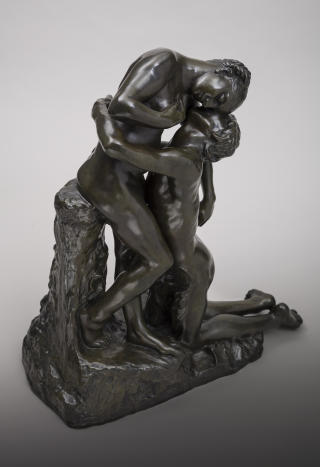 Initially my work consisted of putting together documents I found scattered among the innermost depths of libraries, museums, family archives, psychiatric hospitals. I was able to read Camille's letters, so filled with terrible suffering. I was also given permission to consult her medical records, and I was able to feel, almost physically, her pain, a pain without hope of healing—30 years with no visitors except those of her brother Paul, and two visits from her English friend Jessie Lipscomb. In a word, a living hell.
JH: The story of Camille Claudel's life is very dramatic, even tragic. There is also some controversy as to the way her life unfolded, who was responsible for what happened to her. There have been accusations leveled against Auguste Rodin, and also against your grandfather, her brother, Paul Claudel. Knowing what you know about her life, both as a member of the Claudel family and as a historian who has dedicated many years to learning about her life and her art, what would you like people to know about her? What misunderstandings or false ideas would you like to have corrected?
RMP: Who was responsible for her situation? It's a good question. Was it her family? Her brother? Society? Rodin?
Camille is considered to be an artiste maudite. Her work gives evidence of the drama she lived. From the age of eight, she sculpted her dreams, and her heroes—Bismarck, Napoleon. She was drawn to them because of their strong character and because of the powerful feelings they inspired. As her mother's least-loved child, she enclosed herself in a shell to defend herself, to allow herself to escape into a life in which she could fight the injustice of which she saw herself as a victim.
Her father, Louis-Prosper, protected her for as long as he was alive: he paid her rent, her expenses, collected unpaid invoices for the work she sold, in short, he did what he could, all the while treating her as a raving madwoman. Her mother preferred her sister Louise, who was destined to lead an ordinary life as a wife and mother. And Louise resented her.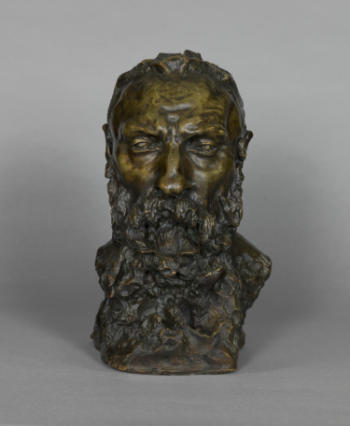 Her brother Paul's feelings for her oscillated between admiration and repulsion. As a child he was fascinated by this older sister, so beautiful, so intelligent, so authoritarian that he couldn't escape the orders she was always giving him: he would pose for her for hours, bring her the clay she needed for modeling, and if ever he balked at her commands, there were endless battles. And yet, he loved the escapades they had together at a place called "Le Geyn" a sort of rocky promontory that reminded him of Wuthering Heights.
For Paul, Camille was his first image of woman, his model of femininity, "the promise that can't be kept." For Paul Claudel, as for Baudelaire, "all loved ones are vessels of bile that one drinks with closed eyes." When he discovered that Camille had betrayed him in a sense, by becoming Rodin's mistress, and especially after she admitted to having had an abortion, which he considered the worst of crimes, he rejected her as if she were diseased. He would portray her in his play La jeune fille Victorine as Victorine-Camille, a lepress. To a journalist he once said, "Oh, my sister Camille, that's a subject that it's difficult for me to talk about: the pain, the spectacle of this magnificent personality, and the failure that condemned her." Later he would speak of her with remorse, and regret for not having done everything for her that he could have done. But for him, the main one responsible for Camille's fate was Rodin. Rodin took everything from her: she gave him everything and got back nothing. I think so too. In return for all she gave, all she got was misery, poverty, solitude, despair–and in the end, 30 years in the obscurity of a psychiatric asylum.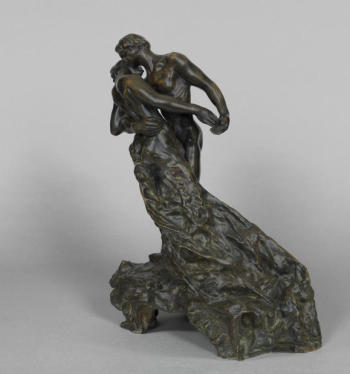 Was it society? Camille was born too soon. In our day she would have known success as a woman and as an artist. Nevertheless, in her day, among her peers she was recognized and admired. Some critics referred to the "glow" of her genius, others simply said that she was a genius, Octave Mirabeau for example. He was indignant after having admired her Causeuses at the Salon. "And who is not left on their knees before such an artist?" he asked. "If we were living in another time, a woman like Mademoiselle Camille Claudel would be covered with honors, and well rewarded."
As for Rodin? As I said above, I think that he was partly responsible for Camille's downfall, because he didn't understand her, because her character was too strong for him, and because, consciously or unconsciously, he was afraid that she might surpass him, which I think she did in some of her works. I believe strongly that Sakountala is more powerful than l'Eternelle Idole, that Clotho is more interesting than La Vieillesse. I also think that Camille stayed far too long in Rodin's studio, that she didn't know how to rid herself of her anti-Rodin obsessions, and that art didn't save her.
JH: Can you tell us a little bit about the new Musée Camille Claudel in Nogent sur Seine? Were you involved in its creation, and if so, how?
RMP: The opening of the Musée Camille Claudel is a miracle: now her work can finally be presented to the whole world. It's a beautiful, light-filled museum in the center of Nogent sur Seine, this small city that was home to the Claudel family for three years (1876-79), a period that was crucial in the launching of Camille's career. She is not the only artist featured in the museum: her works are surrounded by those of her first teacher, Alfred Boucher, who was a discoverer of talents and founder of la Ruche, and of Paul Dubois, who once made a prescient remark to Camille: "Have you studied with Monsieur Rodin?"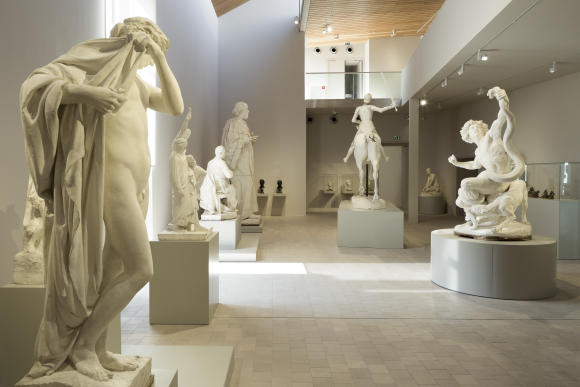 For a long time I had the idea of creating a museum dedicated to the work of Camille Claudel. I had spoken about it in the 1980s with Michel Baroin, who was then mayor of Nogent. He agreed with me that this would be a good idea. Time went by, and the idea eventually took hold. In 2003 Gerard Ancelin, who was mayor of Nogent for 25 years, and is passionate about sculpture, organized an exhibition of her work. It was a resounding success, even though Nogent is an hour away from Paris, and the weather was snowy and cold. More time went by, and then finally, in 2008, Gerard Ancelin decided to launch the municipality of Nogent in a museum project, after hearing me complain once again, during my speech at the opening of a Camille Claudel exposition in Dijon, that it really was time to find a place to house the work of this artist. Along with Gerard Ancelin—who had the courage to launch this adventure by having the city and patrons of the arts buy the collection I had put together through the years, along with about a dozen works of art owned by Philippe Cressent—I finally had the satisfaction of seeing this museum created. Now her admirers can see La Valse, Le grand Persée, Les Danseuses, portraits of Rodin and of Paul Claudel, and all this in an enchanting space, neither too big nor too little, the jewel of a small city rich in artistic and literary history.
JH: How much do you think things have changed for women artists since the end of the nineteenth century, when Camille was trying to make her way as a sculptor? What still needs to change?
RMP: I don't know if women artists have more of a chance today than at the end of the nineteenth century, but they certainly have more freedom. I only know one woman sculptor, really talented, who is climbing bit by bit, step by step, the ladder of success. But I am sure there are others who are practicing this art, in principle so unfeminine, but so enriching for those who have the will, the courage, the determination that it demands, to arrive at the desired result.
JH: If you could somehow, magically, be able to say something to Camille Claudel, and she could hear you, what would you want her to know?
RMP: If somehow, by magic I could communicate with Camille, I would say to her, "You've given me lots of trouble, lots of work, many worries, but also many joys. For these joys I thank you, and I hope that you for your part you would want to thank me for having paid you the homage you deserve, as one of the great sculptors of the nineteenth century, along with Rodin and Bourdelle. Who, according to their own testimony, saw in you nothing but an equal."
Musée Camille Claudel, 10 Rue Gustave Flaubert, 10400 Nogent-sur-Seine. Closed Mondays April-October, Mondays and Tuesday November-March. Nogent is 65 miles southeast of Paris. Trains run frequently from Gare de l'Est and take about an hour. The museum is a 10-minute walk from the train station.
Janet Hulstrand is a writer, editor and teacher of writing and literature who divides her time between France and the United States. She writes the blog Writing from the Heart, Reading for the Road.  Other articles that Janet Hulstrand has written for France Revisited can be found here.