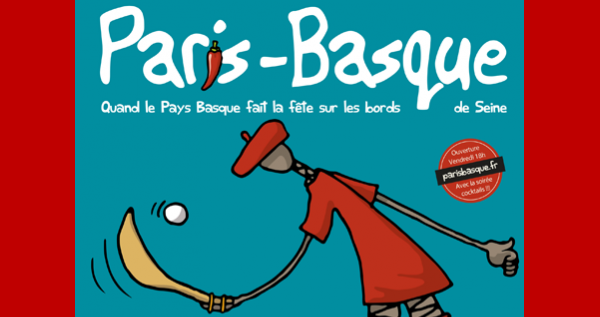 Paris is not France, people will say outside the capital. They say that to warn visitors against thinking that the habits, trends and attitudes of Parisians represent France as a whole. True enough, but luckily for those who live in Paris—and for those who visit—regional traditions, culture and cuisine often "climb" to the capital, to be enjoyed just a few metro or RER stops from home.
Case in point, Paris-Basque, a weekend festival—this year June 16, 17, 18—that brings Basque cuisine, sports, music and good cheer to Paris. Think of it as a Basque village on the bank of the Seine (8 Quai Saint-Exupéry, 16th arrondissement)… and a great occasion to wear a beret and a red bandana.
The Basque festival's music of choice is that of the banda, an ambulatory brass band. Sporting competitions and demonstrations include rugby, Basque pelota (jai alai, a racket sport played in Florida, is a variation of this), an espadrille throwing (kicking off the foot) competition and various strong-arm activities such as a good ol' tug-o-war.
Meanwhile, the Basque culinary experience has place of honor at the festival, with Basque chefs from Paris, Basque Country and elsewhere participating, bringing with them the culinary essentials of the southwest corner of France where the Pyrenees fall into the Atlantic: the cheeses, hams, peppers, octopus, plancha, Izarra, Egiaski and "apple wine."
The chefs present over the weekend may go all-Basque for their festival fare, but in their restaurants, they cook well beyond regional folklore.
I recently met with two of the participating chefs at their restaurants in Paris to discuss the Basque influence in their cuisine and their participation in this year's Paris-Basque festival: Thierry Dufroux of Bistrot Belhara in the 7th arrondissement and Mathieu Moity of Iratze in the 11th arrondissement. Both men grew up in Bayonne. Dufroux's family moved there when he was 10; Moity was born there.
Neither Bistrot Belhara nor Iratze serves "regional" cuisine. In fact, these are distinctly Parisian restaurants, the former a modern bistro, the latter home to knowingly instinctive gastronomy. Yet both chefs pride themselves on their use of Basque products and on the influence of their home regio. Their Basqueness, whether subtle or more pronounced in a dish, is precisely what distinguishes them from more ordinary attempts within their respective restaurant categories.
Both chefs deemed it important to present their attachment to their Basque roots in the names of their restaurants. Bistrot Belhara is named for the tremendous waves that sometimes surge towards the Basque Coast near Saint Jean de Luz, recalling Dufroux's own affection for surfing and echoing the rush that you will hear in his voice in the video interview below. Iratze is the Basque word for a type of fern, a plant Moity encountered frequently when exploring the forest with his grandfather. He speaks of the fern as a constant plant, secure in its roots as it spreads out. "It's a beautiful image of what I can be and what my restaurant can be," he said.
Thierry Dufroux at Bistrot Belhara
It seems that every visitor to Paris seeks out "a little neighborhood bistro, not too expensive, just nice and friendly." Bistrot Belhara fully fits the bill. It is a modern bistro in that Thierry Dufroux does not work within a circumscribed traditional bistro menu yet maintains a sense of quality, freshness, reasonable pricing (under 40€ for a 3-course meal) and urban heartiness (including a gluten-free dish). Generous of spirit, the cuisine strikes a delicious a balance between rustic and refined. Situated in a well-heeled quarter near the Invalides, this 40-seat restaurant combines the tiled floor and wooden furnishing of a traditional bistro with elegant grey walls and an Art Deco ceiling. A string of red peppers hangs from a pillar at the center of the restaurant. The oak bistro tabletop, visible at lunchtime, is covered with a white tablecloth for dinner service. Two frontmen, Frédéric Clemence and Christian Bignaux, work the room like a polite vaudeville team.
In this interview with Thierry Dufroux, in French, you can hear the rush of his passion about his work and about Paris-Basque.
Mathieu Moity at Iratze
Mathieu Moity's cuisine is dynamic, personal and shifting. He jumps on occasions to use Basque products without closing himself into the region. Located a side street between Bastille and République, Iratze is an ambitious eatery that Moity, along with partners Yann and Afrae Brasseur, who work the front of the house, and Didier Feuillet, opened at the end of 2016. Open only in the evening, the atmosphere depends on the combined spirit of its three spaces: the little tapas bar to the front, the restaurant per se in the middle, the chef's table in the back. While friends on stools share tapas (4-17€ per plate) and sip Charles's cocktails, comfortably seated diner enjoy a 3-course meal (44€) and guests at the 10-seat chef's table (any number up to 10 can reserve) partake in a 9-step tasting (68€). Moity's restless yet rooted sense of gastronomy is fronted by the upbeat and resolutely 30-something room staff (Yann and Afrae, Charles at the bar, Australian sommelier Jess).
Mathieu Moity explains Iratze, his cuisine, his Basque roots and the atmosphere at Paris-Basque in this interview, in English.
Don't expect either Thierry Dufroux or Mathieu Moity to be walking around their restaurants with a Basque beret and a rugby ball. But when it comes time for the Paris-Basque festival tradition is de rigueur.
Other Basque chefs
Other Paris-based chefs present at Paris-Basque this year include Sébastien Gravé (Pottoka), Yves Camdeborde (Le Comptoir du Relais Saint-Germain), William Pradeleix (Will, Raw), Olivier Amestoy (Axuria) and Philippe Tredgue (Auberge Etchegorry), along with chefs working in Basque Country (Lionel Elissalde, Jean-Bernard Hourçouigaray, Ramuntxo Courdé, Cédric Béchade, Pascale Etcheverria, Christophe Grosjean) and elsewhere in France (Stéphane Carrade, Steven Ramon)
Bistrot Belhara, 23 rue Duvivier, 7th arr. Metro Latour Maubourg or Ecole Militaire. Tel. 01 45 51 41 77.
Iratze, 73 rue Amelot, 11th arr. Metro Chemin Vert or Bréguet Sabin. Tel. 01 55 28 53 31
Paris-Basque, 8 quai Saint-Exupéry, 16th arr. Metro Porte de St. Cloud or RER Boulevard Victor. Entrance is free.
© 2017, Gary Lee Kraut
If planning visit to Basque Country consider these articles about Biarritz on France Revisited.
Information about the Basque region can be found on the region's official tourist office website.