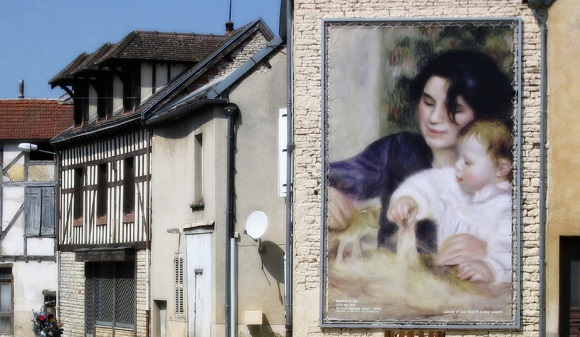 As the village of Essoyes in southern Champagne prepares to open Renoir's home to the public and the surrounding department of Aube celebrates this as the Year of Renoir, Janet Hulstrand, a part-time American resident of Essoyes, examines the lives of Aline Charigot Renoir, wife of the artist and mother of three artists, and of Gabrielle Renard, the family's nanny and muse for Renoir.
By Janet Hulstrand
1880: On the Rue St. Georges in Paris's 9th arrondissement, a painter of growing renown in both avant-garde and fashionable circles is having lunch at the crémerie where he often takes his meals. At nearly 40 years of age he is finally beginning to make his mark in the art world: his painting of Madame Charpentier and her children made a splash a year earlier at the Salon of 1879, which has provided needed income; and his other work, experimenting with new techniques of painting en pleine aire, is going well too.
He sees a pretty young woman enter the place with her mother. He sees in her instantly his ideal type: not too thin, rosy-cheeked, and with skin that "takes the light." He introduces himself—his name is Auguste Renoir—and asks her if she will model for him….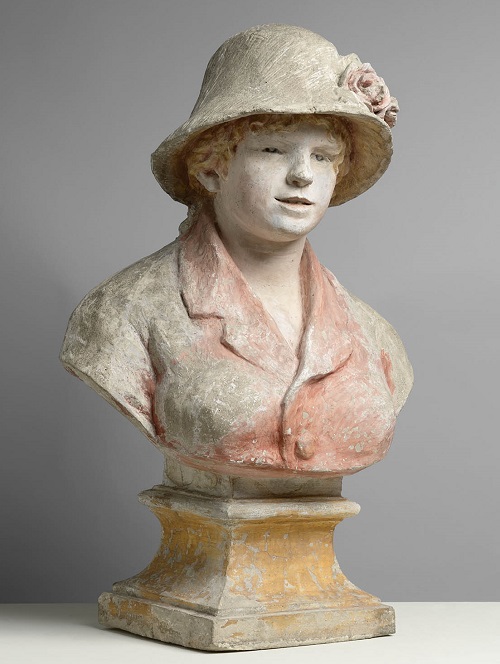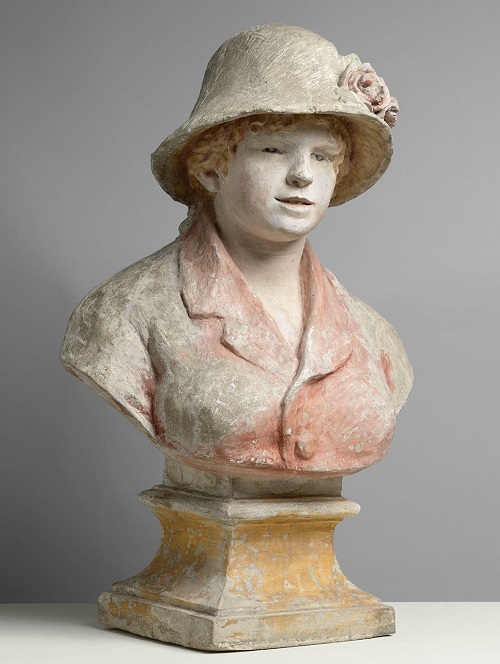 The young woman, Aline Charigot, 21 years old, was from the village of Essoyes in the deep south of the Champagne region, near its border with Burgundy. She had begun her life in this village as an abandoned child: her father had walked out of their home one night before she was two years old and never returned to the family, leaving her mother without any means of support. Unable to pay the rent, or to provide for her child, the mother, like so many other poor women in rural France at the time, left for Paris to earn her living as a seamstress, leaving Aline with relatives, who would raise her. At age 15 Aline joined her mother in Paris and began to learn her trade. And that is when she met the man, the artist, who would change her life.
Aline accepted the invitation to model for Renoir and shortly after, they became lovers. In 1885 their first child, Pierre, was born. As the years went by, Aline made two significant requests of Renoir. One was to make their union legal by marriage. The other was to buy a home in Essoyes, the village where she had grown up.
He had no objection to the first request: by this time in his life he was ready to settle down. And so the marriage was performed in the district hall of Paris's 9th arrondissement on April 14, 1890.
However, he was much less enthusiastic about the idea of spending much time so far away from Paris, the center of the art world, as well as the place where he had spent most of his life. Essoyes, today just 2½ hours away from Paris, was at the time a long and tedious journey, first by rail, then by horse-drawn carriage, that would have taken most of a day.
But eventually Aline's entreaties won him over, and her dream of living a bourgeois life in her hometown came true. They initially rented a small house at the edge of the village during the summer of 1888, for a stay that lingered into the fall and even through the end-of-year holidays. In time Renoir became very fond of Essoyes, of the butter, the wine, the bread made there, declaring it superior to that in Paris. He said he loved being among the winegrowers "because they are generous." He painted portraits of his family, of villagers, of the surrounding landscapes. The family was still spending much of the year in Paris, but from the late 1880s they began to regularly spend summers in Essoyes, the boy playing, the painter painting, the wife cooking. (She became famous among his artist friends for her culinary skills, in particular for her bouillaibaisse.)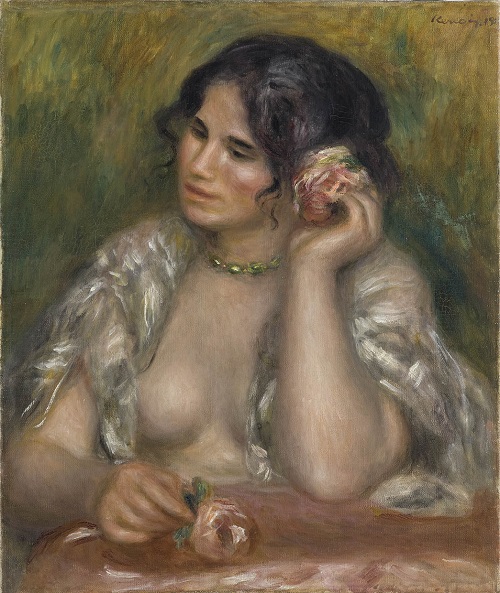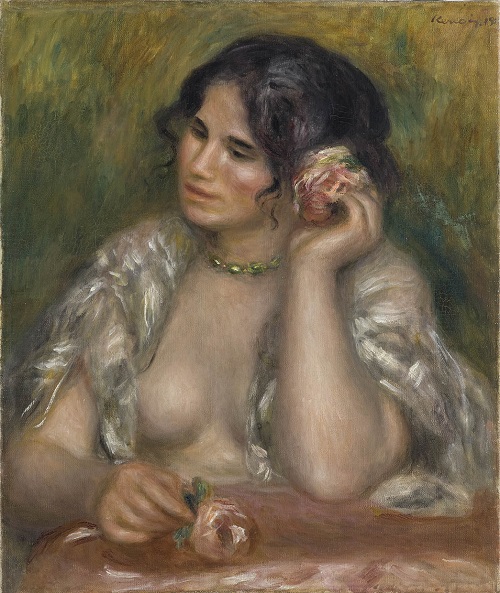 Gabrielle Renard
By now, in his early 50s, Renoir's work was selling well: he had achieved middle-class respectability, a position he balked at, but his wife took comfort in. By the time their second child, Jean, was born in 1894, they were able to hire a nanny, and Aline, now Madame Renoir, looked to her home village, and her family, for an appropriate person to fill this role. She found her in Gabrielle Renard, a young cousin living in Essoyes.
Like Aline, Gabrielle had not had an easy start in life: her mother was a widower who became pregnant out of wedlock, which subjected her to the disdain and disapproval of many villagers and even caused her own family to take her two older children away from her. So for Gabrielle too, the connection with Auguste Renoir would become a means of escape: she traveled and lived with the family in Paris, and later in Cagnes-sur-Mer, a town along the Riviera where the family would winter. Gabrielle became one of Renoir's favorite models, the subject of literally hundreds of his paintings and drawings, including some of his most famous portraits—and a lifelong, dearly beloved maternal figure for Jean Renoir.
In 1896, the Renoirs bought the first home they had ever owned, on the edge of Essoyes. A two-story home with an open courtyard facing the street, and a spacious garden at the back of the house, this house became the center of the domestic life Aline had craved and Renoir scarcely knew he wanted but did appreciate when he had it.
For Jean Renoir, the second son, a filmmaker, the time spent in Essoyes became a kind of idyllic memory that he treasured all his life. "Essoyes, where my mother was born, has remained more or less unspoiled," he wrote years later. "There is no other place like it in the whole wide world. There I spent the best years of my childhood…Every summer we would go back. My mother would invite friends and surround Renoir with this life that he loved so much…"
Ambroise Vollard, who became both the dealer and a friend for Renoir, as well as the dealer for many of the other artists in his circle, also recognized the importance of the ways in which Aline provided support to the artist in her own simple way. "I wonder if it is generally known that it is largely due to his wife that Renoir painted all his wonderful still lifes of flowers," he wrote. "She knew what pleasure it gave him to paint flowers, but she realized that the trouble of going to get them was too much for him. So she always had them about the house…"
Jean also saw how important his mother was in his father's life, and how well she understood him: "With her intuitive, rustic understanding, she saw that Renoir was made for painting the way vines are made to produce wine…" he wrote.
At first Renoir painted in a ground floor studio in the house. Nine years after they purchased the house, he built a studio at the far end of the garden, further evidence of their growing roots there. He built the studio, he said, so that he could paint "without disturbing the children at their play." It was in this studio that he also worked on his first sculptures. Of course many of the works he did in Essoyes began en pleine aire. (Today several of those spots are marked with easels displaying reproductions of the works he painted there.)
Though by now he loved being in Essoyes, the damp climate in Champagne, with its cold winters, was not good for his increasingly severe case of rheumatoid arthritis. By 1907 his doctor had ordered a move to the South of France, and the Renoirs found a place in Cagnes-sur-Mer, where the the family began spending their winters in 1908. It was in Cagnes that Gabrielle met her future husband, Conrad Slade, an American painter. During the Second World War the Slades moved to the U.S., and in 1955, after her husband died, Gabrielle moved to California to be near Jean Renoir, who had also moved there during the war. They maintained a close relationship for the rest of Gabrielle's life. "She taught me to see the face behind the mask and the fraud behind the flourishes," said the filmmaker whose work shows great insight into both.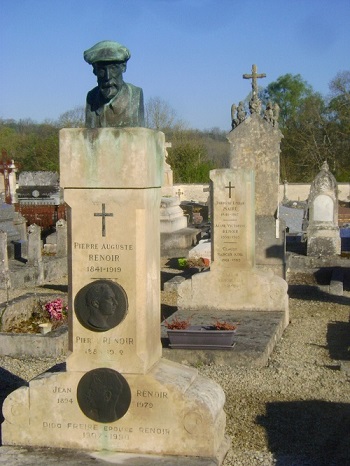 While they continued to spend time in Essoyes when they could, both of the Renoirs died on the Riviera: Aline in Nice in 1915, and her husband in Cagnes-sur-Mer in 1919. And though they were originally buried in the south of France, their remains were later returned to Essoyes for burial, in accordance with their wishes. Now they and all three of their sons, and some of the sons' children and wives, are buried in the village cemetery, just a short walk away from the painter's studio.
All three of the Renoir sons became artists: Pierre, a well-known actor of screen and stage; Jean, the director of La Grande Illusion and La Règle du Jeu, among many other films; and Claude, the youngest, a ceramist.
The house in Essoyes remained in the Renoir family and was used by Sophie Renoir, a granddaughter of Pierre Renoir, and her family until 2012. She then sold it to the municipality of Essoyes, which purchased the property in order to turn it into the centerpiece of Du côté des Renoir, Essoyes' homage to the family. Renoir's studio opened to the public in 2011: there is also a small but informative interpretive center next to the village hall.
Images of Aline and her young cousin, Gabrielle are prominently displayed in the streets of Essoyes. Several murals in the village reproduce Renoir paintings in which they appear: one, a portrait of Gabrielle and Jean Renoir as an infant, is on the site of Gabrielle's birthplace.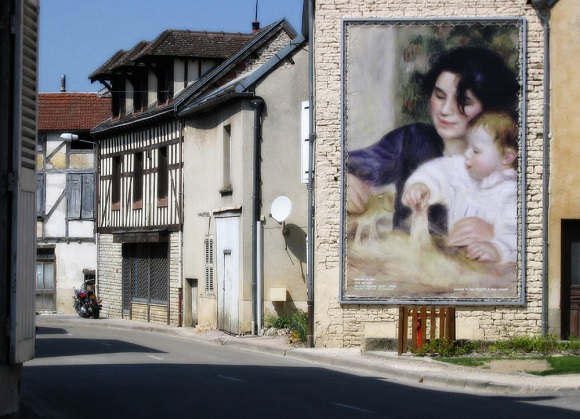 The Year of Renoir
In honor of the public opening of Renoir family home on June 3, Aube, the department or sub-region in which Essoyes is located, has designated 2017 as the Year of Renoir. One of the major events is an exhibition entitled Un autre Renoir (Another Renoir) presented at the Museum of Modern Art in Troyes from June 17 to September 17 featuring portraits of the Renoir family and of Gabrielle, along with landscapes of the region.
Several Renoir works, on loan from museums in Bordeaux, Rouen, and Cagnes-sur-Mer, will be displayed in the Renoir home during the summer months. A weekend celebration called "Essoyes à la Belle Epoque" will take place on July 22 and 23.
Throughout the summer Bernard Pharisien, a local historian, will lead free walking tours of the village Sat., Sun., Mon. and Tues. mornings, in French only. Tours in English can be arranged for groups of 12 or more by writing to groupes.renoir@gmail.com
Champagne
The names Essoyes and Aube might be off the radar to most travelers, but the wines of champagne certainly aren't. Indeed, Essoyes is one of the villages within the Côte des Bar growing area for champagne grapes. Visitors have the possibility to visit small grower-producers in Essoyes, as well as producers, from large champagne houses to small producers, in the surrounding area.
Getting to Essoyes
Essoyes is a 2 ½ hour drive from Paris. Troyes is an hour and a half train ride from Gare de l'Est in Paris: from there Essoyes is just under an hour's drive southeast, through vineyards, fields of rapeseed and wheat, and beautiful rural villages. Trains run frequently from Paris's Gare de l'Est to Troyes: some trains continue on to Vendeuvre sur Barse (one stop beyond Troyes) and Bar sur Aube. In Troyes you can rent a car from Hertz or Enterprise, both located near the train station (check opening times of rental agencies before purchasing train ticket). It's also possible to take a taxi from Vendeuvre to Essoyes, about a 30-minute drive.
For further information
Essoyes Tourist Office: www.ot-essoyes.fr
Aube Tourist Office: www.aube-champagne.com/en/
Year of Renoir 2017: www.aube-champagne.com/fr/annee-renoir-2017/
Troyes Tourist Office: www.tourisme-troyes.com
Aube Champagne Growers: www.cap-c.fr
Another major art event in the department of Aube this year is the opening of the Camille Claudel Museum in Nogent-sur-Seine.
A Renoir Route that follows in the painter's footsteps and naturally include Essoyes has been outlined as one of a dozen Impressionism Routes by the French association Eau et Lumière.
© 2017, Janet Hulstrand
Janet Hulstrand is a writer, editor and teacher of writing and literature who divides her time between France and the United States. She writes the blog Writing from the Heart, Reading for the Road. Other articles that Janet Hulstrand has written for France Revisited can be found here.
Help France Revisited to nourish other unique articles about the people, places and topics that interest you by adopting an article. See here to learn how.