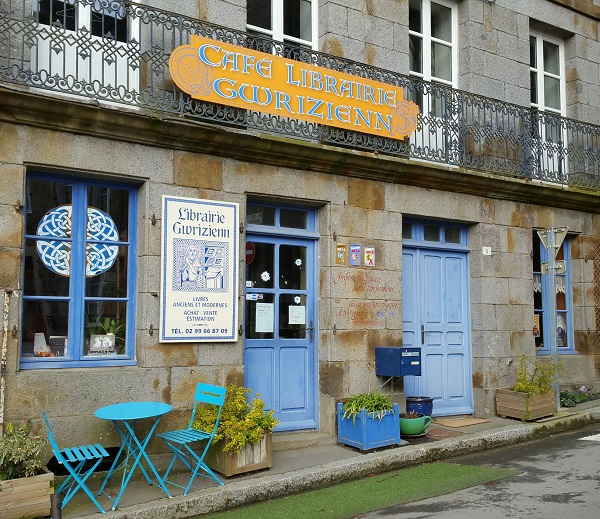 In which an American couple with a cottage in Brittany goes searching for books and also finds character in the beloved book town of Becherel.
By James and Luanne Napoli
Bernard Daudibon is stacking books for display in a tent stand on Place des Anciennes Halles as he does on the first Sunday of every month. That's when Bécherel, Brittany's premier book town, holds its outdoor book market. It's a cold March morning and only a dozen or so bibliophiles are picking through the hardbacks and softbacks, flipping through pages but not doing much buying.
Business is not so good, Daudibon admits, but it will get better. In Bécherel, blossoming trees don't signal the start of spring so much as does the annual Fête du Livre over Easter weekend. Daudibon, bookseller at the Librairie du Donjon, and the other 13 booksellers in this commune of about 750 inhabitants can then turn the page on winter. And business will most assuredly pick up in the summer tourist season, when more book-addled Belgians, Italians and Brits ascend to the hilltop cité on their holiday treks through Brittany.
We are Americans who compulsively feed our libraries at home in Portland, Maine, and in our rural Breton cottage in Saint Aubin du Cormier, some 20 miles east of Bécherel. Literary Bécherel offers us the comfort of myriad dusty volumes in the intimacy of bookshops with welcoming owners who know their Flaubert from their Faulkner, an experience now rare back home.
Today we are looking for books by the French romantic writer François-René de Chateaubriand. We have a special affection for Chateaubriand because, like us, he loved the forests and rocky coasts of Brittany and he loved literature. He also knew Bécherel. In his memoirs, he notes that from his chateau in Combourg, 12 miles away, he could see the heights of Bécherel silhouetted against the sky.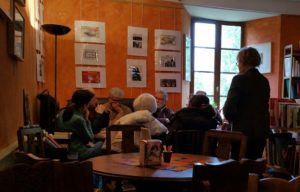 We aren't the only ones to feel a kinship with Chateaubriand in Bécherel. He is something of a favorite son. We find a coffee table book on Chateaubriand and Combourg at Librairie Abraxas, which has one of the most inclusive collections of French literature in town. At the Librairie Boulavogue on the square, we hit upon a cache of about 10 volumes by the author, and pick up a used paperback of his memoirs in French. At the same time, we couldn't resist buying three or four classic detective novels in English that turned up in the shop's extensive Policiers section.
We make our way across the square to the Café/Librairie Gwrizienn, which even the French can't pronounce. The sun emerges only briefly between showers, making a retreat into the ochre-dark, cozy café and corner bar at the rear of the Gwrizienn irresistible. We're sipping coffee and eavesdropping on a klatch of about 10 mostly gray men and women talking literature quietly and intently.
"They meet once a month, every month to discuss a book," says the proprietress just as quietly and intently as her book-loving patrons. "A different book every month."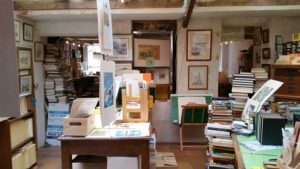 In all, tiny Bécherel has at least 14 permanent used and antiquarian book stores and a range of galleries and shops specializing in the art of making books. The drive to promote books and literature, as well as other cultural enterprises in a rural environment, got traction in Bécherel in 1989 when a local cultural association, the Association Savenn Douar, organized the commune's first book festival, the Fête du Livre, and designated Bécherel as a Cité du Livre or book town, the first in all of France and the third in Europe. Bécherel is now one of eight members of the Féderation des Villes, Cités et Villages du Livre en France.
Even before becoming known for books, Bécherel, formerly a textile town, was known for character. In 1978 it was a "Petite Cité de Caractère" by the national Association des Petites Cités de Caractère that supports small rural communities with historical significance, an architectural heritage and a commitment to promote cultural events and tourism.
It isn't only books and the bookish that make a book town but also places to discuss books, to contemplate newly purchased books and to reflect on the bookish life, as well as a place to purchase a bottle of wine to accompany it at home. For the latter we stop into Yannick Bygot's La Cave D'Elodie, specializing in "natural" wines. When hungry for more than literature we visit France and Olivier Chiffoleau's Creole bistro La Part des Anges.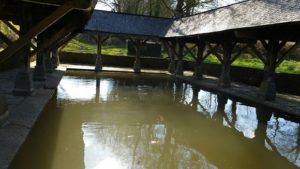 Bécherel straddles a steep hilltop with vestiges of ramparts and the dungeon of a centuries-old chateau, which now accommodates the granite-faced Donjon book shop. The intimate rampart walk leads to the spectacular view toward Combourg. But the walk also offers benches in a small walled park, perfect for perusing a newly purchased book and glimpsing the back yards of residents. From the square, the Rue Saint Michel drops past the church and cemetery, offering pastoral views of the adjoining valley. The ponds and fields at the base of the hill extend to a 19th-century covered wash basin (lavoir), where women laundered and exchanged the day's news. A plaque at the site describes it as "radio lavoir."
Bécherel is the perfect place for settling down on a bench with a good book. But you'll need to buy one first.
James and Luanne Napoli are writers living in Portland, Maine. They have a cottage in Brittany and have been visiting France regularly for over 20 years.