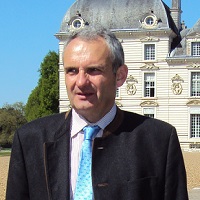 By Corinne LaBalme
The elegant Château de Cheverny is chez moi for Charles-Antoine de Vibraye and his family. His ancestors have resided on the premises for the better part of 600 years and today de Vibraye (who might also be referred to as the Marquis de Vibraye), his wife and three children occupy roughly 10% of it. Much of the rest is open to visitors. Cheverny was one of the first private French estates to open its gates to the public (1922), and de Vibraye welcomes on average 350,000 guests per year to his castle-sweet-castle.
One expects de Vibraye (seen in photo) to describe Cheverny as a museum but the word usine (factory) crops up in his conversation just as often.
"I live inside my family business," he explains. "Cheverny belongs to the public, and making the tourist experience serene and enjoyable requires constant attention to detail. You can't take your eyes off it for a minute. It's like caring for a small child."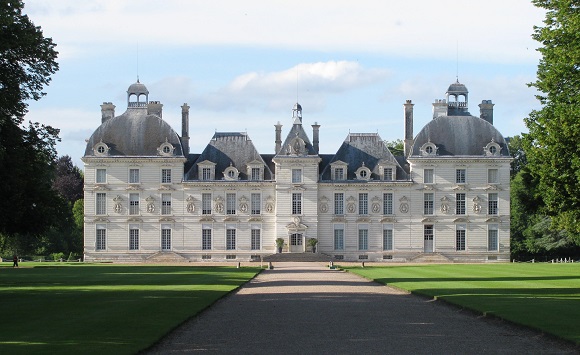 The result of such devotion is a well-oiled machine. For numerous crowd-pleasing reasons, Cheverny is one of the more theme-parkish of the Loire châteaux. "But it's also one of the most authentic," adds de Vibraye. "Hardly any other chateau has been continuously occupied. At Cheverny, things may have been added but nothing's ever been taken away."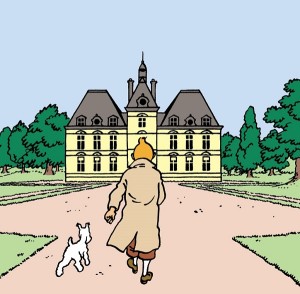 One thing that's been added is Cheverny's association with the Francophone comic book hero Tintin. This is the only Loire castle that comic book fans will recognize faster than many art historians. That's because Belgian cartoonist Hergé based Marlinspike Hall (Château de Moulinsart), the property of Tintin's buddy Captain Haddock, on Cheverny's symmetrical silhouette. (Hergé shortened its wings lest Captain Haddock appear to rich.) One of the outbuildings at Cheverny houses a free-standing museum dedicated to Tintin, his dog Milou and other characters, with videos and special effects.
But the main event is the chateau itself. The place-name Cheverny debuted in 1315 on a deed registered to the newly-enobled Hurault family. The seigniorial domain has belonged on and off to the Herault family—of which the de Vibraye family is a branch—ever since. A peaceable existence allowed the domain to sit out the royal and lordly turmoil and high politics of Blois. It did, however, appear on BuzzFeed in 1551 when former royal mistress Diane de Poitiers took a 10-year lease after being evicted from Chenonceau, but almost all of the day-to-day archives have gone missing.
Construction of the current chateau began in 1625 with a design that signaled a strong tilt toward what would become known as Classical architecture. Those also visiting visited Blois Castle on their Loire Valley wanderings will find that Blois's Gaston d'Orleans wing, begun in 1635, was designed in the same movement of harmony and symmetry.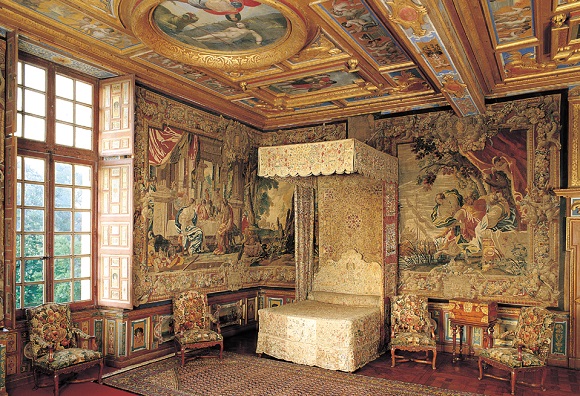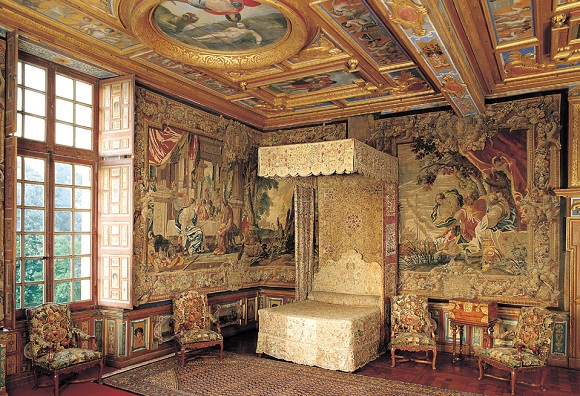 Two-thirds of the Château de Cheverny is open to the public, without any of the yawn-inducing, near-empty rooms that one often finds in public castles. Visitors can marvel at a royal bedroom that rivals Fort Knox; a luxuriant dining room; suits of armor; playrooms stuffed with vintage toys; fireplaces adorned with gilded dancing girls; a flower-bedecked chapel; and even the current Marquise's Cinderella-style wedding dress.
Visiting the interior of the chateau gave rise to one burning question for its owner. When you live in a historic château like Cheverny, aren't you tempted to roll back the brocade bedspreads and sleep in the Royal Bedroom after closing hours?
"Never," de Vibraye replied firmly. "Those rooms belong to the public and that's final. There was a TV crew here recently, filming lots of furniture in close-up, and I must admit I heaved a huge sigh of relief when they left and I got the velvet ropes back in place."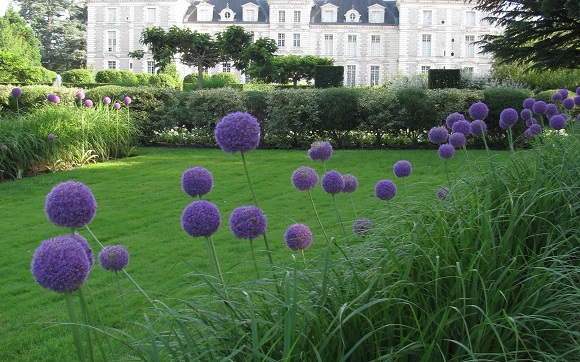 The chateau interior is compact enough that it can well visited in about 30 minutes, leaving plenty of time to wander through the expansive park and the flower and kitchen gardens, visit the Tintin Museum (additional fee), enjoy the pretty setting at orangerie for a beverage or a bite to eat (inside or out; open April 1 to Nov. 11), perhaps even take boat-ride on property's waterways.
At the Café de l'Orangerie you can try some locally made beer, but having passed through the Cheverny and Cour-Cheverny vineyards along your way to Cheverny it's likely that those appellation wines will be the fermented beverage of choice. For a tasting, the official Cheverny Wine Club is housed just outside the castle gate to Cheverny (see below article).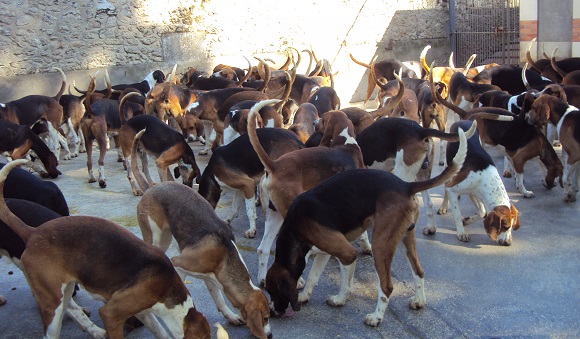 The Hounds
One of the major draws of Cheverny is its kennel for 100 Anglo-French hunting hounds. Cheverny has maintained its hunting heritage and the estate census also includes 11 horses, 70 stags and 200 wild boar.
This is no petting zoo. Those hounds are trained to be in prime hunting shape, and the deer are well advised to be too. The hunt takes place in the surrounding forest and other hunt-friendly woods, twice per week from October through March. About 25 deer are killed each year in keeping with local (departmental) hunting regulations.
Come feeding time you can watch the hounds, tail in the air, devour mass quantities of raw meat in a matter of minutes. The feeding takes place at 5pm daily (with exceptions) from April 1 to September 14. The remainder of the year the feeding takes place at 3pm on Mon., Wed., Thurs. and Fri. (except holidays). It isn't that they don't eat on other days but they're probably out working.
If your kids love dogs, get them to the kennels about 15-30 minutes before feeding time for a ringside view of the buffet. Arrive after the crowd has formed and the kids who are too big to sit on shoulders may miss the show. It's perfectly safe as the dogs are enclosed in a barred courtyard, although one 4-year-old near us was a bit frightened.
The chateau and grounds are open every day of the year, including holidays.
© 2015, Corinne LaBalme.
Château de Cheverny, 41700 Cheverny. Tel. 02 54 79 96 29.
Getting There: Cheverny is 10 miles southeast of Blois, passing near Château de Beauregard along the way. By car Cheverny is about a 30-minute drive from Blois and Chaumont, in separate directions.
From Paris, there are infrequent direct trains to Blois from the Austerlitz Station. They take 1:25. More frequent indirect trains take 2 hours, arriving in Blois via Orleans (from Paris's Austerlitz Station) or via Saint Pierre des Corps (from Paris's Montparnasse Station).
While it's preferable to have your own wheels (car, van, motorcycle or bicycle) for leisurely explorations of chateaux and vineyards in the area, there's bus service from April to August between the chateaux of Blois, Chambord, Cheverny and Beauregard. Bus information can be found here.
CHEVERNY and COUR-CHEVERNY WINES
Cheverny and Cour-Cheverny are appellations for wines grown between on the south side (left bank) of the Loire roughly between Blois, Chambord, Cheverny and Chaumont. Those are the vineyards you see when driving or biking in this area.
Cheverny is a young, fruity wine largely using sauvignon and some chardonnay for the whites and pinot noir and gamay for the reds and roses.
Cour-Cheverny, far less well known and with more cache because of its more limited production (one-tenth that of Cheverny), is made from grape varietal called Romorantin, a grape specific to this area, introduced by king Francoise I, and so proprietary that it has a capital R.
As with most Loire Valley wines, these all relatively inexpensive, typically 6€ to 12€ per bottle, some a bit more.
Maison des Vins de Cheverny, the official Cheverny Wines Club of the association of winegrowers from the two appellations, is located by the entrance to the chateau, making for an easy tasting stop to get familiar with these wines, at least for those not driving.
Maison des Vins de Cheverny. Open daily from Easter to the beginning of November, 11am-1:15pm and 2:15-6pm. Tel. 02 54 79 25 16
– GLK
Also see our articles about the nearby chateaux of Chambord, Beauregard and Blois.