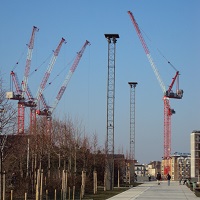 Journalist Corinne LaBalme, a resident of the Batignolles Quarter of Paris's 17th arrondissement, puzzles over the construction of a 525-foot glass tower that will house the Tribunal de Grande Instance (TGI), the centerpiece of a 123-acre development on the northeastern edge of the city.
* * *
A former New Yorker, I moved to Batignolles, a district due west of Montmartre, ten years ago. To a Manhattanite, Batignolles is the Lower East Side with fewer croissant options. It's a formerly dowdy enclave where unpretentious tenement buildings have gentrified at the speed of light.
Batignolles had a rare asset: an abandoned trainyard once earmarked for an Olympic Village. Right now, like everyone in this tiny neighborhood, I'm trying to adjust to the 123-acre construction zone a few blocks away. (By the way, 123 acres is an area roughly equivalent to ½ of the second arrondissement.) Already, 24 of its acres have been allotted to parks and recreation, which everyone likes. And 3,385 new apartments are scheduled and who can argue with housing?
However, the 160-meter/525-foot-high skyscraper for the Tribunal de Grande Instance (TGI) designed by Renzo Piano, soon to become France's tallest (if not highest) law court, is a little less popular. For one thing, in town meetings, we are continually bludgeoned with the idea that a skyscraper will give "an identity" to our quarter. Frankly, we thought we had one, but we'll have to check in with the people living under the shadow of the Montparnasse Tower on that.
There are, however, larger problems with the glass-sided TGI skyscraper that was signed into existence at the last gasp of the Sarkozy administration. From the start, the TGI has not been presented as "just another glass tower" but as a Very Symbolic Glass Tower embodying judicial glasnost. And that's a bit frightening because the last expensive architectural project in Paris that got funded purely for its cute concept was the François Mitterrand National Library. The four-building complex, designed to look like airy glass book-ends, ended up flash-frying a good bit of French literature because no one asked any librarians or antique dealers how paper fared when served under glass.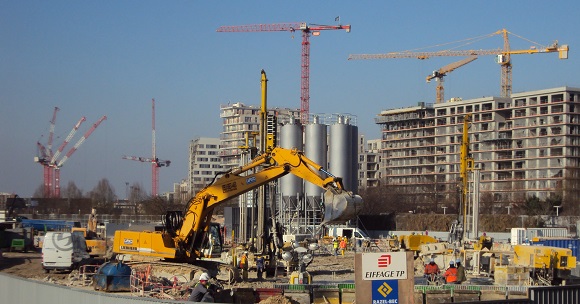 The first, and very vociferous, group to protest the TGI was an organization of lawyers called La Justice dans la Cité who, very into symbolism themselves, posited that law is best dispensed in centuries-old courtrooms on Ile de la Cité. They also pointed out there were many cost-conscious alternatives to a new skyscraper, namely relocating existing archives and annexing adjacent empty space.
These were sensible suggestions because the TGI's sticker price – 2.7 billion euros – is staggering in a recession economy. That's just the tip of the iceberg too. There's also a 27-year lease (90 million euros/ year) plus maintenance fees (12.8 million euros/year) to consider.
When the government changed, the new Minister of Justice, Christiane Taubira, professed her shock over the costs as well, but after some delays, former Prime Minister Jean-Marc Ayrault confirmed the contract. Perhaps he didn't have much of a choice since it's reported that the original contract promised developers big bucks whether or not the TGI was built.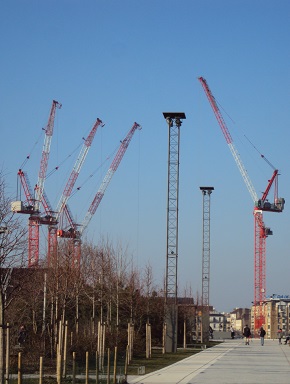 The official video of the project showcases an extremely attractive (light-filled! symbolic!) building with modular aspects that are likely to prove useful in the future. After that, it places all its emphasis on the beatific panoramic views that lawyers and magistrates will enjoy from the offices and the glass elevator.
I daydream about whether French tax dollars might have been better spent on far-reaching social improvements with an eye to lowering crime instead of a site to prosecute it more glamorously. However, that train of thought doesn't give us "a cathedral bathed in light" as Renzo Piano describes it, nor a place where people "need not fear" justice.
Paradoxically, this incarnation of the TGI leaves me feeling a little afraid for justice. Is a delicate, free-standing glass tower (albeit with gorgeous panoramic views) the best 'form follows function' solution for a government service conducting volatile investigations into terrorism, organized crime, and corruption? Perhaps 'Bunker Baroque' would have been a smarter style choice?
Or perhaps, just making do with (less transparent) existing stone.
© 2015, Corinne LaBalme
Corinne LaBalme is a member of S.O.S. Paris, an association created for "the purpose of defending the architectural heritage of the city, preserving the urban environment for its population."
For more on the Batignolles Quarter see the photo reportage If I Were a Traveler….