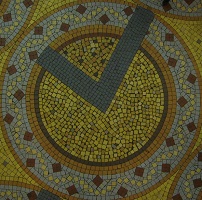 France Revisited invites six Paris-based French and American foodies, gastronomies and food writers to create a Paris restaurant list that goes beyond your usual buzz list.
* * *
It would be unfair of me to cast doubt upon The List without adding some suggestions to broaden it. I've therefore asked six Paris-based French and American foodies, gastronomes and food writers—Alexander Lobrano, Michel Tanguy, Corinne LaBalme, Allison Zinder, Alain Neyman, Randy Diaz—to suggest eateries that they've enjoyed recently that may not be on the current buzz list, in any category or style or type of cuisine. Some are well known in Paris, some are somewhat known, some are off the radar beyond their given neighborhood.
To their 15 suggestions I've added 10 of my own, a combination of what are for me old reliables and places where I've eaten this year and wouldn't hesitate to return.
These aren't musts or shoulds. In gathering them below I am not trying to refute or to muscle out The American Paris Restaurant List. I am instead looking to broaden travelers' sense of the possibilities in the great if battered food city of Paris.
– Gary Lee Kraut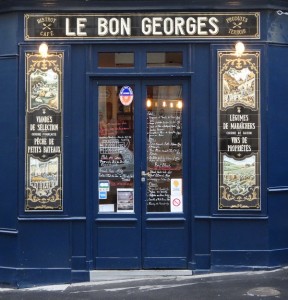 This list was compiled in August 2014.
Pricing is noted as € to €€€€ for a 3-course dinner without beverages, with many of these falling in the €€ range, meaning about 33-55€, considered moderately priced by Paris standards.
Suggested by Alexander Lobrano, Paris-based American food journalist, author of Hungry for France and Hungry for Paris.
Bistrot Belhara
23 rue Duvivier, 7th arr. Metro Ecole Militaire or La Tour Maubourg. Tel. 01 45 51 41 77. Closed Sun. and Mon. €€
In a quiet corner of the 7th, Bistrot Belhara is a charming place, great value for the money, serving seriously good southwestern bistro cooking with a modern twist.
Citrus Etoile
6 rue Arsène Houssaye, 8th arr. Metro Charles de Gaulle-Etoile. Tel. 01 42 89 15 51. Closed Sat. and Sun. €€€-€€€€
Gilles Epie was the youngest chef ever to win Michelin star and was brilliant at Le Miraville in the 4th. Then he bunked off to USA and became hottest chef in LA at L'Orangerie. Now back in Paris his California-influenced contemporary French cooking is superb at this under-the-radar place near the Arc de Triomphe.
Suggested by Michel Tanguy, a French culinary journalist on the radio station France Bleu 107.1.
Fogón
45 Quai des Grands Augustins, 6th arr. Metro Saint Michel or Pont Neuf. Tel. 01 43 54 31 33. Closed Mon. €€
The best Spanish food in town. I love this place for both the creativity and freshness of the food and the kindness of the chef, Alberto.
KGB (Ze Kitchen Galerie Bis)
25 rue des Grands Augustins, 6th arr. Metro Saint Michel or Odeon. Tel. 01 46 33 00 85. €€-€€€.
An address to keep in mind for fresh, original and tasty cuisine with an Asian spirit and for the kindness and simplicity of the service.
Auberge Flora
44 boulevard Richard Lenoir, 11th arr. Metro Richard Lenoir or Breguet Sabin. Tel. 01 47 00 52 77. Open daily, 7am-11pm. €€
With a warm welcome, Flora Mikula's contemporary auberge (inn) is open to hungry and thirsty travelers throughout the day: for breakfast (served at any time), lunch, teatime, tapas, dinner or weekend brunch. Mealtime, the friendly staff serves a generous Mediterranean cuisine. (Gary's note: Flora's is also a 3-star hotel with 21 sweet and stylish little rooms. Together with the café-restaurant, a sweet place to call home for a few days.)
Suggested by Corinne LaBalme, a French-American writer and journalist (frequent contributor to France Revisited) who's had her finger on the pulse of the Paris restaurant scene for two decades.
Augustin
15 Place Richard Baret, 17th arr. (across from district hall of the 17th). Metro Rome. Tel. 01 43 87 64 51. Open daily. €-€€
You'd have to go far and hunt long to find a better brandade (a dish common in the south of France of salted cod blended with olive oil, potato puree and a hit of garlic) than the mashed spuds chez Augustin, a café and restaurant too laid-back for all that It List stuff. Open almost all the time, and if it isn't open that's probably only because WWIII has started on Place Clichy.
Suggested by Allison Zinder, creator of Paris on the edge, a website about "jaunts, joie de vivire and culinary inspiration from the city's artists."
À la Renaissance
87 rue de la Roquette, 11th arr. Metro Voltaire. Tel. 01 43 79 83 09. Open daily. €€
This local favorite just got better. Run by a young, relaxed, and dedicated team, this 1900-style bistro was long known for its generous portions and tasty natural wines. The recent menu revamp means that diners now have more seafood options, which also showcase gloriously fresh and colorful vegetables.
Le Casque d'Or
15 rue Saint Blaise, 20th arr. Metro Porte de Bagnolet. Tel. 01 43 71 31 64. Open Tues.-Sun. 10am-midnight. Closed Mon. €-€€
Locals know this café and restaurant as Chez Yazid, named for the bearded and friendly owner who is often out on the terrace knocking back a cold one with neighborhood artists. If you're looking for a gourmet meal, try the moderately-priced bistro Café Noir next door, but Yazid's serves up cheap and honest food. It's an even better deal considering the surroundings: the tiny cobblestone rue St. Blaise has a bucolic village feel and is only steps away from the Mama Shelter hotel and the music venue La Flèche d'Or.
Suggested by Alain Neyman, creator of lesrestos.com, a French site specializing in commentary about restaurants and chefs in Paris and throughout France.
Les Papilles
30 rue Gay Lussac, 5th arr. RER Luxembourg. Tel. 01 43 25 20 79. Closed Sun. and Mon. €-€€.
Between the Luxembourg Garden and the Pantheon, Bertrand Bluy's old-fashioned bistro offers traditional French dishes served in a lively, friendly atmosphere. An excellent selection of wines.
Jean
8 rue Saint-Lazare, 9th arr. Metro Notre-Dame-de-Lorette or Saint-Georges. Tel. 01 48 78 62 73. Open daily. €€€-€€€€.
In a large and cozy 1950s-style dining room, the 1-star Michelin restaurant of Jean-Frédéric Guidoni (maitre d' at Taillevent for 20 years before opening here in 2002) presents high-quality modern gastronomy. A restaurant to be rediscovered.
Les Tablettes – Jean-Louis Nomicos
16 avenue Bugeaud, 16th arr. Metro Victor Hugo. Tel. 01 56 28 16 16. Open daily. €€€-€€€€.
Jean-Louis Nomicos is a stellar chef (1-star Michelin) who left Lasserre to open his own gastronomic restaurant in this chic quarter of the city, where he attracts an elegant clientele of regulars.
Suggested by Randy Diaz, an American food blogger at Paris Missives.
Dix-Huit
18 rue Bayen, 17th arr. Metro Ternes. Tel. 01 53 81 79 77. Closed Sat. lunch and Sun. €€
Aron Isip, a native of the Philippines who has worked at Apicius, Ze Kitchen Gallery and Pan, brings a Filipino/Asian influence to some of his dishes along with extensive French cooking skills and knowledge. A wonderful fusion of tastes.
Le Casse Noix
56 Rue de la Federation, 15th arr. Metro Dupleix or Bir-Hakeim. Tel. 01 45 66 09 01. Closed Sat. and Sun. €€
Not far from the Eiffel Tower but otherwise removed from the go-to restaurant neighborhoods, Pierre Olivier Lenormand has drawn a following—including me—as he attempts to reintroduce offal into the French culinary scene.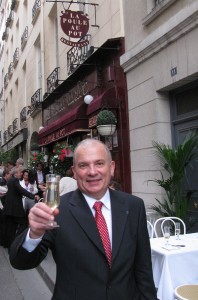 Le Servan
32 rue Saint Maur, 11th arr. Metro Rue Saint Maur, Père Lachaise or Voltaire. Tel. 01 55 28 51 82. Closed Sun. and Mon. €€
The French-Filipino Lehava sisters flavorfully blend Filipino influences into their dishes. Rather than using typical wine vinegar, for example, they'll use coconut flavor. The flavors are subtle, wonderful, delicious and unique.
10 suggestions from Gary Lee Kraut
La Poule au Pot
9 rue Vauvilliers, 1st arr. Metro Les Halles or Louvre-Rivoli. Tel. 01 42 36 32 96. Open Tues.-Sun. 7pm to 5am. €€
"The best peasant food I ever ate" is how a friend described his meal here, and that's precisely why Paul Racat, owner of this all-night, uber-traditional bistro since 1974, has been honored by the City of Paris with its Médaille de Vermeil and by France in being named Chevalier de l'ordre du mérite agricole. If, like me, you've ever had a midnight yearning for a restorative bowl of most excellent French onion soup (la soupe gratinée au vin blanc), accompanied by a glass of white wine, perhaps an upside-down apple pie (tarte Tatin) to round off the supper, then a late-night (or very late-night) stop at La Poule au Pot will be one of your most memorable Paris restaurant experiences. Ditto for yearnings for escargots, bone marrow, fried camembert, chicken and rice with a cream sauce, steak tartar, chicken in a pot (poule au pot Henri IV), veal kidneys, salmon, lamb, crème brulée, profiteroles… The décor has been largely unchanged since La Poule au Pot opened in 1935, other than the hundreds of small plaques bearing the names of stars of music, film and theater who have also slid into the banquettes here to enjoy traditional bistro fare and some of the friendliest deadpan service in town.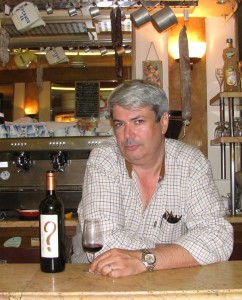 La Tute (aka Chez Manu)
7 rue Rossini, 9th arr. Across the street from the Drouot auction house. Metro Richelieu-Drouot. Tel. 01 40 15 65 65. Open Mon.-Sat., noon to midnight. €€
A tute is a den or a lair, a place for wolves, bears, bandits and in this case anyone else looking for a laid-back joint for Pyreneen cuisine. Owner Manu Maquaire keeps watch from behind the counter surrounded by an old bistro décor with a 1950s heart and a 1900 mosaic floor. (For added historical appeal, I note that Manu, originally from the Hautes Pyrénées, studied photography for a year in Denver in the early 90s.) Manu isn't trying to make his tute either new bistro or old bistro but simply a friendly lair for octopus, fried calamari, squid baked in its ink, brouillade aux cepes (a scrambled egg and cepe mushroom dish served during the early autumn cepe season) and its cousin brouillade aux truffes (during the winter truffle season), red peppers stuffed with brandade de morue (salted cod mashed with garlic, oil and cream), blanc manger with Armagnac, pistachios and cinnamon, and an unpretentious southwestern wine list (even though the questioning bottle in the photo is from Provence). The noise level may rise if enough wine bottles reach the tables.
5è Cru
7 rue du Cardinal-Lemoine, 5th. Tel. 01 40 46 86 34. Open for noon-3pm Mon.-Fri., open 7pm-11pm/midnight Mon.-Sat. € for the appetizers or light meal, but here the wine's the thing so prices vary greatly.
Depending on the mood and the company I'll think of 5è Cru as a wine bar or as place for a light meal (quiches, salads, pâtés, cold cuts, cheese, spreads) with a nice bottle of wine (chosen off the shelf, with a slight corking fee added to the take-out price)—to be followed in either case by a walk onto the bridge to Ile Saint-Louis for a stunning night view.
La Robe et Le Palais
13 rue des Lavandières Sainte Opportune, 1st arr. Meto Chatelet. Tel. 01 45 08 07 41. Open Mon.-Sat. €€
A convivial wine restaurant serves fresh hearty fare that can serve as the foreground or the background for a discovery (for both novices and grape-savvy diners) of the organic and biodynamic winescape of France. Dead-center Paris, easily accessible from any direction.
Le Bon Georges
45 rue Saint-Georges, 9th arr. Metro Saint-Georges or Notre-Dame-de-la-Lorette. Tel. 01 48 78 40 30. Open lunch and dinner Tues. to Fri., dinner Sat. €€.
A nice little bistro, you ask? Well here's one for you. Reliable from fish to fowl and from lamb to beef, with some fresh veggies and fries on the side. As the foodies cry for novelty, it's nice to know that classic, well-prepared bistro fare can still found.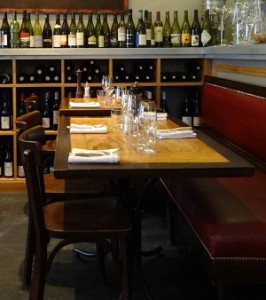 Pottako
4 rue de l'Exposition, 7th arr. Tel. 01 45 51 88 38. Metro Ecole-Militaire or RER Pont d'Alma. Open daily. €€
Sébastien Gravé's contemporary Basque chic restaurant off Rue Saint-Dominique just down the alley from that List-favorite restaurant where the Obama's ate.
Route de la Soie
20 rue Scheffer, 16th arr. Metro Trocadéro. Open daily. Tel. 01 45 05 58 35. €€
A quality Japanese restaurant with a touch of contemporary neighborhood Paris chic for before or after the great Eiffel Tower photo op at Trocadero. Fond memories of nasu denguka (eggplant glazed with miso) and much else.
Chameleon
70 rue René Boulanger, 10th arr. Metro Strasbourg-Saint-Denis or République. Tel. 01 42 08 99 41. Open for lunch Mon.-Fri., for dinner Tues.-Sat. €€.
Chameleon, which opened in 2012, cuts through the fad of the Paris restaurant scene to serve fresh food skillfully prepared without excessive tra-la-la. It's a large open space that allows elbow room between tables, itself something of a rarity in the reasonable price-range where a 3-course dinner will run about 40€ without wine. The diners are handsome and pretty but not dramatically beautiful or showy. There's a limited and changing menu with fish, veal, beef, duck. (See the weekly menu and the wine list online.) Portions are on the small side and not all elicits superlatives, nevertheless I find this a most pleasing choice for dinner, whether tête-à-tête or with friends.
Camille
24 rue des Francs-Bourgeois, 3rd arr. Metro Saint-Paul. Tel. 01 42 72 20 50. Open daily. €-€€
Camille, where I've always received good service, remains the most consistently appetizing café-restaurant in the heart of the Marais, a wise choice when not in the mood for either the Jewish food court on Rue des Rosiers or the hip and showy eateries of Upper Marais. Also deserving a shout-out in the same broad area of the Marais is the reliable (for rustic fare) café-restaurant Chez Janou, 2 rue Roger Verlomme, 3rd arr. Metro Chemin Vert. Tel. 01 42 72 28 41. Open daily. Especially noteworthy when you'd like to start off with an aperitif of pastis or absinthe since this is Paris's prime venue for anise-flavored spirits.
Return to Part I of 25 Paris Restaurants: A List Beyond The List.