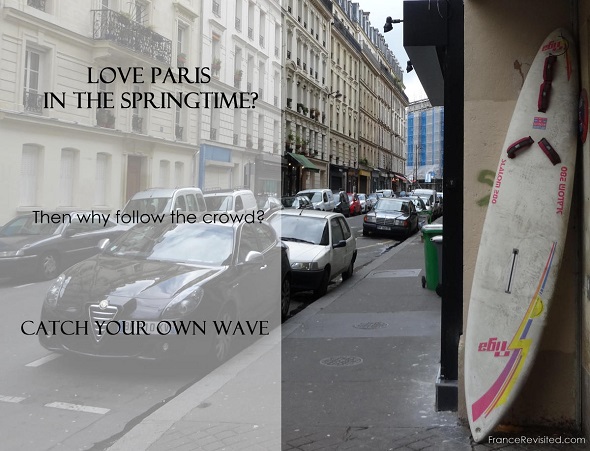 March 2014 – In January and February France Revisited fell silent as snowfall in the American northeast, where I spent four weeks on a speaking tour before continuing the lecture road trip south to the Carolinas and Florida. Unfinished articles languished in generic folders, great work from contributor went unedited, queries went unanswered.
Yet within that silence came a steady stream of new readers clicking aboard as I met hundreds of Francophiles, citizens with passports, college students dreaming of travel abroad, and armchair travelers curious or passionate about one of the various topics of my talks: WWI and WWII touring in France, the history of wine in Burgundy and Champagne and the pleasures of touring there, understanding patrimoine (cultural heritage) in France, travel and travel writing beyond the clichés.
Toward the end of my East Coast road trip, I was pleased  as all get-out, both personally and on behalf of France Revisited, to learn that one of the articles published on this web magazine had just been awarded top honors as best culinary travel article written for the internet. The Gold Award, as it's called, was for my 3-part article, Drome Provencale: Eat Like a Sixth Grader, Drink Like a Wine Enthusiast. This Gold is one of the NATJA awards given by the North American Travel Journalists Association (NATJA)  recognizing what the jury feels are the best articles published in print and on the web during the period from October 2012 through September 2013.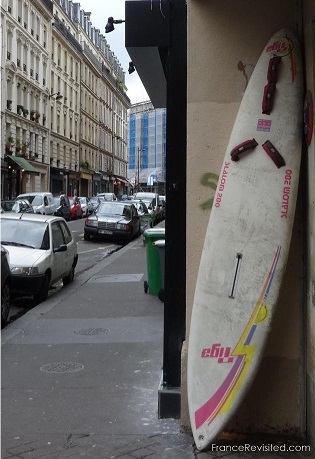 What's especially gratifying about being honored for the Drome article is that it represents recognition by my travel media peers that one needn't be a specialized food writer to write about culinary travel and one needn't be a chronic foodie to appreciate the pleasures and insights of culinary travel. Wherever there is bread to break and glass to raise there is potential for a good story because the greater part of the experience lies outside the dish or the glass (as those who join me on organized Paris and France Revisited culinary and wine [and beer] adventures well know.)
Not quite Gold but also gratifying, my article Biarritz: The Surfing Lesson was a named a finalist in the NATJA Sports and Recreation category.
As sad as I was to leave the U.S. after 6 weeks on the road, I was happy to return to Paris. What traveler could ask for more when leaving home to come home?
Imagine then further pleasure of returning to Paris on a beautiful March day, wheeling my luggage toward my building, looking forward to further culinary, sports, recreation and other adventures in France, and coming across that surfboard standing on the sidewalk.
I take as a sign of a great new wave of articles, stories, and adventures coming my way… and yours.