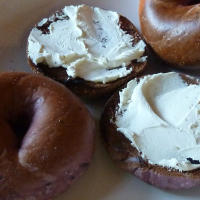 The bagel isn't about to overtake socca, the time-honored chickpea pancake, as a favorite nosh in Nice, but having made inroads into the bread-life of Paris, it's gaining attention in the capital of the Riviera. Among those paying attention are French-born Daniele Thomas Easton and her Brooklyn-bred husband who, while wintering in Nice, often have a hankering for the bagel-and-cream-cheese of their weekend back home in Philadelphia.
* * *
By Daniele Thomas Easton
Every winter, during our sojourn by the French Riviera, away from the American northern inclemency, my American husband and I seem to embark on a quest for some Holy Grail, usually a gastronomic quest. This year, it is the elusive bagel that has captured our interest and energized us.
Sunday brunch is not the same, here or at home, without the traditional bagel, cream cheese, smoked salmon and the works! There is a sad reality, whatever your age or nationality: after splurging on croissants and brioches at breakfast time, one reaches a level of saturation and wants to revert to old habits, healthier or not.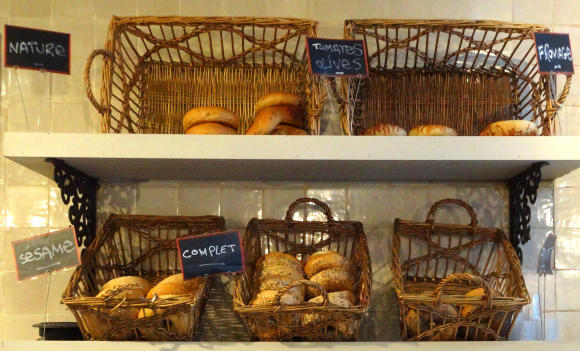 What gave us the idea – erroneous – that the search would be easy this year was the discovery of a center city eatery baptized "Bagel History," Avenue Notre-Dame, a few footsteps from the cathedral. Comforted by this ecumenical neighborhood, we stopped by to purchase a few bagels that were offered on the menu. Non, we could only order and consume their ready-prepared feasts with appealing names like The Manhattan, The Central Park, The Hudson River and, yes, The Nissart (meaning "from Nice" in the local dialect), with tuna, olives, tomato, hard boiled eggs, cucumber, red pepper… and vinaigrette.
We managed to extort, after many compliments on their innovative menu, the name of the supplier of bagels, a new bakery in town, BREAD. No rampant linguistic Americanism, BREAD is the acronym of Boulangerie Responsable et Amitié Durable, a fair-trade establishment where bread is made with organic ingredients, in an artisanal manner, sourdough et al.
Early one Saturday, I woke up and walked to BREAD to make sure I would get the four bagels I had ordered the day before. Although BREAD only sells bagels to restaurants, the owners have a soft spot for foreigners with a yearning for home food and accept orders placed by individuals! The salesperson was sorry… priority had been given to a last minute's order of 10 bagels by a regular client, a promising new chef.
There is no law against lackadaisical bakers in Nice! One has to bite the bullet, if not the bagel, and accept fatality. We negotiated for a similar order for Sunday. Patience is a virtue. Back home early Sunday, a proud acquirer of a French version of the baker's dozen (in this case a baker's four: our original order plus one on the house as an apology), I prepared breakfast.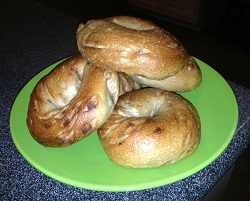 From the height of his food knowledge and his Brooklyn upbringing, my husband punctured my balloon: "This is no bagel, a bastardized version of baguette, brioche and bagel, maybe… But definitely no bagel!"
Well, the bagel was no real bagel, the cream cheese was no real cream cheese either—we use light ricotta cheese, even if Philadelphia cream cheese has made it here—but, all in all, brioche-like bagels aren't bad. Four went that morning. And the fifth one, that evening, went pretty well with a creamy goat cheese and a glass of Haut-Beynac, 2010.
Bagel History, 27 avenue Notre-Dame, 06000 Nice. Tel.  04 93 92 39 05. Open Mon.-Sat. 8am-7pm.
BREAD Boulangerie Responsable, 44 boulevard Gambetta 06000 Nice. Tel. 04 89 98 67 24.
© 2013, Daniele Thomas Easton
Daniele Thomas Easton is the Director of France-Philadelphie, which provides consulting for French-American business and cultural projects. She is the former Honorary French Consul to Philadelphia (PA) and Wilmington (DE). When not wintering in Nice she and her husband live in Philadelphia. In 2007 she received France's Legion of Honor.
Note: Photos above are not of BREAD bagels.