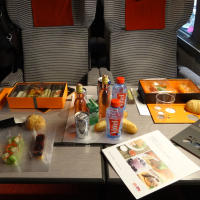 Track 5, Gare de Lyon, Paris, November 12, 2013
Once known in culinary circles for its chewy, wilted, nearly empty sandwiches, the French national railway company SNCF has reconsidered the food offerings on the nation's high speed trains, the TGV, and given an upgrade to its snack bar menu and to the meal boxes available in the first class cars.
The snack bar menu has been revamped by adding some brands that are well-known in France, including the grocery store Monop'Daily for sandwiches and other prepared foods, the chain bakery PAUL for breakfast pastries and Illy for coffee. Travelers who didn't get a chance to taste Angelina's celebrated hot chocolate (now expanding its reach at corporate speed) while in Paris or who want to make their children happy with something other than soda and chips can now order a cup at the bar (4€90), poured from single-serving bottle, microwaved et viola! The TGV's best-selling croque monsieur (800,000 sold last year) remains on the menu.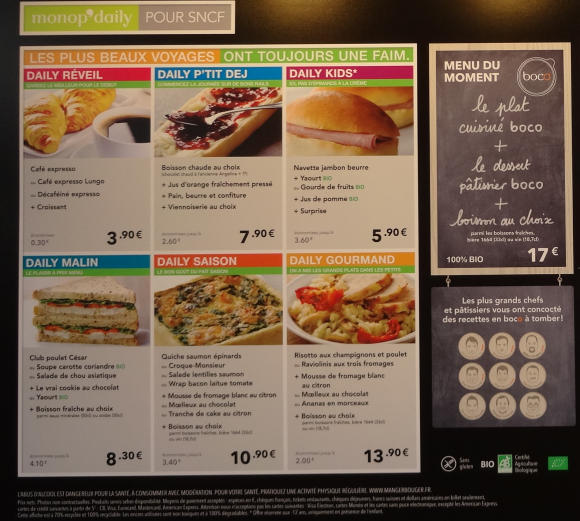 One shouldn't necessarily abandon the idea of planning your train munchies in advance by creating your train picnic at a good bakery or traiteur before boarding the train or the idea of enjoying a sit-down meal before or after taking the high-speed to or from Paris, Avignon, Strasbourg, Bordeaux, etc. Still, it's nice to know that there's a good variety of selections available on board.
Boco, a mid-up-market fast-food business created by two brothers, Vincent and Simon Ferniot (see photo below), is the brand behind the development of the 3-course meal dishes served in the first-class cars, some of which are also available at the snack bar.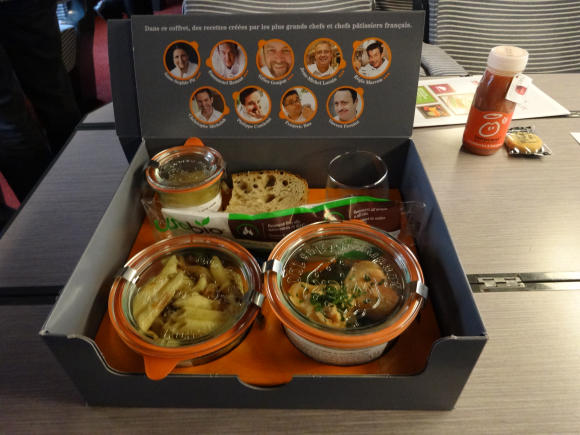 In pursuing Boco's and the SNCF's goal of providing high quality fast food, the Ferniots have enlisted a constellation of stellar restaurant chefs and top pastry chefs in developing the 100% organic refrigerated dishes and desserts, all served in glass jars (bocaux, pronounced boco, in French). In addition to lamb, chicken, salmon and beef dishes, there are vegetarian and gluten-free dishes. Hot drinks are available but no hot dishes.
Along with Vincent Ferniot, the chefs of the current constellation are Christophe Michalak, Anne-Sophie Pic, Jean-Michel Lorain, Emmanuel Renaut, Gilles Goujon, Philippe Conticini, Régis Marcon and Frédéric Bau.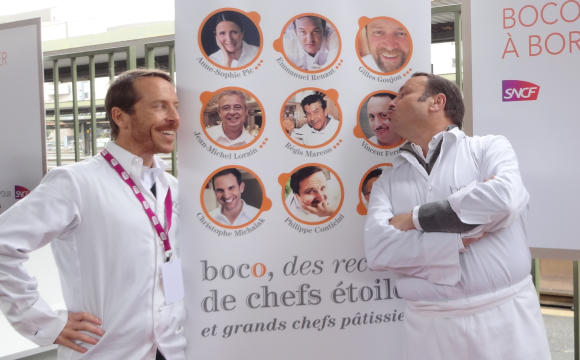 All is relative in transit fare, of course. A tasting of fowl with zucchini with a minty yogurt sauce, signed Anne-Sophie Pic, and of rounds of raw and baked salmon with green lentils, signed Régis Marcon, found them to be nice enough for a quay-side picnic. The new TGV fare may have more in common with fine branding than with fine dining going, but at 21€ (about $28) per meal box (including water, other drinks extra) it ought to do the trick on a 2 or 3-hour ride through the beauty of the French countryside. And a sandwich and other snack-bar selections can keep the wolf from your door and the kids quiet.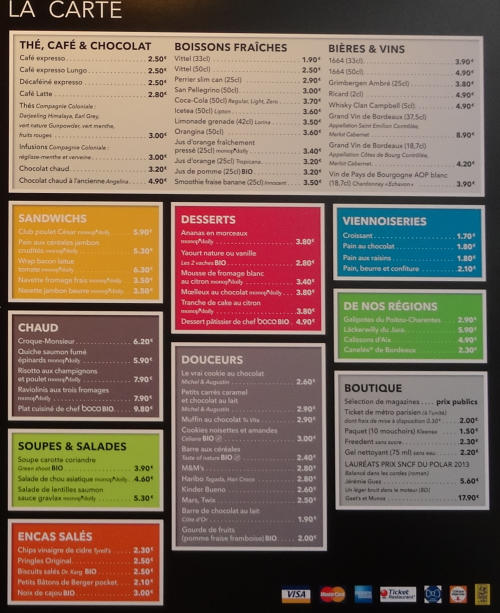 Overseeing and executing all this, the SNCF has partnered with the international industrial caterer Newrest, via their Newrest Wagon-Lits division, and with Elior, which operates restaurants in schools, businesses and health institutions and retail in transit stations.
© 2013, Gary Lee Kraut