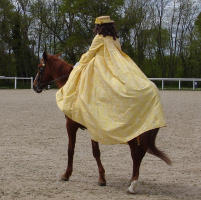 by Justyna Gawąd
Versailles's got its royal stables, Chantilly's got its noble horse museum and Saumur's got its Cadre Noir, but for me as a horse-lover watching the horsewomen at the Haras National (National Stud Farm) at Le Lion d'Angers is paradise.
During a season which stretches from end of February until late October, this equestrian center located 16 miles northwest of Angers holds competitions for several types of riding (dressage, jumping, 3-day event) for various ages and skill levels from club level to high amateur and professional level, with two international competitions as the cherries on top.
And each year in May side-saddling horsewomen arrive for Europ'Amazones, a strange and colorful weekend of pageantry, sport and beauty. Amazones may make them sound like arch-toting warriors yet they are among the most elegant horsewomen you'll ever see.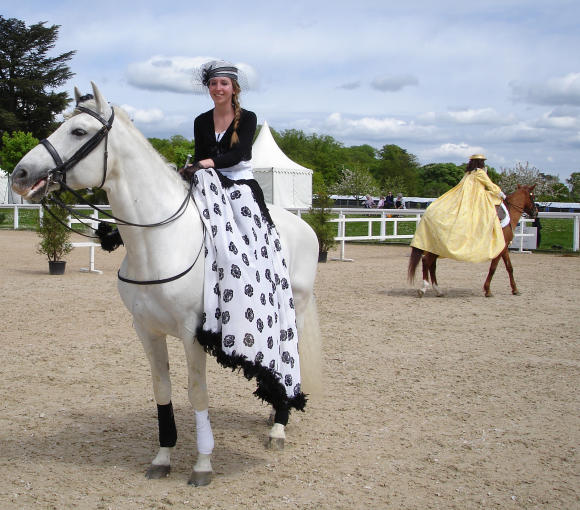 But don't get a false idea that this is just about looking nice. These riders come here to compete! They show their skills in dressage, jumping and derby (cross country race with obstacles). They also complete for the overall appearance of the rider and her horse. This year the ladies (somehow "women" doesn't seem elegant enough) competed in two such categories: "historical," where the outfit is an exact replica, and "fantasy," where les amazones have more freedom in choosing their costumes.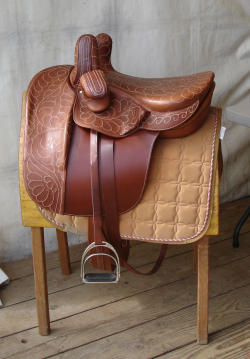 The history of one-sided saddle riding dates to the Middle Ages, particularly beginning in the 14th century, when it seemed too unladylike (read: non-virginal) for young women to sit astride a horse. Straddling a horse in a long skirt wasn't ideal in any case, but it was doable. Nevertheless, proper ladies were expected to sit sideways on a wooden construction resembling a chair with their feet on a small footrest—very impractical for controlling the horse and for going faster than pace.
In the 16th century, during the riding days of Catherine de Medici, wife of French King Henri II, one-sided saddles were improved in France in such a way that a woman could sit facing forward and better control her horse—a great leap forward for horse riding in a long skirt. But Catherine's rival for her husband's attention, Diane de Poitiers, the greater beauty, stole the show. It's said that she rode daily and cut a fine figure will doing so—proof that for the finer things in life in France a lover is often more fondly remembered than a wife. Cause for reflection.
Sidesaddle amazone riding continued to be the norm for proper ladies into the early 20th century. Then women's rights, among other forces, allowed women the freedom to sport split riding skirts and finally breeches while sitting astride their mount.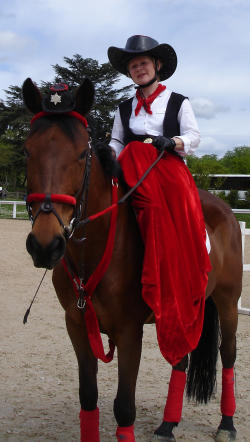 As a rider who uses both legs and the whole body to communicate with her horse I find riding difficult enough. An amazone can use only one leg and her body in a limited way, but still has to achieve the same results in dressage.
Two thoughts came to mind while watching the long-skirted riders at Europ'Amazones:  "Woah!" and "Why?"
I soon forgot the "why" in favor of the "woah," for in addition to their obvious skill these women looked astonishing. No stable-boy look here (that would be me most of the time), no modern, hard-to-maintain clean trousers and tops. The horsewomen I watched were extremely elegant and made it all look so effortless.
Hats off to you, ladies! I mean helmets off.
Text and photos © Justyna Gawąd, 2013
Justyna Gawąd is Polish and is married to a Frenchman. They are proud parents of a European child, guardians of one dog and faithful servants of one cat. Three years ago they moved from Warsaw to the Anjou region of France, where Justyna rides often.
Haras Nationaux, National Stud Farms, were created in the 17th-century by Louis XVI's minister Colbert in order to ensure the remounting of the French army. Eliminated during the Revolution, they were reestablished by Napoleon I in 1806. Twenty-two such equestrian centers spread throughout France are currently operated by the government's French Horse and Equitation Institute to promote horse breeding and related activites along with the development of equestrian activities. They are, however, being restructured and will soon disappear in their current configuration although the centers themselves will continue to exist in some form.
Guided tours of the Haras National at Lion d'Angers are given mid-April to early September.