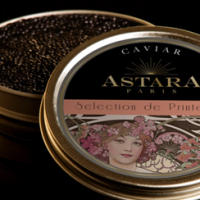 It's lucky that sturgeon don't put much stock in astrology. All the roe that would normally be reading "Aries" and "Taurus" fish-scopes for the rest of their Piscean lives are likely to be gobbled up in Paris over the next few weeks. Chalk it up to Tragic Destiny: The spring caviar season opens on March 21.
Fish-spawn addicts already know the drill. Sturgeon season ends in March and the last fish in the net provide deliciously low-salt caviar with a distinctive "woodsy freshness" on the palate. Astara, a company that usually deals exclusively with restaurants, is reaching out to the public, but only through June.
Yes, like the Franklin Mint, this is a limited edition offer. If you lust for a tin of seasonal proto-sturgeon, you need to hit three lucky stores. Only La Grande Epicerie at the Bon Marché, the Galéries Gourmandes at the Palais de Congrès (Porte Maillot) and the Ferme d'Hugo (Place Victor Hugo) will stock Astara's "Sélection de Printemps" from March 21 to June 30, 2013. Prices vary from 13 € for 10 grams (barely a lick and a promise) to 162 € (125 grams) … a major investment that builds a Really Big Blini.
Of course, it's best to have seasonal caviar served an iced platter.  When shoppers tire of browsing through the Paule K and Prada racks at Printemps, they can make their way to the sixth floor brasserie where Astara has installed an ephemeral FishBar through April 13.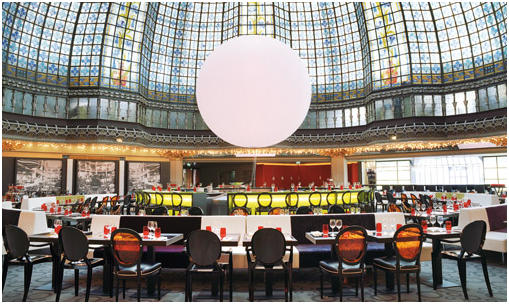 It's already serving luscious salmon salads and two plush variations of tarama (pink and white), but remember that the "Sélection de Printemps" caviar (served with a flute of Champagne) won't light up the menu until March 21.
Printemps, 64, bd Haussmann, 9th arr. Metro Havre Caumartin. Closed Sunday.