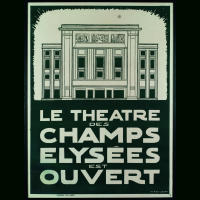 It's centennial season on Avenue Montaigne as two of the anchors of Paris's most couture-conscious street celebrate their 1913 origins and moments in their illustrious histories.
The ever-chic Théâtre des Champs-Elysées,  designed by the Art Deco dream-team of Auguste Perret, Antoine Bourdelle and Maurice Dénis, opened on March 31, 1913, followed three weeks later by the ever-fashionable Hôtel Plaza Athénée.
Thanks to the twin anchors of the TCE and the PA, Avenue Montaigne became an international roadway of haute couture, especially after WWII when Christian Dior et al. set up shop along the avenue.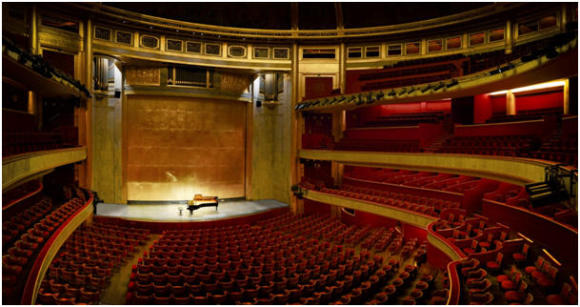 While the venue that showcased Nijinski, Stravinsky and Josephine Baker "back in the day" focuses its centennial season on its greatest hits with a dash of 21st-century stardust, the hotel that Dior was so fond of celebrates its birthday with a year of special menus and surprises.
The TCE's first 2013 production opened on a high note in February with Donizetti's La Favorite, a slice of gorgeous 1840 bel canto rarely performed in its original French. Against a minimalist set by New York artist Andrea Blum, director Valérie Nègre skillfully underlined the contemporary political implications of the twisty baroque plot.
After a Don Giovanni  (seen through the eyes of Stéphane  Braunschweig) that debuts on April 25, the TCE goes into nostalgia overdrive with Le Sacre du Printemps… the earthshaking ballet that premiered on this gilded stage in May 1913. Starting in May 2013, dance fans will get numerous spins on this classic: Stravinsky's wonderpiece plays to Nijinski's original choreography, followed by new interpretations by Sascha Waltz and Pina Bausch.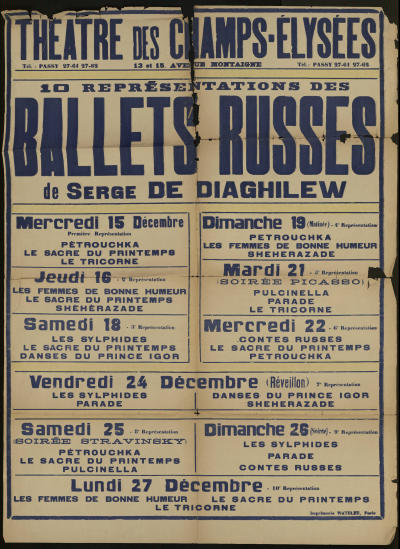 Not to forget productions by Sylvie Guillem and Akram Khan, Benjamin Britten's War Requiem, Benvenuto Cellini (Berlioz), Agrippina (Handel), The Barber of Seville (Rossini) and a dance-in-the-aisles Big Band homage to Josephine Baker and Sidney Bechet on July 5. Ticket and schedule information at www.theatrechampselysees.fr.
Meanwhile, several graceful steps away, one would expect a fashion-conscious belle like the Plaza Athénée to lie about her époque, but instead she's releasing 100 birthday balloons over the 8th arrondissement on April 20th, drinking "Baccarat Harcourt" cocktails from cut-crystal glasses in the bar, and definitely not watching her waistline with special centennial dishes like pâté chaud de pintade truffé in her three-star restaurant which operates under the supervision of ubiquitous stellar chef Alain Ducasse.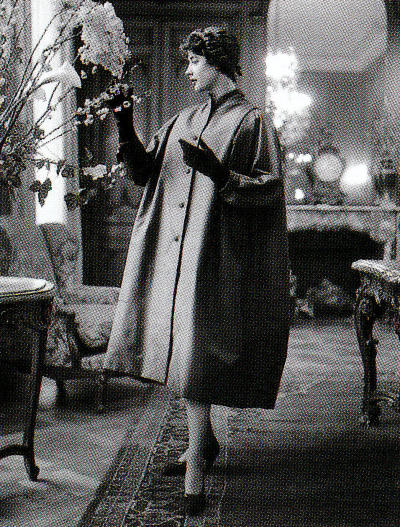 The Plaza-Athenée is also planting 100 trees at Versailles this spring, minting a special (gold) card for her favorite customers, and offering packages that include tickets to Le Sacre du Printemps next door.
The Plaza-Athénée is classified as a "palace" (i.e. a rare and exceptional 5-star) by official French hotel standards. All the info at www.plaza-athenee-paris.com.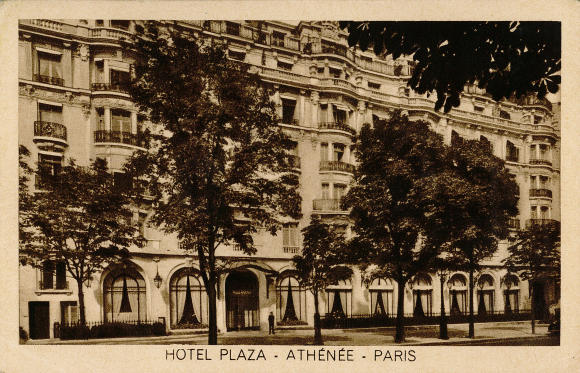 Théatre des Champs-Elysées, 15 avenue Montaigne, 8th arr. Tel. 01 49 52 50 50. Metro Pont de l'Alma.
Hôtel Plaza-Athénée, 25 avenue Montaigne, 8th arr. Tel. 01 53 67 66 65. Metro Pont de l'Alma.
© 2013, Corinne LaBalme