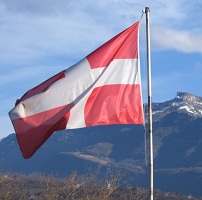 In which the author visits and revisits Chambery, capital of Savoy in the Rhone-Alpes region, remembers old stones and water slides, tries to see the mountains through the mist, contemplates reading Rousseau, going cycling and visiting a museum, takes a cruise on Lake Bourget from Aix-les-Bains, goes skiing with Italians on Grand Revard, and reports on hotels and restaurants.
* * *
While working on my first guidebook to France in the early 1990s I met Gerard Charpin, the foreign press attaché of Chambéry, capital of Savoy (flag in photo) in the Rhone-Alpes region. By the time I arrived in Chambéry, in the valley of the foothills of the Alps, I'd been on the road in the region for about a week. Hearing that during that time I'd had an intensive schedule of visiting castles, churches, museums and old towns, Gerard was horrified that I hadn't taken a break from visiting les vieilles pierres, old stones.
We were both in our early 30s, too young, he felt, to truly want to spend a full week of it. So after showing me the vieilles pierres of the historical center of Chambéry—the former castle of the Dukes of Savoy, their chapel that once housed the Shroud of Turin, the cathedral, the alleyways of the old town, the Fountain of Elephants—Gerard took me to an indoor aquatic park that had recently opened by a mall on the edge of town. He brought an extra bathing suit for me—we were about the same size then.
Conscientiously trying to describe a town that few readers of that '90s guidebook (and possibly of this article) ever heard of, I figured that the water slides at the mall were less significant than Chambery's role as the historical seat of power of the House of Savoy until they moved across the Alps to Turin in 1563, "leaving behind their ducal castle to dominate the town."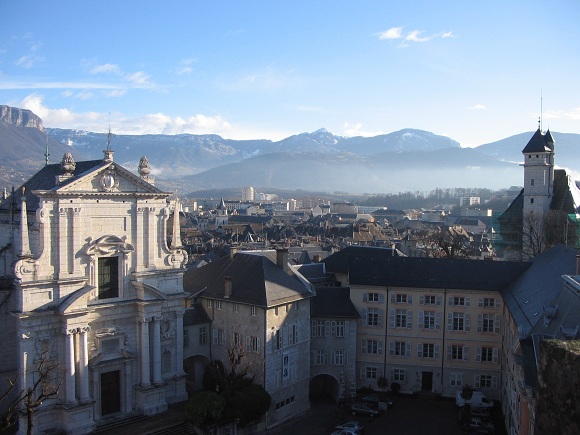 That guidebook-like quote is from my own long-out-of-print guidebook. I continue: "Below is not an old town of princely buildings but one of solid, practical construction. Yet a false order reigns on the main streets, for behind the somewhat austere facades of the old town are narrow, hidden alleyways that twist past elegant little courtyards, painted archways, and open staircases, before emerging on an unexpected side street."
Apparently Gerard did a good job of showing me those old stones. But it's the water park that I now remember most from that visit: leaving the old town to drive to the mall, the buzz in the changing room, choosing between the green and the black skimpy bathing suits that Gerard had brought, wading in a pool surrounded by joyful strangers, the slides, and Gerard repeating for the third time that he couldn't believe that I'd spent the entire week visiting vieilles pierres while I thought it odd to be swimming by the mall in Chambery.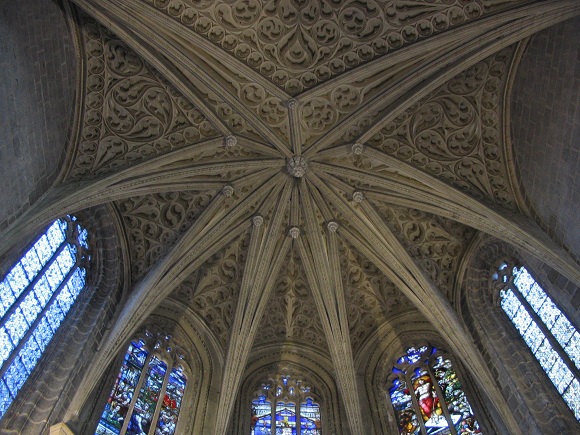 Though I didn't return to Chambery for a number of years after that, I came across Gerard again and again at travel fairs and press events in Paris. Occasionally we would have a drink or dinner together. We became friends. He invited me to visit him in Chambery but I kept sidestepping his town when traveling south from Paris or into the Alps.
Logistically, Chambery is an easy town to sidestep, which isn't to say that it should be avoided but rather that trade, train and tourist routes don't naturally pass this way unless heading through the Alps to Turin, Italy. It's a low-key town, a find of sorts, known more as a place where people live than visit, and Gerard has an attractively low-key way of talking about it, whether to encourage people to visit or simply to speak about where he lives. He rarely relies on superlatives to do the work for him. But he claimed to have a magnificent view of the mountains from the terrace of his apartment and invited me to see.
I finally returned to Chambery one long weekend about seven years ago to visit Gerard. Gerard is a kind and diligent host, but the magnificent view that he promised failed to appear. For three days the city sat in a foggy gray. We were now in our 40s, so it didn't matter that the aquatic park had long closed.
On Sunday afternoon, after satisfactorily accomplishing the French ritual of market (there's a great one at Chambery) and lunch, we drove to Grenoble, about 45 minutes away, with the intent of visiting the Beaux Arts Museum there, though we managed to enjoy the town without it.
On the way back to Chambery, a shift in the clouds told Gerard that once home we would find blue skies and snowcapped mountains. But when, back on his terrace, Gerard pointed in the direction of the winter ski slopes and the summer hiking grounds where he now owned a chalet without electricity, I couldn't even distinguish Gerard from the potted plants for the mist.
That evening we went out for raclette, an Alpine meal melted cheese and warmed cold cuts, as a reminder that the mountains were out there somewhere.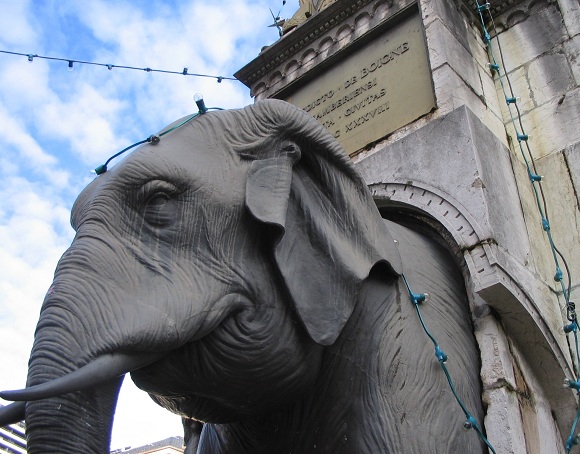 I've returned to Chambery again more recently, in research mode this time. Gerard is still responsible for promoting his town. I, after a break of several years to focus on Paris projects, still write about the about his country.
On a guided tour of the historical center of Chambery, Florence, my guide, showed me the chest-high plaque indicating the height of the flood of January 18, 1875. We were both surprised to realize that today's date was January 18. A couple of tourists passed by just then and Florence seemed to want to share the coincidental date with them. She held up her hand in a combination point and wave hoping they'd notice the plaque, but they ignored her gesture.
Florence told me another date, May 26, 1944, when Americans planes bombed Chambery to stop Germans from going to/from Italy during the final days of the Allied preparations for the Invasion of Normandy. The railway station and about a third of the town were destroyed.
On my own I walked away from the center of town for about 20 minutes to reach Les Charmettes, where the writer and philosopher Jean-Jacques Rousseau (1712-1778) spent time while in his 20s in the home of his protector and mistress. I'm glad I did because walking by a stream on my way back to the center of town I felt inspired to reread Rousseau when I got home, though I haven't yet gotten around to it.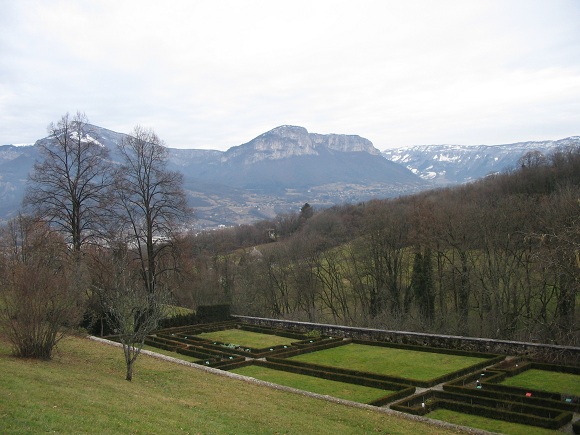 It was January, as I've said. The weather was spring-like in the valley, winter bright in the mountains. My visit corresponded with a visit of the area organized for s small group of Italian tour operators, whom I joined for a tour of Aix-les-Bains, 11 miles north of Chambery. Aix is a fin-de-siecle town formerly turned inward to his hot springs. While the springs are still used for medical purposes and the old stones are a pleasure to see, contemporary travelers mostly look outward to Lake Bourget, France's largest natural lake, and upward into the pre-Alpine hills and mountains.
Hundreds of black-feathered white-beaked ducks (fulica atra) saw us off as we embarked for a beautiful morning cruise to the Abbey of Hautecombe, necropolis of the House of Savoy (counts, dukes and finally, briefly, kings of Italy), where we were greeted by cormorants. Bourget is a long, narrow lake. I wondered aloud whether it was possible to rent bikes at Aix-les-Bains to cycle all the way around and was told "Oui, 74 kilometers" (Yes, 46 miles), which now inspires me more than the thought of reading Rousseau, but I haven't yet made biking plans either.
As with Chambery, the mountains begin on the edge of Aix-les-Bains. I took the photo above when we went up to the Grand Revard, the closest mountain from town, just a 30-minute drive from Aix-les-Bains (equally accessible from Chambery). We skied for a couple of hours on the gentle pre-Alpine slopes (1550 meter/5000 feet). Gerard had lent me for the occasion a pair of ski pants, which I left unbuttoned because they were too tight.
I returned the ski pants to him back in Chambery when I went over to his apartment to finally see the promised view from his terrace. There, lo and behold, was the Massif des Bauges and the Cross of the Nivolet facing the town. The white-crossed red Savoy flag fluttering atop the old stones of the ducal castle.
© 2012, Gary Lee Kraut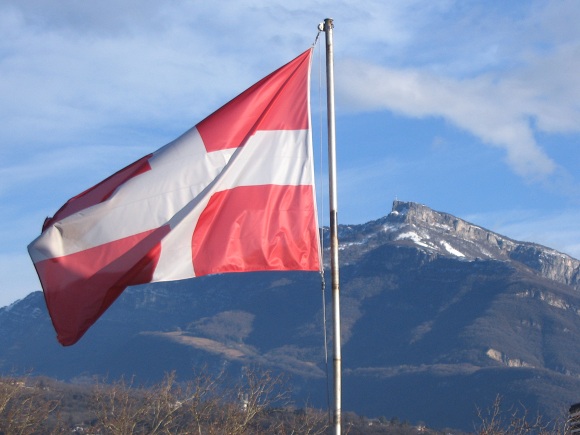 Chambery Tourist Office, 5 bis place du Palais de Justice. Tel. 04 79 33 42 47. Closed Sundays except in July and August.
Aix-les-Bains Tourist Office, Place Maurice Mollard. Tel. 04 79 88 68 00.
Chambery is one of the points of entry to the French Alps of the Savoie/Savoy region. The official Savoie Mont Blanc website provides information about skiing, hiking and other activities in this portion of the Alps.
Chambery Hotels
Château de Candie, rue du Bois de Candie. tel. 04 79 96 63 00. Member of the hotel associations Château et Hôtels Collection and the Esprit de France. Four miles north of the center of town, in the direction of Aix-les-Bains, a 25-room luxury hotel (4-star) partially within the walls of a 14th-century fortified manor. On a 15-acre estate with views of the surrounding mountains. Gastronomic restaurant. Pool in summer. A fine place from which to explore Chambery, Aix-les-Bains and the lakes and hills.
Inter Hôtel des Princes, 4 rue de Boigne,  tel 04 79 33 45 36. A friendly 45-room 3-star hotel for a pleasant stay in the very center of Chambery between the Fountain of Elephants and the castle.
Chambery B&Bs (Chambres d'hotes)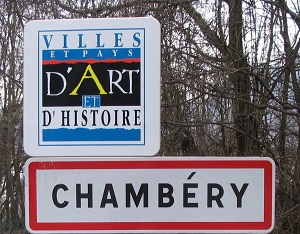 Petit Hôtel Confidentiel, 15 rue de Boigne and 10 rue de la Trésorerie. Tél. 06 22 76 08 85. A luxury (4 corn ears, which are similar to stars but attributed to B&Bs) hotel-like B&B with suites of sleek modern design at two locations in the center of town.
Les Suites de l'Hôtel de Sautet, 6 rue Métropole. Tél 06 16 83 16 64.  Excellent comfort in the 4-corn-ear B&B located in an 18th century mansion on a pedestrian street in the center of town.
La Vie de Bohème, 14 passage Henri Murger. Tél 04 79 70 06 42 or 06 84 35 20 74. Spacious accommodations for a central stay beyond a couple of days or for a traveling family.
Chambery Restaurants
Côté Marché, 60 rue Vieille Monnaie. Tel. 04 79 85 04 35.  Restaurant and gastronomic food shop. Closed Sunday and Monday.
L'Atelier, 59 rue de la République. Tel 04 79 70 62 39 ou 06 11 25 41 45. A restaurant and wine bar. Closed Sunday and Monday.
Le Bistrot, 6 rue du Théâtre, Tel. 04 79 75 10 78. An ambitious young chef in a handsome bistro décor. Closed Sunday and Monday.
Le Saint Réal,  86 rue St Réal, Tel. 04 79 70 09 33. Polished and traditional, a scent of old France. Closed Sunday.
© 2012, Gary Lee Kraut