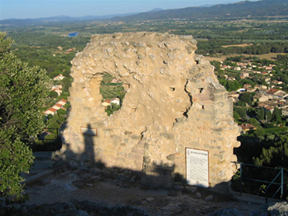 While planning a trip to Provence a few years back my friend Sergio Cervetti urged me to seek out Mérindol, a town in the southern Luberon. He said it was a relatively obscure destination, but one that would connect me to his deepest roots in France. Having collaborated with Sergio, a composer, as librettist on two operas, I regarded his recommendation with respect and curiosity.
Sergio Cervetti is a native of Uruguay, but his mother was born in France of Waldensian ancestry.  Persecuted for centuries in both France and Italy, the Waldensians–les Vaudois–were a sect founded in the 12th century by Pierre Valdès (or Valdo), a Catholic merchant from Lyon who relinquished his property and riches to preach an ideal life of devotion to Biblical teachings of poverty, simplicity, and non-violence.
Originally identifying themselves as Catholics, the "poor men of Lyon," as Valdès and his followers came to be known, were declared heretics by the church for beliefs that are remarkably contemporary—such as a penchant for equality, disdain for clerical hierarchy, and acceptance of female preachers as early as the 15th century.
Because of the threat their radical ideas posed to the Church and Church-sponsored thrones, the Vaudois were chased and slaughtered throughout France and rural areas of Italy, where many fled in hopes of finding refuge.  So great was public outcry in Europe in the 17th century that Oliver Cromwell made official appeals for an end to the slaughter, and poet John Milton wrote a sonnet, "On the Late Massacre in Piedmont" to protest and memorialize the horrific murder of hundreds of Vaudois in the Italian Alps in 1655.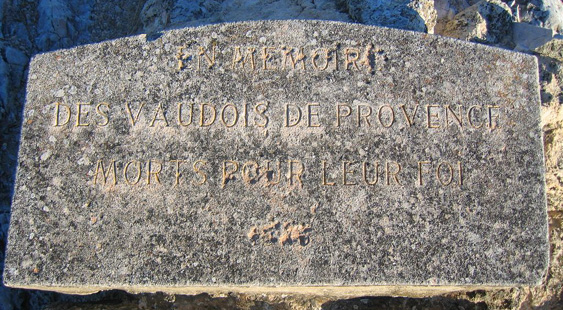 The Waldensians eventually found tolerance and survival, at times, in ghetto-like pockets established in Germany, Switzerland, and Italy. Today, their descendents maintain their religious identity, and the largest contemporary community of the Vaudois is in Italy, where they were granted religious freedom in 1848. Some of the Vaudois eventually joined the legions of Europeans who immigrated to the Americas in search of religious tolerance and economic opportunity.  Small, active communities exist today in Argentina, Uruguay, and in North America, particularly in Valdese, North Carolina, which takes its name from the Vaudois who settled there.
Mérindol, in the Vaucluse, is the site of a hilltop village whose inhabitants were massacred over a period of five days in 1545 in a crusade ordered by the French King Francois I and orchestrated locally by Jean Maynier d'Oppède, president of the parliament of Provence. The population was virtually exterminated, but it is said that some of the Vaudois of Mérindol survived by hiding in the dense mountains of the Luberon.
When my husband and I turned off the D973 road and drove through the modest, contemporary town at the base of the mountain, we had no idea how we would be touched by the hike up to the ancient village of the Vaudois. We found ourselves challenged by the climb, the sad ruins, and a view from the summit that must have been beloved by those who called the mountain home.
It was mid-afternoon when we began our ascent, and we were alone on the path until our return in the late and lingering dusk of Provence. "At Mérindol" describes our journey to the summit and to a spiritual connection with an intangible presence that we felt amidst the ruins.  It is dedicated to the friend who led us there.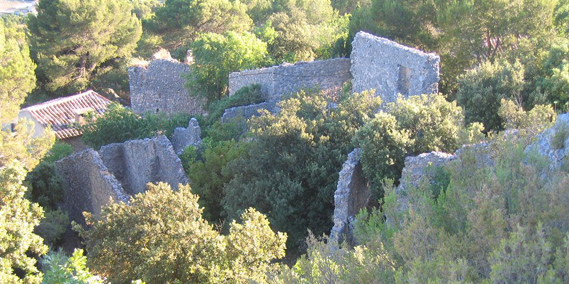 At Merindol
(for Sergio Cervetti)
The sun clings to the summit,
and blinks through dark trees
that spiral the hill.
We falter in stone and
growth of four hundred years.
Ahead is a ruin,
looking with shrouded eyes
for its generations.
Our feet pound in ascent.
Our companions are the wind
and punch of breath.
The shadowed twist of tree and earth
blinds us to all but tree and earth.
Thicket gives way to sky.
A dirt path opens to a riven wall.
We follow dirt and wall
bearing hard against gusts
that surge like feral spirits.
Remnants of parapets and corners
press into the acclivity–
carcass of village
blanched by sun and crusade.
We think we see the top, but there is more:
more fragments of wall and window
ghostly stairs, flesh-hewn for
rush of man and child to
the smell of bread on stone
a woman's hand upon a door,
conversation across a sill,
fatigue of night,
the brace of morning.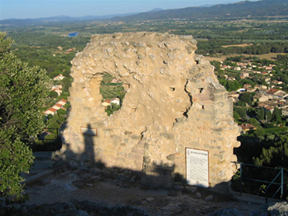 Sorrows of path and village
yield to the summit and
ochre mountains, the bend
of the Durance through purple fields,
Alpilles to the south, and the sea.
Joy reaches beyond ghosts and martyrs
to hearts on a summer evening
and this sunset: assurance of
the divine in valley, sky, the walls of home.
Light bleeds through a crater in the last ruin.
Shadows sink at its base like souls
returning to the grave.
We read the timeline of Les Vaudois en Provence.
1545    mort pour leur foi
leur descendants affirms
flight to purple fields and the Durance,
ochre mountains, Alpilles to the south,
the sea, searching for the divine,
for home.
Winds of dusk calm to a breeze
and darkness looms.
Our feet move cautiously in descent,
spiraling the dirt path and stone wall
past life and loss, our
eyes on twist of tree and earth
guided by ghostly hands that
know the way.
© Elizabeth Esris
Elizabeth Esris is a teacher and writer. Her poetry has appeared in Wild River Review, Bucks County Writer, and Women Writers. She wrote the libretto for Elegy For A Prince with composer Sergio Cervetti, which premiered in excerpts at New York City Opera's VOX Opera Showcase in 2007. She and Cervetti also collaborated on a one-act chamber opera, YUM!,  a celebration of wine, food, and friendship. She teaches English and creative writing at Central Bucks High School South (Pennsylvania).