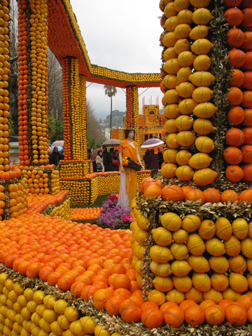 Last weekend, on the occasion of its Lemon Festival I revisited Menton, the last town on the French Riviera before the Italian border. I hadn't been there in fifteen years, when I'd written about the town for my long-out-of-print guidebook to France.
I have fond memories of a stay at Les Ambassadeurs in Menton, a hotel that I referred to in that guidebook as "the most reasonably priced 4-star on the coast." I wrote that it had a "noble Victorian façade and wrought-iron balconies" and that its 54 rooms were decorated with a "pleasing pink, peach and green style of an indefinable period that must be ours."
I also noted that Les Ambassadeurs had been "recently renovated with a sense of dash and verve," but reading that today I have no idea what it means. The terms dash and verve in themselves sound dated–so 20th century, like something you'd hear on "Mad Men." That may have been the only time in my life when I've used the word "verve."
Arriving in Menton, I was nevertheless hoping for the chance to revisit Les Ambassadeurs so as to find out what has happened to that "indefinable period that must be ours" and to its "dash and verve."
Turns out that Les Ambassadeurs is no longer in operation–closed pending the decision (and a buyer) to reopen it is a hotel or as an apartment building. I nevertheless took a picture of its (noble Victorian?) façade.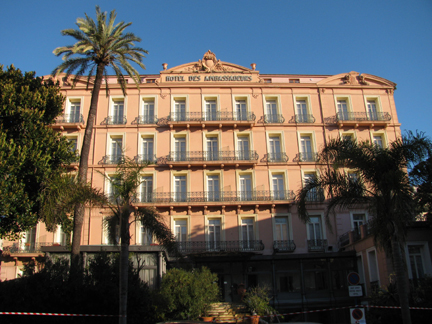 Menton is now sans 4-star hotel, though I'm told that a 5-star is in the planning stages in the French cliffs toward the Italian border. And perhaps Les Ambassadeurs will one day live again, if Town Hall gets its way.
In the meantime, Menton is generally comfortable 2-star and 3-star territory, i.e. with sea views and town/hill views but without doormen and porters.
I stayed at the 3-star Hotel Riva, another hotel that I had visited 15 years ago. Here's what I wrote about the Riva at the time: "A recent hotel facing the bay with very good pastel comfort. AC. Rooftop solarium with Jaccuzzi." I'm happy to report that I could more or less write the same thing today, other than to say that it is "a less-recent hotel" and has wifi.
This was the view from my room at the Riva in the morning.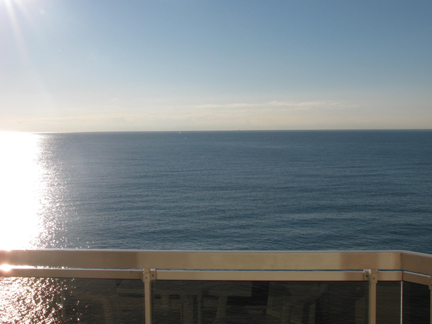 My purpose for visiting Menton wasn't to do a hotel round-up but rather to see and experience the Lemon Festival, its 78th Fête du Citron, which now draws about 230-250,000 paid visitors per year and runs this year from Feb. 18 to March 9, concurrent with Nice's Carnival, the celebration leading up to and including Mardi Gras.
I'll soon be writing about both of those events, highlights of the winter season along the Riviera. In the meantime, you can read Stephanie Sommers' festival report for France Revisited during their 2009 editions.
It rained in Menton on the afternoon I went to see the Corso parade, where colorful bands and dancers parade between floats decorated with lemons and oranges.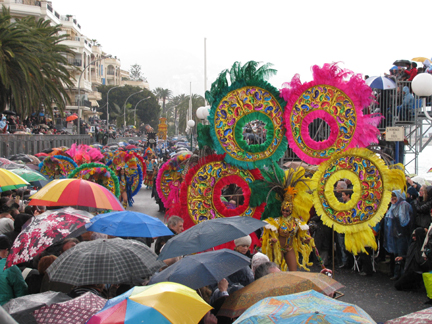 Despite the rain it did have a certain amount of dash and verve.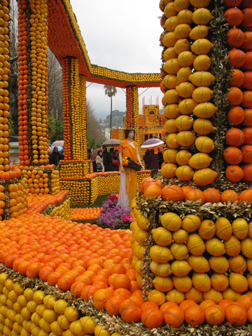 For official information about the Lemon Festival in Menton see here.
For official information about Carnival in Nice see here.