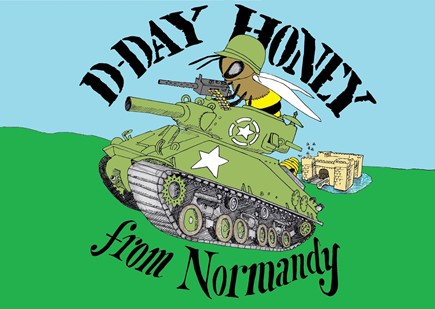 From Pegasus Bridge to Utah Beach, the Landing Zone of Normandy is prime territory for D-Day merchandising: coffee mugs, baseball caps, t-shirts, windbreakers, pens, placemats, posters, plates, toy grenades, squirt guns, and much more. But I'd imagine that very little, if any, of it is actually made in Normandy.
So I was a bit wary when I saw a jar of "D-Day Honey" for sale this summer at Bernard Lebrec's apple farm in Englesqueville la Percée, a village between Pointe du Hoc and the American Cemetery.
Had Bernard, whose farm I'd always enjoyed visiting for its authenticity, gone crass commercial? What could honey possibly have to do with D-Day?
A lot, it turns out—far more than those baseball caps, placemats and squirt guns.
First, Bernard reassured me that D-Day was apple blossom honey, made locally by a friend of his.
So I bought a jar. Good stuff. In fact, I thought of writing this piece because I've nearly finished my jar of D-Day and, needing another to get me through the honey-in-my-tea days of winter, I found in fine print on the label  the contact information of the beekeeper, Ed Robinson.
Ed is an Irishman living in Cartigny l'Epinay, a village about 12 miles (20 kilometers) south of Omaha Beach. He moved to France eight years ago to learn French and, long interested in military history, soon got a job as a D-Day tour guide. After six years working for others, he created his own touring company, Battle of Normandy Tours.
Like his interest in military history, Ed's passion for beekeeping began at an early age. He says that he was about five when he developed a fascination with bees and even asked his mother then if he could have a hive. No, she told him, but he could have one when he was ten. And she kept her word!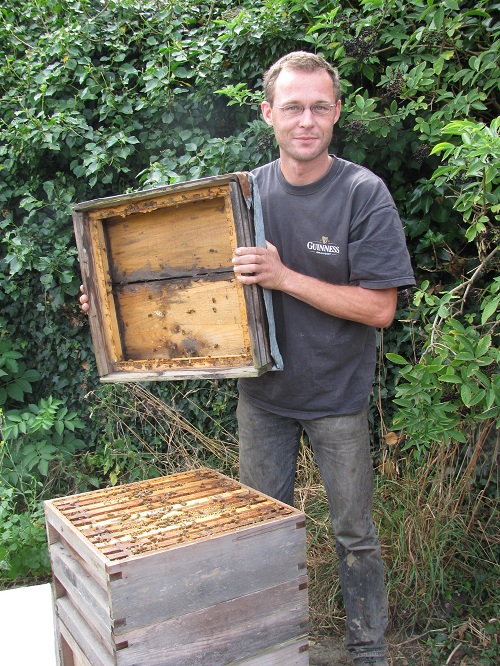 He soon joined the nearest beekeepers society, about 15 miles (22 km) from home, and little by little learned how to maintain a colony of bees and produce honey. By the time he was a teen he was getting calls from around the village to help remove the bees from their property, and by 15 he was the proud owner of an apiary consisting of five or six hives.
Despite his success with the bees in Ireland he never collected much honey there due to the weather. And when he moved to an apartment in Normandy he left the hives abandoned in a corner of his parents' property.
Three years ago he bought a house in Catigny l'Epinay with room in the yard for his bees. Returning to Ireland for Christmas that year he packed up his hives and bees, loaded them into his car, brought them to Normandy on the ferry—with their Department of Agriculture clearance papers—and moved them into his and their new home.
For an Irish bee, Normandy is apparently everything you could hope for to produce honey thanks to the relatively mild weather and the presence of so many flowering plants, most notably the apple trees in this area of the department of Calvados. As the stockpile of honey grew so did Ed's dream of selling it. Since Ed was then creating his own battle zone touring company, it made both personal and business sense to call his product D-Day Honey. He came up with the idea of a label showing a bee driving a tank, and his brother, an artist, created the final design of the machinegun-toting bee on the American tank that now appears on the label.
The jar that I've nearly finished is mostly apple blossom honey, but Ed tells me that he also produces honey that comes from other plants, after the apple trees have blossomed. So I'm looking forward to trying that next.
"Beekeeping and honey production are just a hobby for me," says Ed, now 38, "but one which I have found to be a source of immense enjoyment for most of my teenage and adult life."
Ed and the bees may have arrived by ferry rather than by warship, but I'm glad to see such an authentic local product play on the D-Day theme.
Furthermore D-Day Honey goes very well with tea in my D-Day mug.
Let the winter honey-in-my-tea season begin!
* * *
Ed Robinson and D-Day Honey: For more about Ed Robinson's D-Day Honey and his Battle of Normandy Tours see www.BattleofNormandytours.com/honey.html.
Bernard Lebrec: Bernard Lebrec's apple farm produces juice, cidre, pommeau and Calvados. It's located at Englesqueville la Percée on the main road between Pointe du Hoc and the American Cemetery. Tel. 02 31 22 70 72. E-mail b.lebrec@wanadoo.fr.
© 2010, Gary Lee Kraut