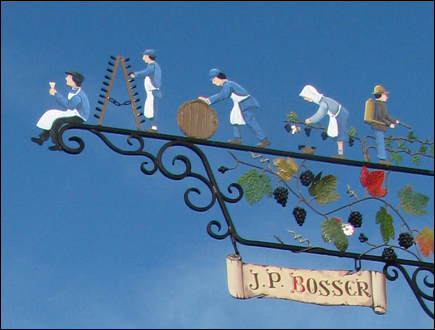 "Drink the wine, not the label" is both a lofty and a homey approach to wine, and nowhere is that more important than with Champagne, the sparkling wine that we so readily identify with brands, romance, celebration, and money to burn that we sometimes forget that it's wine at all.
But how to get to know the wine that is Champagne? Ideally by visiting the region where it's produced and by coming into contact with all that contributes to producing and enjoying it: professionals, towns and villages, vineyards, grapes, cellars, methods, marketing, history, food, drinking companions… and a designated driver.
In late September, while the harvest was winding up and the first fermentation was underway, all of those came into play as I joined four English journalists and a Canadian journalist on a 72-hour tour in the Champagne-Ardenne region, whose Champagne-producing zone mostly lies 90-110 miles east of Paris.
Here below is my Champagne diary, a drink-by-drink and dish-by-dish account (excluding breakfast) of 72 hours in the southern half of the Champagne-Ardenne region. Getting to know Champagne means drinking sometimes as an aperitif, sometimes at a tasting, sometimes with a meal, with the appetizer, with the main course, and even with dessert. This diary therefore offers a glimpse of the variety of both the wines and cuisine in the region, along with a glimpse of over-indulgence à la française.
You will note that on this trip we aimed for variety of regional drink rather than top-of-the-line grandness.
Three major facets of Champagne production define the taste and quality of the final product, and these became evident in drinking the wine (and noting the label):
1. the quality of the grapes,
2. the percentage in the final blend of the three Champagne grapes: Pinot Noir, Pinot Meunier, and Chardonnay.
3. the dosage of sugar and liqueur that is added (or in rare cases not) to a bottle after its second fermentation.
I am not necessarily recommending these particular wines other than to note the enjoyment of tasting them all and their contribution to my own sense of Champagne over this 72 hour period. Some of the restaurants, however, are quite recommendable should you venture this way, as you will see in my comments below.
My Champagne Diary
September 22
A. Place: Troyes (Click on "View Map" to see the location of the towns and villages where we stopped)
Dinner: Valentino, 35 rue Paillot-de-Montabert, 10000 Troyes. Tel 06 25 73 14 14. Open Tues.-Sat.
Comment: Fine dining, strong leaning toward fish, notable if spending the night in Troyes.
Aperitif: Ratafia, more precisely Ratafia Champenois or Ratafia de Champagne, an 18° aperitif from the Champagne region made of grape juice (in this case Pinot Noir grapes) and marc de Champagne, grape pulp distilled after the juice has been pressed out for wine.
Wine: Rosé des Riceys, Guy de Forez 2005. Not all grapes in Champagne go toward making sparkling wine. This is a still rosé made from Pinot Noir grapes.
Appetizer: Fricassée d'asperge et scampi, omelette noire et huile parfumée
Main course: Râble de lapereau rôti (saddle of rabbit), aubergine en tandoori, asperges vertes et jus réduit à l'orange
Dessert: Soupe de fraise pétillante et baba bouchon. Strawberries with fizz crystal thrown in the bowl.
September 23
B. Place: Urville
Champagne house: Drappier, in the Côte des Bar area of Champagne.
Champagnes tasted: Brut, rosé brut, and, most interestingly, "brut nature," "zero dosage," which dryer than regular brut in that the sugar-liqueur that is added Champagnes in varying doses is absent. Interestingly, the various professionals encountered over these 72 each had a different opinion on zero dosage and low dosage Champagnes, with comments from "it's a fad that didn't last" to "we tried it but consumers didn't go for it" to "if the market warrants it we can always produce some" to "real Champagne requires the dosage." I liked its dryness.
C. Place: Magnant
Lunch: Le Val Moret, 10110 Magnant. Tel 03 25 29 85 12. Open daily. Also a 3-star hotel.
Comment: A roadside stop with a view of the countryside. No need to go out of your way to come here, but it made for a nice lingering lunch off the highway, 20 miles east of Troyes just off exit 22 of Autoroute A5.
Aperitif: Pass, just came from a morning wine tasting.
Wine: Coteaux Champenois, a local red made from Pinot Noir grapes. Bouzy rouge is the most famous of these.
Appetizer: Salade estivale : noisette de melon (cantaloupe) au Magra Bendi, jambon cru (cured ham), galantine de pintadeau (young guinea fowl), salade (lettuce). Magra Bendi, a cousin to ratafia, is another aperitif/dessert wine made in the Champagne region. It is often peach- or pear-flavored.
Main course: Noix de veau sauce forestière (veal fillet from leg portion with a mushroom sauce.
Dessert: Tarte fine aux pommes sauce miel et glace vanille gousse (thin apple tart with honey sauce and vanilla ice cream).
D. Place: Matougues
Dinner: Auberge des Moissons, 6 Route Nationale, 51510 Matougues. Tel. 03 26 70 99 17. Also a 3-star hotel.
Comment: Another roadside stop, this time worth the detour. Relaxed, rustic gastronomy deeply rooted in the earth. We went truffle hunting with the owner and his dog here in the late afternoon and then enjoyed a dinner of truffles and Champagne. The harvest for the local truffle, tuber uncinatum, known as the truffle (truffe) of Burgundy or Champagne or Lorraine, is September to December. I slept well after this lengthy meal.
1st Champagne: Janisson Baradon, non-dosé/ultra brut (i.e. without sugar added), Epernay.
Appetizer: Four bites, variations on the theme of truffles: foie gras with tuffle, "sandwich" with truffle and butter, scrambled egg with truffle, truffle mousse.
2nd Champagne: Mandois, Blanc de Blancs (100% chardonnay), Vintage 2004, Pierry.
Main course: Pavé de boeuf, sauce au Ratafia, purée au truffe (thick piece of beef with a Ratafia sauce, pureed potatoes with bits of tuffle.
Cheese: Langres (from southern Champagne), Brie (just west of Champagne)
3rd Champagne: Château Jacques Rousseaux, rosé (color by brief maceration of Pinot Noir, i.e. méthode par saignée), from the village of Verzenay.
Dessert: Croustillant de framboise, crème pistache.
September 24
E. Place: Chalons-en-Champagne
Champagne house: Joseph Perrier, the only Champagne house in Chalons.
Champagnes tasted: Brut, rosé, blanc de blancs, demi-sec, and JP's fine top-of-the-line vintage Cuvée Josephine 1998.
Lunch: Les Caudalies, 2 rue de l'Abbé Lambert, 51000 Chalons-en-Champagne. Tel. 03 26 65 07 87.
Comment: Turn-of-the-century kitsch (19th-20th) meets turn-of-the-century kitsch (20th-21st) in this mansion serving polished brasserie fare at lunchtime.
Wine: Pays d'Oc, Chardonny, 2006. A Chardonnay from southwest France while in Champagne? Well, Chalons is outside of the zone of Champagne vineyards despite the presence of the Joseph Perrier Champagne house in town, and we'd had enough Champagne already that morning.
Appetizer: Tartine de saumon fumé au fromage de chèvre.
Main course: Choucroute de la mer (fish, seafood, cabbage, potatoes)
Dessert: Crème brulée à la vanille.
F. Place: Epernay
Chocolate tasting: Chocolatier Vincent Dallet, 4 rue du Capitaine Deulin, 51200 Epernay. Tel. 03 26 55 31 08. www.chocolat-vincentdallet.fr.
Comment: Behind his pastry and chocolate shop, Vincent Dallet, one of the top chocolate chefs of France, offered us a tasting of chocolates and ganaches in his demonstration kitchen while he demonstrated his recipe for the biscuit rose de Reims, a pink biscuit that is the tradition sweet treat in the Champagne region that goes well with a glass a bubbly or at teatime.
Chocolates tasted: Too many to recall, and furthermore, knowing that that we had a full evening of eating and drinking ahead, I merely took a nibble of each offering. Wonderful nibbles through. Ate the whole biscuit fresh from the oven.
Aperitif/Champagne tasting: C Comme, 8 rue Gambetta, 51200 Epernay. Tel. 03 26 32 09 55. www.c-comme.fr. Open daily 10am-8pm, Fri. and Sat. until midnight.
Comment: This Champagne bar and wine shop provides both an excellent introduction to the various types of Champagne. The sparkling and other regional wines of Champagne sold here mostly come from small and medium-size producers, mostly family-owned. The originality of the bar is that you can order a series of small or large glasses of Champagne selected to give a sense of the different grape varieties or blends available. You can also simply order a bottle or a glass as in a wine bar. C Comme (C as in) is short for C.Comme Champagne de Propriétaires.
Champagnes tasted: Five of them. Didn't note names, but the idea was to taste the grape, so one (small) glass was Chardonnay, one was mostly Pinot Noir, one was mostly Pinot Meunier, the other two blends.
Dinner: La Cave à Champagne, 16 rue Gambetta, 51200 Epernay. Tel. 03 26 55 50 70. www.la-cave-a-champagne.com.
Comment: This was clearly a long day of eating and drinking, but I was still able to enjoy the various sips and tastes of this hearty, relaxed yet genteel restaurant.
1st Champagne: Marizy, blanc de blancs, 2002. From the village of Cumières in the Marne Valley.
Appetizer: Matelot de poisson, a fish, langoustine, and leek starter.
2nd Champagne: Eric Taillet, brut, 100% Pinot Meunier. From the village of Baslieux sous Chatillon in the Marne Valley.
Main course: Chicken breast stuffed with foie gras and with a Champagne sauce.
3rd Champagne: Marizy, rosé.
Dessert: Coupe de vigneron, a ice cream cup of filled with vanilla ice cream, peach liqueur, grapes, topped with whipped cream.
September 25
G. Place: Hautvillers
Champagne house: G. Tribaut, 88 rue d'Eguisheim, 51160 Hautvillers. Tel. 03 26 59 40 57. www.champagne.g.tribaut.com.
Comment: Family-owned and operated, producing sincere and inexpensive Champagnes, with most of the sales being out the side door. The setting overlooking the vineyards along the southern slopes of the Montagne de Reims, with harvesters out in one of the fields, was so pretty on a sunny September morning that it was hard to leave the back yard and then hard to leave without buying a couple of bottles.
Champagnes tasted: Cuvée de Réserve (1/3 Chardonnay, 1/3 Pinot Noir, 1/3 Pinot Meunier), Grande Cuvée Spéciale (50% Chardonnay, 50% Pinot Noir), Vintage 2002 (50% Chardonnay, 50% Pinot Noir), Rosé de Réserve (80% Chardonnay, 20% red wine)
Lunch: Le Restaurant de l'Abbaye, rue de l'Eglise, 51160 Hautvillers. Tel. 03 26 59 44 79. www.abbayehautvillers.org.
Comment: The billowing plaster ceiling here is so disturbingly ugly so you'll just have to ignore it as best you can. Otherwise, the regional, well-cheffed cuisine here makes for a delicious complement to an hour or two of visiting one of the most famous villages of the region since it is here, a few miles outside of Epernay, that Dom Perignon (the man not the brand) helped develop the Champagne as we know it.
1st wine: Coteaux Champenois from the village of St. Martin d'Ablois. The wine tasting above had lasted for two hours so I ignored the wine at this point.
Appetizer: None. We were short on time and short on appetite.
Main course: Cassoulet of scallops and prawns in a Champagne bisque with small lentils (lentillons de Reims), girolle mushrooms and purple basil.
2nd wine (with dessert): Magra Bendi, pear-flavored. Just a sip.
Dessert: Charlotte of biscuit de Reims and pear with a syrup from Champagne grape juice and some Pinot Noir grapes.
© 2009, Gary Lee Kraut