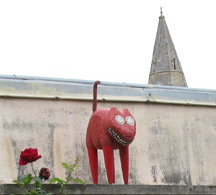 Annabel Simms' "An Hour from Paris" is an eye-opening guide to lesser known towns and villages within an easy train ride for daytrips from Paris. Before getting down to reviewing the updated version of the book, I chose a chapter in order to follow one of the book's walking tours. Yesterday, then, I took the suburb train RER A line 30-minutes northwest to the Seine-side town of Poissy in order to follow Ms. Simms' footsteps there and in the neighboring villages of Villennes and Médard, which are also described in the "Poissy" chapter.
I picked Poissy from the 20 destinations in the book because I'd never been there and because even Ms. Simms is cautious about it, calling Poissy "a modest place, familiar to most Parisians only as the name of a terminus on the RER line service the northwestern suburbs." I figured that if the author could design a worthwhile walking tour out of a place that apparently held such little promise then "An Hour from Paris" must be full of discovery.
"An Hour From Paris" is an intensely practical guide that one is unlikely to read front to back. But I'd enjoyed reading it that way for its quirky mix of practical information, GPS-like directions, and odd asides that seem ever so gently, and in a British way, to say "I was here."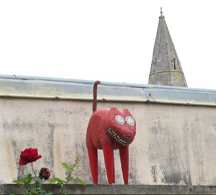 Here, for example, is one of my favorite passages from a description of the village of Andrésy: "… continue along the river as far as the Rue de Trélan. There is a little jetty with an electric bell to the right which you press to summon the small speedboat opposite…There is a little riverside garden in which you can eat outside in the summer (where I saw a red squirrel) and the tiled floor, lace curtains framing the river and the old-fashioned oak furniture make for a cosy retreat inside." I just love that red squirrel that scampered into the text.
I'll discuss the quirks of the text further in the actual review to appear next month. I'm using today's blog not to review but to illustrate the visit outlined by Ms. Simms that I more or less faithfully followed—quite easily, I should add, thanks to the book's excellent maps and the author's unwavering eye for detail. I did not, however, enter the various museums that she mentioned along the way, though I did stop to photograph the cat, above left, near the entrance to Poissy's Toy Museum (where I saw a magpie). The fact that the museum is across the street from a major prison for hardened criminals tells you that you are indeed well of the beaten track in these parts.
The spire of Collégiale Notre Dame, the church were King Louis IX was baptized in 1214 (remnants of the baptismal font are there), appears in the photo above with the cat. Here below is a colorful Renaissance "Entombment of Christ" found in that church.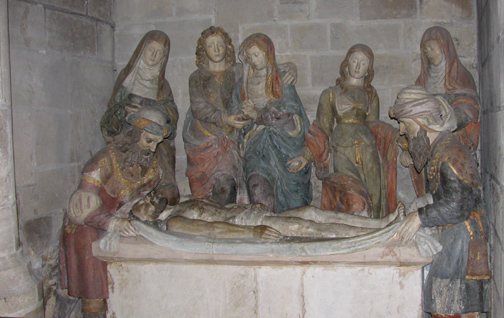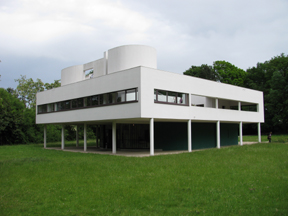 I made a detour from Ms. Simms' outline to buy a sandwich in town then returned to her trail to visit the Villa Savoye, photo right, designed by Le Corbusier in 1929. To the contemporary eye the villa resembles a generic office building near a strip mall, but when it was completed in the early 1930s it was a wondrous example of chic avant-garde eurotrash that few people would have wanted to live in. It's in a little park across the street from a low-income housing project.
I already knew how detail-oriented Ms. Simms is from reading the book, but I realized when following her route that in addition to wanting to say "I was here" she also wants to encourage readers to look for details, whether, when heading downstream to Villennes, you're standing on a bridge overlooking a branch of the Seine (below left) or "strolling down a private, peaceful and pretty, [that] leads past houses whose gardens stretch to the water's edge" (below right)

or admiring a hedge of firethorns in full bloom (having asked a local what they are then looked up the translation back home)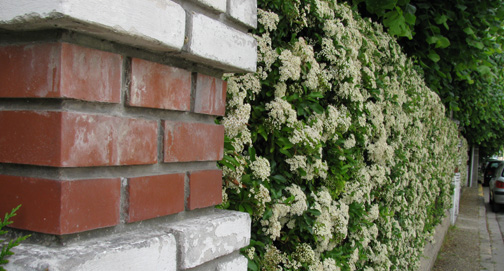 or sitting in front of "the striking 11th-century church."

A mile further upstream, at Médan, there's another church, and a small private chateau, and the house that Zola bought in 1878 and where he lived "for about eight months of the year until his death 24 years later."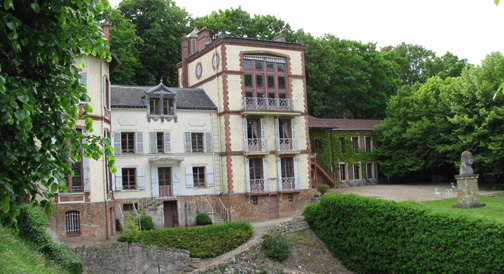 You can then "make a nostalgic detour to reach the river by turning left" and have a seat by the river at Plaisirs d'Eté, "the only source of food and drink in Médan [which] is open sporadically, depending on the whim of the owners, a retired couple." I don't know if I'd call the detour nostalgic, but it was certainly delightful, especially since the retired couple's whim to open coincided with my own to go.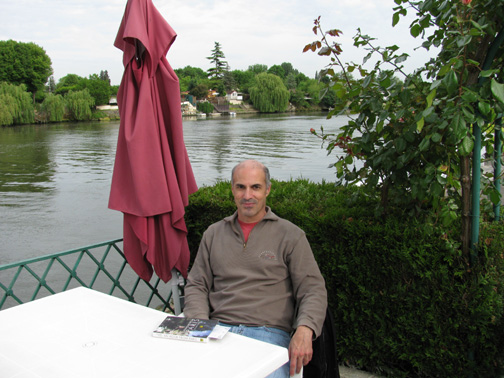 An enjoyable day of discovery indeed! I'm looking forward to following in Ms. Simms' footsteps in other town and villages where I'd never thought of setting foot.
Click here for my complete review of Annabel Simms' An Hour From Paris.