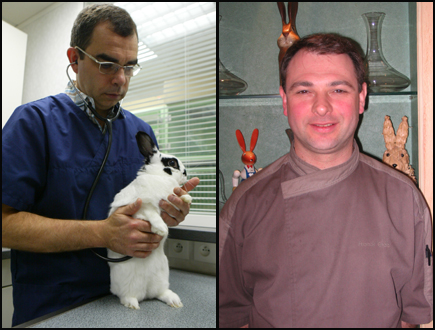 This restaurant, which I quite liked and often recommended, closed in 2011, but you can still enjoy this review from 2008.
Like any good doctor, veterinarian Dr. Jean-Francois Quinton is chronically late for dinner appointments.
He called as he was leaving his thriving group clinic in the 12th arrondissement to say that he'd been delayed by a canary, and as he walked to the metro he told me the heart-rending story of a 10-year-old boy and his mother and a bird wilting in the doctor's hands. It had otherwise been a good day, with only one death ("a rat, but put to sleep") and the usual parade of rabbits, ferrets, and chinchillas.
Dr. Quinton is a specialist in exotic pets, particularly small mammals and birds. I'd enlisted him to test with me the restaurant Monsieur Lapin (meaning Mister Rabbit) for the simple reason that both he and the chef are highly skilled specialists working with rabbits. The encounter of Doctor Rabbit and Monsieur Lapin.
Should any of Dr. Quinton's patients be reading this, I note that he truly does care deeply for the health and longevity of rabbits. Furthermore, he feels a great affinity to rabbit owners since, like him, they tend to be anxious and sensitive people.
Your Dr. Quinton was in fact initially hesitant about accompanying me to test a restaurant specialized in rabbit. But his hesitation sounded as disingenuous as a gynecologist refusing to enter a singles bar. And he so he accepted.
As to Monsieur Lapin's chef and owner Franck Enée, he has nothing personal against rabbits either. His son actually owns a pet rabbit, had it even before his father took over Monsieur Lapin in 2005. The rabbit once escaped from the apartment upstairs and ran through the restaurant during mealtime—but that's another story.
Despite his restaurant's name, Mr. Enée should not be pigeonholed as a rabbit chef. In fact, he halfheartedly took on the moniker Monsieur Lapin when he purchased this restaurant. It was the previous owner who had been completely immersed in rabbit dishes, whereas Mr. Enéehe's admits to a preference for working with fish, perhaps due to his Norman origins. Yet once he decided to leave the restaurant's name untouched he developed a fondness for preparing rabbit as well.
The menu reveals the wide scope of his polished talents and quality provisions—baked scallops, grilled tuna, monkfish, brill; roast lamb, sweetbreads and foie gras, roast pigeon. Appetizing words on a menu can be illusory, but to hear Mr. Enée's enthusiasm (in a subsequent interview) in describing his various preparations is to hear the passion he has for his craft. And to taste them is to share that passion.
Dr. Quinton and I nevertheless feared upon entering Monsieur Lapin that we were in for a stiff, inexpressive evening. Though the seating for 40-45 diners is comfortable and well-spaced the atmosphere initially struck us as overly mannered; while being led to our table we passed polite groupings of diners sporting ageless hair styles and well-pressed clothes, whereas Dr. Quinton had the marks of a man who has recently watched a rat and a canary die and I, well, I'm a bald writer.
Yet the welcome was warm and the décor has quirkiness going for it due to the contrast between the cantankerous (temporary) exhibit of artwork and the rabbit tchotchkes niched here and there around the dining room.
We could only take as a good sign the amiable politesse of Corinne Enée (whom it would be boorish to think of as Madame Lapin but difficult to resist) and her dining room staff.
But nothing reassures more than a well-prepared appetizer. For the purposes of this review Dr. Quinton and I both selected lapin for the main course. In choosing an appetizer I'd elected to stay with the theme of small animals with strong hind legs and so ordered what turned out to be among the tastiest, freshest frog's legs I've ever had, sautéed with a mix of sate spices. Dr. Quinton's scallops marinated in lime and heightened with herring caviar gave rise to an I-can-finally-relax sigh and the comment, "Good choice!," referring to either the scallops or the restaurant, possibly both.
Restaurant reviewers pick specific restaurants to write about for many reasons, the main one being because someone else has, but having chosen to have dinner with Dr. Quinton at Monsieur Lapin for its name alone the restaurant had the added feel of discovery, a feeling that only increased as the evening progressed.
It isn't solely Dr. Quinton's occupation that brought me to invite him to co-test the rabbit, for Dr. Quinton grew up in hospitality business. He is originally from Dinan, Brittany, where his parents ran a hotel and restaurant cheffed by his late father Georges Quinton, who earned and maintained a Michelin star for about twenty years beginning in the early 1960s.
The son, born in 1958, dates his interest in veterinary medicine to his childhood and tells about two watershed moments of his budding curiosity. One occurred at the age of eight when he attempted to operate a pet hamster that had been mortally wounded by a cagemate, only to put the animal to definitive rest with excessive ether.
The other occurred when even younger when he would visit his father's kitchen and watch him open rabbits and empty chickens. He recalls asking his father what various innards were and how they functioned and his frustration at having his father answer, "It doesn't matter how they function, I'm going to show you how the animal's cooked!"
By the time he was in his early teens he was caring for up to 26 rabbits (without attempting another operation) and various birds.
As a veterinarian in Paris, however, Dr. Quinton largely treated cats and dogs until a renewed passion for less familiar pets led to his professional readjustment in the late 1990s.
The turning point came in 1995 when the clinic he was then working for became a top seller of a brand of cat and dog food. As a prize the brand of nibbles paid his way to a veterinary convention in Orlando, FL. Since he'd already visited Disneyworld and environs while vacationing there only six months prior, he actually went to some of the lectures at the convention, including talks on the treatment of rabbits and ferrets.
While rabbits and ferrets were then largely considered as barnyard animals in cosmopolitan areas of Europe, Dr. Quinton discovered that some American veterinarians were busy treating them as household pets and that Americans were willing to pay significant medical bills to keep them healthy and at home. Above all, Dr. Quinton rediscovered in Orlando the passion and intellectual pleasure of learning about the animals of his childhood.
Back in Paris he then continued to study up on those and other small mammals, and a year later he set off on a two-month internship in Westchester, IL, outside Chicago, to learn more about the field from Drs. Susan Brown and Richard Nye, American pioneers in creating a clinic specialized in exotic pets.
In 1997 he began teaching and consulting about birds and small mammals at the Ecole Nationale Veterinaire at Maison-Alfort, an eastern suburb of Paris. The turn of the millennium then saw a boom in such pets in France. In French these pets go by the acronym NAC, nouveaux animaux de compagnie, indicating new or modern pets.
Dr. Quinton has since published two books (a reference guide to small mammals for fellow veterinarians and a popular guide to carrying for pet rabbits) and written many articles on the subject. He is now an occasional guest on a morning television talk show.
In 2007 he joined three other veterinarians in opening a new clinic, where he is fully devoted to NACs.
As we were finishing our brief interview, two plates of lapin arrived before us. As noted earlier, one should in no way feel limited to choosing rabbit as a main course though for the purposes of this review Dr. Quinton and I both did.
In the hands of an inexperienced chef rabbit tends to be a dry meat that's dolled up with a chasseur or mustard sauce. But Mr. Enée's preparations bring out more succulent flavors.
While the croustillant de lapin with dried fruit and wild mushrooms, served with unctuous mashed potatoes, is a delight for the knowledgeable rabbit man (Dr. Quinton), the less experienced rabbit eater looking to taste a range of rabbit possibilities (me) is well-advised to choose the trilogie de lapin à la niçoise.
The trilogy is made up of saddle (râble) wrapped around a preparation of kidney and sage, a delicate thigh (cuisse) spiked with rosemary, and roasted rack (carré) highlighted with rabbit stock and balsamic vinegar, accompanied by mini-vegetables and those unctuous mashed potatoes.
Come dessert, the warm praline soufflé, the Caribbean chocolate with caramelized hazelnuts and mango sorbet, and other enhanced classics sustain the uninterrupted quality of the meal.
The complete menu takes the form of a 45€ three-course fixed-price meal (with several supplements possible), which is quite reasonable for the quality of the cuisine and level of service, making Monsieur Lapin well worth the venture into the lesser-known reaches of the 14th arrondissement, behind the Montparnasse Cemetery and the Montparnasse Tower.
Since you're unlikely to be visiting Paris with your pet chinchilla or ferret, I have little reason to recommend Dr. Quinton's services to you. So I will simply recommend a meal at Monsieur Lapin, a most honorable, cordial, and delicious foray into rabbit and much more.
Monsieur Lapin – Chez Franck Enée
11 rue Raymond Losserand
75014 Paris
Metro Pernety or Gaité
Tel. 01 43 20 21 39
Closed Mon and lunch on Sat. Also closed in August.
© 2008, Gary Lee Kraut