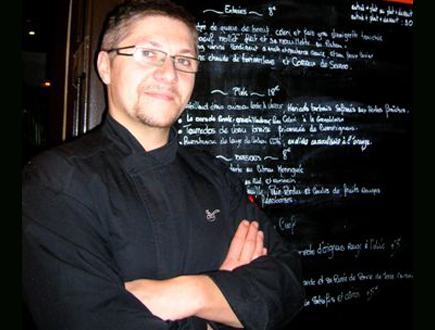 One of the nicest things about having a good meal in the company of someone who has much to tell is that you can save your own jaw muscles for the chewing and your tongue for the tasting. Furthermore, if what the other has to say is sufficiently interesting and you have a suitable bottle of wine at hand, you find yourself engrossed by the pairing of the meal and the conversation as little by little the bottle empties.
So it was with Fabien Nègre at Le Cotte-Roti, a year-old "bistronomic" restaurant near Marché d'Aligre in the 12th arrondissement. With his doctorate in philophy and post-graduate degree in economy, professional experience in radio and television, and expertise in gastronomy and cigars, Fabien Nègre is the kind of person whom you can ask how he got from there to here and then sit back and enjoy the ride.
Marché d'Aligre, the nearby food market, is notable for its own pairing of character and history. The neighborhood of a food market is traditionally prime territory for homey bistros and rustic wine bars. For the latter, Le Baron Rouge is now part of the city's folklore, so if you've never been there you might push past the smokers outside and cozy up to a barrel for a glass of down-home red before going for the more refined stuff at Le Cotte-Roti two blocks away.
While traditional bistro and ethnic fare is found all around this market area, we've come to Le Cotte-Roti to examine a more contemporary development in Paris market (and non-market) neighborhoods, something that has in the past few years come to be called bistronomy.
Bistronomy is a combination of bistro and gastronomy. The term best applies to bistros where the chef continues to emphasize seasonal produce and nearly traditional recipes while displaying his knowledge and interest in more polished or sophisticated cuisine. These are indeed bistros since the additional elements required of a truly gastronomic restaurant—elegant services, fine tableware, more expensive produce, a section-by-section kitchen staff, a decorator—may be absent.
A number of famous (read: trademarked) mid-career and older chefs who have made their name in gastronomy now have an adjacent business of bistronomy, while opening such a restaurant is now also a way for chefs in their 30s to try to strut their stuff and take full control at an early stage in their career.
The term bistronomy is naturally a fad, a bit of a marketing ploy by which its owner or chef claims to be a cut above the ordinary bistro. Yet beyond the easy way the word rolls off the tongue lies the sensible notion that traditional French cuisine evolves and that gastronomy is just another of saying a good meal. Add to that the notion that a hungry traveler can have a relaxed, well-conceived meal in an unpretentious setting at an inviting price.
Le Cotte-Roti is a classic example. It is an open 30-seat space that's pleasant enough without having any particular charm. Service is kind if direct. The chef sometimes gives a hand in the dining room. A three-course meal is currently an honest 30€ without supplements. One comes for the food.
Thus a tasty October lunch with Fabien of hare terrine containing bits of foie gras; braised veal tournedos with stewed mushrooms; a fruity-cum-earthy bottle of Faugères, a Syrah-Mouevèdre-and-then-some blend from the Languedoc region.
Re-thus a notable November dinner with Jean-François (who not only allowed me to share in the conversation but also in his meal) of oeuf mollet frit, a fried soft-boiled egg on a pesto-lined "dipping" bread; a mi-cuit foie gras terrine; a succulent scallop and potato purée dish; a sea bream (dorade/daurade) on a bed of salsify heightened with white truffle oil; poached quince with a triangle of French toast; poached pear on a creamy rice putting laced with caramel. Wine: Saint Joseph 2006, a Syrah from the northern portion of the Rhone Valley.
All these are good examples of bistronomy's enhanced bistro fare and of someone giving it his best effort in the kitchen. Regarding those efforts, the foie gras lacked umph (and curiously of toast), an indication that one can't expect the chef in a two-man kitchen to do everything well.
Nicolas Michel, 33, owner-chef of Le Cotte Roti, is in many ways the classic example of the type of culinary beginnings and ambition that have led to such praisable, acceptably-priced bistronomy. His C.V., punctuated by the names of notable restaurants, also serves as a language lesson for anyone looking to learn the terms for kitchen help in French: stagiaire (trainee/intern), divers extras en cuisine (various on-call jobs, i.e. Hey, Nick, I need someone to help out Saturday night, are you free?); 1er commis de cuisine (basically the cook helper); demi chef de partie (somewhere between a commis and a section head): chef de partie (section head);chef de cuisine (head chef); second de cuisine (sous chef); chef cuisinier (big boss, accompanied here by the title propiétare-gérant/owner-manager)
Cotte-Roti is a play on words involving the name of the street (rue de Cotte) and the Nicolas Michel's reverence to Côte Rôtie, the Rhone Valley appellation that has made a name—and a price—for itself over the past decade. Mr. Michel, having lived in the Côte Rôtie area for two years, is a big fan of these wines. Sold here at 80-90€ per bottle, they can overwhelm the price of the meal. That's not a judgment, just an observation. Indeed, despite the moderate price of bistronomic meals such as served here, bistronomy does assume a clientele capable of spending more and of aiming high when in the mood or at the appropriate occasion. Most wines here are priced in the 30-45€ range on a list that sits broadly in Côtes du Rhone, therefore mostly Syrah, territory, while occasionally spilling north to Beaujolais, Burgundy and the Loire, and west to Languedoc as during my lunch with Fabien Nègre.
As for what Fabien was telling me during this time, there's no need for me to repeat it here. You'll soon be able to sit back and enjoy his affable, wide-ranging conversation yourself by reading his series of portraits of some of Paris's most celebrated chefs to appear on France Revisited beginning with his portrait of Guy Martin of Le Grand Véfour in February 2009.
Le Cotte-Roti, 1 rue de Cotte, 12th arrondissement. Near Marché d'Aligre. Tel. 01 43 45 06 37. Metro Ledru Rollin. Closed Sun., Mon., Dec. 25-Jan. 1, three weeks in Aug.
Le Baron Rouge, 1 rue Théophile Roussel, 12th arrondissement. Near Marché d'Aligre. Tel. 01 43 43 14 32. Metro Ledru Rollin. Closed Mon.
© 2008, Gary Lee Kraut