Featured Articles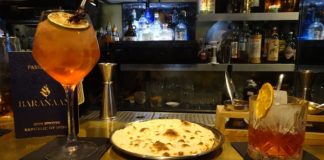 In this first in a series of Paris cocktail bar expeditions we sipped our way through a sliver of the 10th arrondissement with stops at three very different bars -- Lavomatic, CopperBay and Baranaan -- located just off Boulevard Saint-Martin, between the metro stations République and Strasbourg Saint-Denis.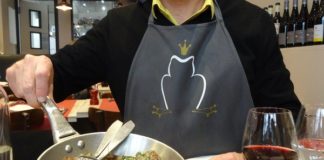 Country fare meets upscale neighborhood near the Arc de Triomphe at Thomas Boutin's Le Vieux Crapaud, where venturesome eaters enjoy frogs, pig's ears, snails and pigeon while their dining companions savor admirable preparations of more familiar traditional bistro cuisine.
Welcome to France Revisited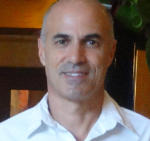 France Revisited is an award-winning web magazine providing insights, information and impressions about life in Paris and travel throughout France. Editor Gary Lee Kraut and other travel, food, wine and culture connoisseurs offer the keys to experiencing and understanding the full array of pleasures and treasures of France.
ADOPT AN ARTICLE ABOUT THE SUBJECT OF YOUR CHOICE
France Revisited is supported by passion, humor, curiosity… and donations. Support the adventure for $24 or more.
Upcoming Festivals and events
Dec. 13. Champagne and War
France Revisited is organizing a daytrip to the Marne Valley from Paris. In the morning we'll tour American WWI sites near Chateau-Thierry, followed by a delicious lunch, then encounters with amiable champagne producers in the afternoon. A great opportunity for English-speaking residents of Paris to stock up for the holidays since our driver will be dropping participants off at their respective homes. Travelers are also welcome to join. Write to gary [at] francrevisited.com for details.
Until Jan. 15, 2017. The Color Line at the Quai Branly Museum
An exhibition about African-American artists and segregation at the Quay Branly-Jacques Chirac Museum, Paris. A nice teaching moment despite this being an inappropriate venue for the exhibition.
Until Jan. 29, 2017. Secret Wars
An exhibition about espionage, counter-espionage, subversive and clandestine activities and propaganda at the Army Museum at the Invalides, Paris.
Until Jan. 30, 2017. American Painting in the 1930s
Paintings from "the age of anxiety" at the Orangerie Museum, Paris.
The France Revisited Newsletter
Stay curious. Stay informed. Sign up for the free France Revisited Newsletter.