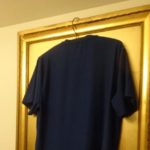 A vignette is a short text that focuses on a moment, a mood, a scene, a character, an encounter, an idea or a place. Here are three Paris vignettes that involve shopping, gift-giving and biking.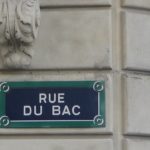 Visiting Paris from California, Herb Hoffman and Joan Preston discover that their temporary home on Rue du Bac is surrounded by the ghosts of friends and acquaintances of democracy in America.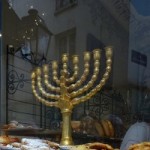 March 2014 – Bonjour, shalom and hello. Last November I was designing an issue of France Revisited by gathering together an assortment articles and stories...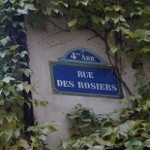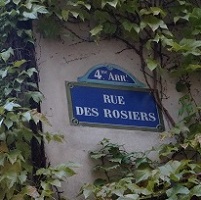 When visiting rue des Rosiers in the Marais are travelers correct in thinking that they are actually visiting "the Jewish quarter"? Is the presence of Semitic fast food and a few Judaica shops a reflection of a vibrant local community, of successful ethnic marketing or of a combination of the two? Let's take a look at what's there.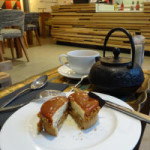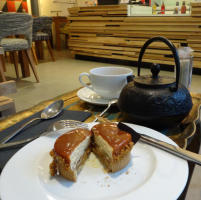 The major culinary arts school Ferrandi, the fine pastry shop and tea room Colorova and the quirky wine shop and tasting room Le Vin en Bouche put rue de l'Abbé Grégoire on the gastronomy map of the 6th arrondissement.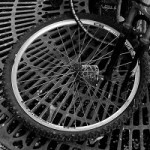 A call for contributors to turn a cranky eye on their surroundings brought forth a photographic rant from Va-nu-pieds, France Revisited's fetish photographer, who's fed up with the sight of bicycle cadavers on the sidewalks of Paris.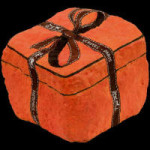 Stephane Jaspert picks the cobblestone up from his desk and says, "Tourists often see Paris as a light and romantic city, but it's a tough city, hard as rock." We are high above the cobbled streets of Montmartre in Mr. Jaspert's garret.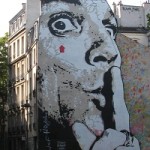 ...As I turned to walk up rue Saint Merri in the Beaubourg Quarter of Paris I was surprised to see that the entire wall of a 5-story building was covered with the image of a face of a man with a finger to its lips. The man was calling for quiet. He had Dali eyes.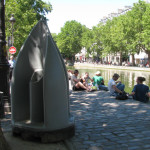 Pissoirs and vespassiennes, the scantily hidden public urinals that so defined the streets, squares and parks of Paris from the late 1830s to the early...