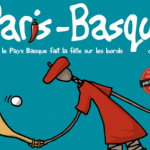 An encounter with two Basque chefs in Paris, Thierry Dufroux of Bistro Belhara and Mathieu Moity of Iratze, participants in Paris-Basque, an annual festival that brings Basque cuisine, sports, music and good cheer to Paris. Includes video interviews with the chefs.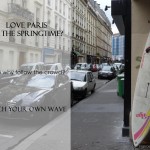 March 2014 – In January and February France Revisited fell silent as snowfall in the American northeast, where I spent four weeks on a...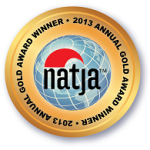 The North American Travel Journalists Association has announced that Gary Lee Kraut, editor of France Revisited, won GOLD in the 2013 Annual NATJA Awards Competition for best article written for the internet in the Culinary Travel category. His winning article "Drome Provencale: Eat Like a Sixth Grader, Drink Like a Wine Enthusiast" was published on France Revisited. Kraut's article "Biarritz: The Surfing Lesson" was a finalist in the Sports and Recreation category.
Maura Sweeney wants us all to be happy. Writer, inspirational speaker, radio personality, wife, mother, friend, stranger with a tolerant gaze and a kind word, Maura is a native of New Jersey, a longtime Floridian and an inveterate traveler who wants us all to carry a passport from the State of Happiness. She speaks here with Gary Lee Kraut about his concept of travel therapy.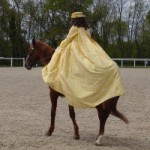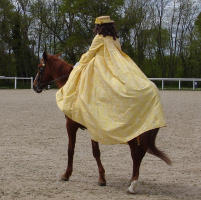 Versailles's got its royal stables, Chantilly's got its noble horse museum and Saumur's got its Cadre Noir, but for me as a horse-lover watching the horsewomen at the National Stud Farm at Le Lion d'Angers is paradise. By Justyna Gawąd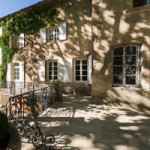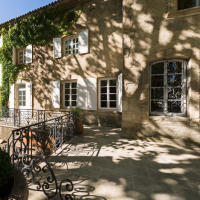 In this hotel and resort report, Corinne LaBalme finds something old, something new, a spa and a golf course, too, at a stylishly revamped inn midway between Avignon and Aix-en-Provence.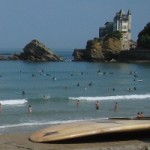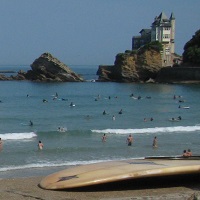 In which the author visits Biarritz, meets a French surfing legend, learns the history of surfing in France, zips up a wet suit, takes a surfing lesson and eventually glides along with the 3-year-olds. Includes photos.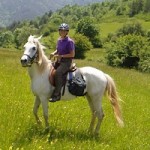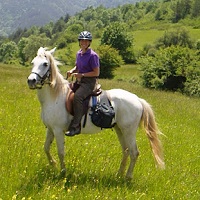 Horseback riding in southwest France with a stunning view of the Pyrenees over their shoulders was a dream come true for Judy and Dave...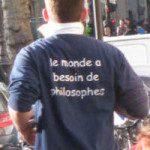 The photo below may look like an ordinary view of a man and a woman jogging on a bike path in Paris, but there's something extraordinary going on here. No matter their relationship, what's most surprising is that they were together at all in these t-shirts.