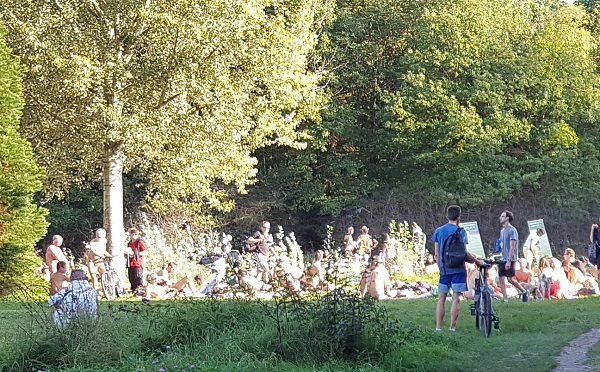 "Is that legal?" asks the man who, like me, is standing beside his bike on the edge of the clearing.
He isn't referring to the motley group of crooked line dancers hopping to an Irish reel that's blasting from a portable loudspeaker. He's referring instead to the fact that they, along with the hundreds of others in this clearing in the Vincennes Woods, are buck naked.
"Last day," I tell him, indicating the sign near the path.
We're standing on the edge of the zone that the City of Paris has designated as a space for nudism, or naturism, from September 1 until today, October 15.
"Shameful," he says. "But that's Paris."
I don't know if that last part softens his position on the fleshy scene before us or further condemns it. Either way, the fellow stands there for another minute, and so do I. I have a vision of a cotillion of terns gathering between shelf and sea.
The zone is surrounded by woods, but since the eye is drawn to the terns before the sign explaining what they're doing here, surprised passersby are not uncommon. If the city renews the experience next year they ought to provide more advance warning.
The fellow standing next to me appears to have come upon this zone purely by accident. Unlike me. I've been riding my bike through the woods for the past half-hour looking for it. Eventually the fellow pushes his bike, slowly, along the path through the nudist zone. I follow behind. But whereas he exits out the opposite side of the zone, I look for an empty spot on the grass.
I see someone walking away with a towel slung over his shoulders and grab the space he's just left. It's the perfect spot: a beach-towel-size plot surrounded on three sides by foot-high tufts of grass. There's a narrow path a few yards to one side. To another side there's enough room to lay down my bike between me and the closest nudist.
While the woods that I've just biked through smelled of fallen leaves and autumn damp, the grass is warm this afternoon. It's an exceptionally balmy day for October, peaking at 77°F.
I undress.
All I really wanted was a place to go barefoot on the grass. That's the first thing I missed from suburban New Jersey when I settled in Paris.
True, there are a smattering of grassy areas to go barefoot in in various gardens and parks in Paris, more now than when I arrived in the late 1980s. In some of those spots, however, one is expected to be accompanied by a child under eight, or a girlfriend, or to have brought along some rat repellant. The further you go from the center the more likely you'll find entire swaths of lawn that needn't only be admired from the edge of a gravely path, and there are plenty more lawns in the Vincennes and Boulogne Woods, Paris's eastern and western lungs.
This, however, is where I wanted to wiggle my toes. But in this designated zone in the Vincennes Woods I can only go barefoot if I also go bare-assed. That's Socialism for you – it gives you exactly what you need, with strings attached.
Of course you don't have to take all your clothes off in the nudist zone. But exposing only your feet to the free air in this clearing in the woods would be like going to Paris and contenting yourself with visiting nothing but the Eiffel Tower.
I take a selfie.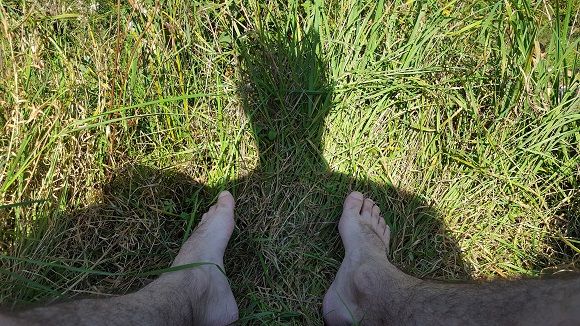 Practitioners of nudism in Paris
On its inauguration day, September 1, Catherine Baratti-Elbaz, the mayor of the 12th arrondissement, which covers the Vincennes Woods, said that this trial nudist zone was intended for a mixed crowd and could be enjoyed by "Parisians, tourists and textiles." By textiles she meant those that cover more than their head with fabric. By mixed I assume that she meant men and women. If instead she was referring to a rainbow coalition that would include blacks, Arabs, Sri Lankans and Vietnamese, then this afternoon, at least, has clearly missed the mark. And whereas 50 percent of the population of Paris is under 40 years of age, I'd estimate that today less than 10 percent of this crowd is under 40. As to the male-female ratios, it appears to stand at an unbalanced 80-20, at best.
Textiles may be welcome but not one is in sight. Perhaps there would be something suspicious about stripping down to only a loincloth. Anyway, the bathingsuiters and other underpanters long ago designated an unofficial lawn space as their own just a few hundred yards away.
I'm guessing from news reports and photos over the previous six weeks that this sunny final weekend of outdoor nudism in Paris has drawn the largest crowds of the season. (Indoor possibilities remain, as noted below.) There may well have been more journalists than nudists on opening day.
The zone is relatively crowded this afternoon, with only a yard or two between strangers. It's mostly men, alone or in pairs. Some, like me, have come by bike. Our bikes lie next to us on the grass like sleeping lovers with whom we don't have to share the towel. There are few small groupings of friends or acquaintances. Upon entering the zone I spotted two families (not together), each with a child of five or six.
The Paris Naturist Association (Association des Naturistes de Paris) naturally has a strong contingency here since the association pushed for the designation of such a zone from the start.
The experienced and lifestyle naturists are easy enough to spot: they're the ones standing up. They've brought coolers and chairs and true picnics. I have a bottle of water and an apple. The crooked line dancers I saw when I first arrived (their music thankfully shut off shortly thereafter) was part of that group. While the average age for men is probably 55ish today, the age of women skews higher, with few under 60, by my guess. The women are mostly within the large gathering of stand-up nudists who present the heart of the day's, perhaps the season's, community of naturists. I'm a tourist on the edge.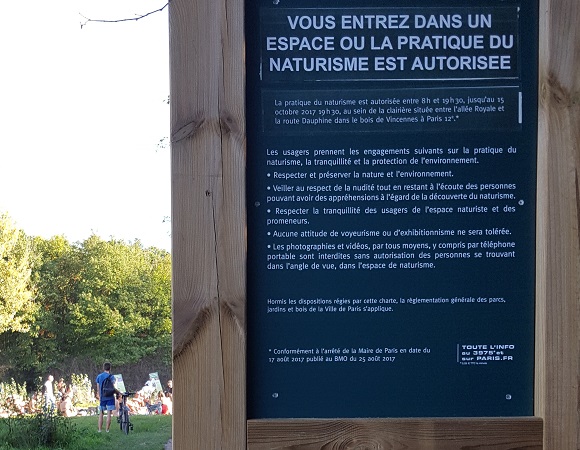 Tiens, Tiens
A man set up a 10-foot-wide net soon after I arrived and he then walked around inviting people to meet there for a volleyball game "in five minutes." Two hours later no one has gathered by the net. In its trial season there may be a difference of aims between practitioners and organizers of naturism, with the former content to simply get naked in the sun and the latter more interested in forming a community of moving parts.
It's altogether a good-natured afternoon as far as I can tell. A few duos and trios walk around. They occasionally see someone they know. "Tiens, tiens" (Well, well) appears to be a common greeting, followed by kisses all around. I don't see anyone I know. I don't even recognize anyone.
And then I do. He's from my neighborhood. I've known him for nearly 20 years, though only by sight. You couldn't miss him when he was in his 30s, a handsome man with muscles large enough to discourage anyone sensible from every going to a gym. Now in his 40s, he's rounded out but still has gym membership written across his textiled torso. He has taken a towel-less seat on the grass about 10 yards away from me. He sits there without removing so much as his shoes, looking like a heavy, weary raptor on this beach of terns. Since he must still go to the gym he must not be unfamiliar with the contours of the human body. Or perhaps that's the point: he's interested in seeing what happens to the body after one turns 50 or 60 and now takes nudity for exercise.
Voyeurism is verboten, reads the sign at the entrance to the nudist zone, but that doesn't mean that one has to sit blindly through this good day. I certainly can't be the only one to notice that, this being October, tan lines, are mostly gone – though I suppose that some didn't go in for tan lines in the first place. And presumably one can't be arrested for noticing how out of fashion pubic hair has become. It appears that there would be no greater shame for a Parisian nudist than to have a bush down there. I stay low so as to not draw attention to myself.
All eyes turn upward when we hear a high-pitched whizz overhead. Though I can't see the object making the noise I recognize the sound as that of a drone. Orwellian voyeurism. I wonder what the police would want with these images. And if not the police, then who? We've got nothing to hide here. How could we? But still. Something is amiss in this Garden of Eden.
I eat my apple.
As the shadows creep across the clearing in the late afternoon some nudists transition to textiles, some pick up their belongings and move to a sunny spot, while others get dressed and leave. I wait until the shadow reaches my feet before dressing.
There, I think as I pull on my shorts, I've done it. I've felt my bare feet in the grass, my bare everything else in the sun.
This isn't so different from visiting the Eiffel Tower after all: I've joined the crowd. I've looked around. I've taken a selfie. Been there, done that. Moving on.
But I do like this city. Maybe I'll move here some day.

Indoor venues for nudism in Paris
France is considered the world's top destination for social nudism. In addition to its homegrown nudists, France offers a warmer climate for northern continental European naturist. Information about beaches, campgrounds, other sites, associations and more, throughout France, is available from the French Federation of Naturism (Fédération Française de Naturisme).
For Paris, the main group to consult is the Paris Naturist Association (Association des Naturistes de Paris). The association also has a Facebook page.
Naked swimming: The main venue for athletic nudism in Paris is the Roger Le Gall municipal swimming pool and gym in the 12th arrondissement, which allows nudism Monday and Wednesday evenings 9pm-11pm and Friday evening 9:30pm-11:30pm. Check the website of the Paris Naturist Association before going, however, since closing times may change during holiday periods. Members of the Paris Naturist Association also have access to the gym Tuesday and Thursday evenings.
As in all municipal pools, swim caps are required in order to keep hair from clogging the drain and so that you won't run into each other's floating hairballs as you swim. Let's pause to think about that for a moment. On second thought, better not. Think chlorine.
Naked dining: The 12th arrondissement has become the leading district for Paris naturists. It's only natural then that it is the district to welcome the nudist restaurant, O'naturel, 9 rue de Gravelle in the 12th arrondissement. Metro Daumesnil or Michel Bizot. Promising "bistronimic" cuisine, O'naturel is open evenings only, Tuesday-Saturday. Tel. 01 85 15 24 91. Clients must enter clothed.
© 2017, Gary Lee Kraut