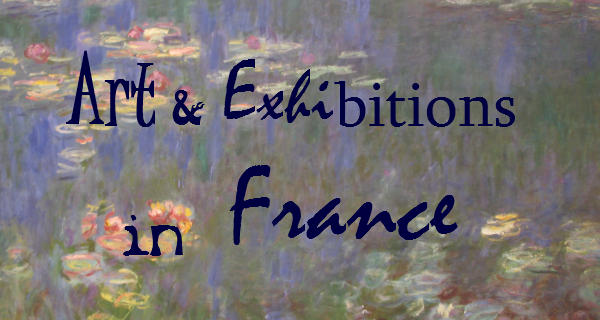 Whether you visit museums this summer out of an interest in art and culture, a desire to escape the heat or the rain, an appreciation for certain artists, eras or themes, or simply because they're there, you'll have the opportunity to encounter a rich variety of art shows and other exhibitions wherever you travel in France.
Corinne LaBalme has selected some of the most notable shows of the 2017 summer art and exhibition season.
Aix-en-Provence. At the Hôtel de Caumont, a mansion representing Aix's most sublime example of 18th-century aristocratic architecture: Alfred Sisley. June 10 to October 15; Giovanni da Rimini. June 14 to October 8. Fondation Vasarely: Vera Rôhm. June 26 to August 31.
Giverny. To prolong a stay in Monetland or not, that is the question. Musée des Impressionismes. Tintamarre ! Musical Instruments in Art (1860-1910). Through July 2. Henri Manguin. July 14 to November 5.
Grenoble. Before or after a stroll through the valleys or a hike in the Alps. Musée de Grenoble. Henri Fantin-Latour. Through June 18.
Lille and suburbs. Further reasons to step off the train. Palais de Beaux-Arts. Carte Blanche to Three-Star Chef Alain Passard. April 8 to July 16. LaM (Villeneuve): Michel Nedjar. Through June 4. The Magical Art of André Breton. June 24 to October 1.
Marseille. When a city reputed to be one of France's grittiest puts its trash on display. MuCEM. Vies d'ordures: The Economy of Trash. Through August 14.
Metz. The Pompidou Center continues to spread its wings. Centre Pompidou – Metz. Infinite Gardens: Giverny to the Amazon. Through August 28. Fernand Leger. May 20 to November 23.
Nice. Difficult to pull oneself away from the promenade and the old town, but here goes: Musée National Marc Chagall. Chagall's Sculpture in the 1950s. May 27 to August 28.
Paris. Choices, choices, choices.
Grand Palais. Rodin, The Centennial Exhibition. Reserve in advance because the Rodin show, on the 100th anniversary of the sculptor's death, is one of this summer's blockbusters. Jardins (Gardens). Through July 24.
Musée Marmottan. Camille Pissarro: The First Impressionist. Put this on your list, Paris revisiters. Through July 2.
Centre Pompidou. Cy Twombly. Through April 24. Walker Evans. April 26 to August 14. David Hockney. June 21 to October 23.
Palais Galliera. Dalida: A Pop Diva's Wardrobe. April 27 to August 13.
Musée Guimet. Kimonos. Through May 22. Japanese Countryside from Hokusai to Hasui and Asian Gold – Mnaag Masterpieces. June 22 to September 4.
Musée Picasso. Olga Picasso. Through September 3.
Musée d'Orsay. Mystic Landscapes – Monet to Kandinsky. Through June 25; Cézanne's Portraits: June 13 to September 24.
Musée du Louvre. Vermeer and the Masters of Genre Painting. Through May 22.
Musée du Luxembourg. Pissarro à Eragny. Through July 9.
Musée Moderne de la Ville de Paris. Karel Appel. Through August 20. Derain, Balthus, Giacometti. June 2 to October 29.
Musée Jacquemart André. From Zurbaran to Rothko, The Alicia Koplowitz Collection. Through July 10.
Musée de Quai Branly – Jacques Chirac. Picasso Primitif. Through July 23. Sacred Maori Stone. May 23 to October 1.
Fondation Louis Vuitton. Art/Afrique, le nouvel atelier. April 26 to August 28.
Pau. Musée National du Château de Pau. Portraits of Children from the Gramont Collection. Through May 21. Treasures of the 16th Century Navarre Court. April 7 to July 9.
Pont-Aven. Art call in Brittany. Musée de Pont-Aven. Modernity in Brittany/1: From Claude Monet to Lucien Simon (1870 – 1920). Through June 11. Modernity in Brittany/2: From Jean-Julien Lemordant to Mathurin Méheut (1920-1940). July 1- January 7.
Rouen. Trying to avoid OD-ing on Impressionism, Normandy gets hooked on Picasso. Musée des Beaux Arts. Picasso at Chateau Boisgeloup. Musée de la céramique. Picasso at Vallauris. Musée Le Secq des Tournelles. Picasso and Julio Gonzales: Works in Iron. All April 1 to September 11.
Versailles. Château de Versailles. Peter the Great, A Tsar at Versailles in 1717. Tzar Putin himself inaugurated this show alongside French President Macron. May 30 to September 24.
Vichy. At various locations in this old spa town, Festival Portrait(s), a celebration of portraits of all kinds, including those based on fiction and conceptual schemes. June 16 to September.