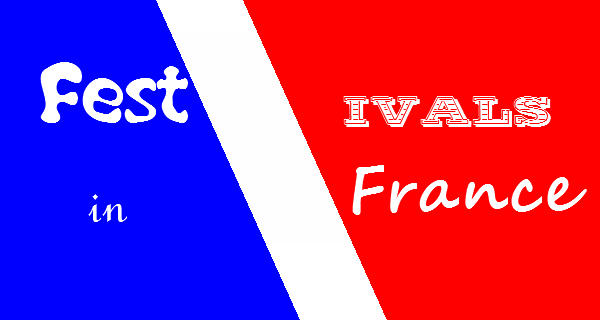 Hundreds of festivals, large and small, come to life each summer in France, bringing music, theater, dance and fireworks to village squares, historical monuments, town centers and their surroundings.
As travelers we enjoy the surprise of coming upon local festivals. But attending major festivals in towns and small cities requires planning: hotels fill, tickets sell out, well-known restaurants require more advance reservations than usual.
To help with the planning and to whet your appetite for the summer festival season, Corinne LaBalme has selected for France Revisited some of the best and brightest events of the season.
Aix-en-Provence. The world première of Pinocchio by Belgian composer Philippe Boesman headlines a strong and diverse opera line-up for the Festival Lyrique featuring Carmen, The Rake's Progress, Don Giovanni, Erismena and Eugene Onegin. Locations include the stunning 21st century Grand Théâtre in the city's new arts quarter and the moonlit courtyard of the former Archbishop's Palace. July 3 to 21.
Avignon. All-new productions of Antigone (Sophocles) and La Princesse Maleine (Maeterlinck) are two theatrical highlights of the Festival d'Avignon from July 6 to 26.
Beaune. The International Baroque & Romantic Opera Festival presents works by Monteverdi, Handel, Lully and Scarlatti this season from July 7 to 30. William Christie makes a star appearance too.
Cannes. The annual Festival d'Art Pyrotechnique (fireworks) competition provides extra sparkle to the Riviera waterfront on summer nights. The 2017 fireworks begin on July 13th with a Canadian light-show and wrap up on August 24th with Italy's tribute to movie music.
Carcassonne. There's something for everyone in this medieval fortress town during the July 1 to 30 Carcassonne Festival: Musical comedy (The Ten Commandments); Opera (The Marriage of Figaro); Dance (Ballet Béjart Lausanne) and rock (French legends Johnny Hallyday, Jacques Dutronc and Eddie Mitchell team up for a tour de force trio) plus Christophe Maé and a Mali music rave.
Clisson. Every kind of head-banging music – Doom, Death Metal, Grind, Pagan Metal, Thrash, Stoner – blasts this (normally quiet) town near Nantes for Hellfest from June 16 to 18. Book soon: the three-day passes sold out in early March.
Colmar. The National Philharmonic Orchestra of Russia is the guest of honor at the 29th Festival International de Colmar so expect some Russian romance along with the Ravel (and chilled Riesling) in this scenic Alsace burg from July 5 to 14.
Juan-les-Pins. Macy Gray, Tom Jones, Sting, Anoushka Shankar and Wayne Shorter are just some stars playing in the moonlit Riviera pine-grove at Jazz à Juan from July 14 to 23.
La Rochelle. This year, July 12-16, all the best-dressed French boys are showing for the 2017 Francofolies rock festival in this sea-side Atlantic town: Christophe Maé, MHD, Benjamin Biolay, Julien Doré and the ageless Professor of Perfecto, Renaud.
Lorient. Brush up on your Breizh, but pronounce it with a highland brogue since Scotland is the guest of honor at the 2017 Festival Interceltique in Brittany, the best fête in France to commune with your Inner Druid.
Lyon. Jazz (Norah Jones, Pink Martini), Opera (Don Givanni), Circus acts (Santa Madera, Cirque Plume) and theater (Isabelle Huppert!) headline at the eclectic Nuits de Fourvière from June 1 to July 29.
Mougins. Stand aside theater, dance and music, from June 23 to 25 Les Etoiles de Mougins celebrates the stars of gastronomy, with Daniel Boulud as this year's guest of honor.
Nice. The 2016 edition of the Nice Jazz Festival was cancelled after the Bastille night attack but there's a great line-up this summer — including Herbie Hancock, Mary J. Blige, and Kadhja Bonet — from July 17 to 21.
Orange. High drama and melodrama take to the stage of the stunning theater from antiquity when Chorégies, a world-class opera festival, comes to this town in Provence from June 19 to August 5. Bring cushions for the stone seat and don't mind the occasional stereophonic bat screeching. This year's festival is very Verdi (Rigoletto and Aïda) while the 2017 party opens up to a new movie public with a screening of Lon Chaney's Phantom of the Opera.
Paris. The itinerant Lollapalooza Rock Festival makes its Paris debut at the Longchamps Hippodrome July 22-23. The American headliners are Lana Del Rey and the Red Hot Chili Peppers. Think two-tier Woodstock: the basic two-day pass is 149€, but the Saturday Platinum VIP pass (with champagne, spa and chauffeur service) is 779€.
Paris. Bring a picnic for these free afternoon concerts in the Vincennes gardens (June 17 to July 30) but check the website for exact times and events before packing the pickles. As we go to press, the Paris Jazz Festival site is still playing two beats slower than the music.
Reims. The Flâneries Musicales festival, June 22 to July 12, bubbles extra brightly this season with classical concerts in sites like the elegant Krug Champagne courtyard. The season wraps up with an encore picnic concert on July 22.
Vienne. The 37th annual Jazz à Vienne brings Becca Stevens, De La Soul, Kezia Jones, Herbie Hancock and Zuccero (among others) to the city's Gallo-Roman arena from June 29 to July 13.
Versailles. Versailles is a party all year long but the Louis XIV-inspired fireworks in the Orangerie Park – July 6, 7, 12 and 14 – are worth a special mention.