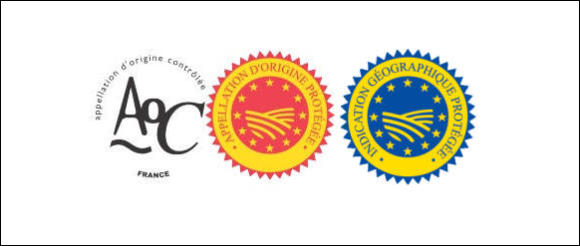 The association of food and drink with place is what most marks market-based gastronomy in France. In this series we provide travelers with lists of appellations, geographic indicators and other labels given to certain agricultural products in various regions of France. Before getting to the lists, we explain here the various terms and labels that you'll encounter in your seach for quality food and drink and for delicious insights into local and regional traditions.
* * *
The traveler's search for the best places to eat and drink in [name city, town or region] begins long before she leaves home. She whets her appetite by scouring the web for names, addresses and lists of restaurants. She notes the suggestions of friends and colleagues who've been there before. She may contact this (or that) writer for advice. Perhaps she makes a reservation or two. Arriving in [name city, town or region], she feels ready to wine and dine.
But before opening the menu and before examining the wine list she would be wise first to take a look at another, more essential list: a list of products raised, grown or made in and around the region she's visiting.
Our traveler can, of course, create a delicious picnic spread with products "imported" from beyond the visited region, and a fine chef can create up an exceptional meal with products from anywhere. Nevertheless, the association of food and drink with place is what most marks market-based gastronomy in France. Our traveler might begin by visiting a local food market. And if she doesn't go to the market herself for her meals, our traveler certainly hopes that the chef has.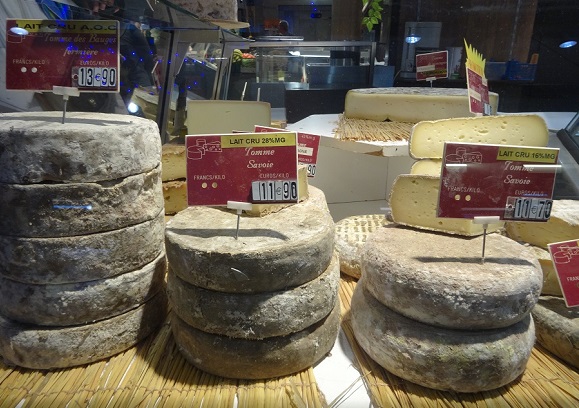 One of the best ways for our traveler to understand the geographic particularity of her destination in France is through its appellations and other government labels of food and drink. (Hopefully our traveler, if she has a distaste for government labels for ideological reasons, will set aside her politics when the cheese tray comes around.)
An appellation ensures provenance and standards relative to a specific product, whether wine (e.g. champagne), cheese (e.g. Roquefort), fruit (e.g. Menton lemons), fowl (Bresse chicken), beef (e.g. Camargue bull) or other agricultural products.
Carrying an appellation or an indication of geographic origin doesn't mean the highest quality possible for the given product in general. In wine, for example, there are greater and lesser appellations, and within those appellations greater or lesser wines. Furthermore, an official designation may involve some political one-upmanship. Still, an appellation ensures a geographic genuineness and approach to quality that is unlikely to be found in a product that simply claims to follow "industry standards."
Three labels rule the roost in France and throughout much of Europe
AOC, AOP and IGP are essentially labels based on the notion of terroir or place, signifying that the quality of certain products is intimately related to the interplay between their geographic zone of production (related to the zone's geology, climate, agriculture and history) and the conditions and know-how involved in their production.
The name of the place in a given appellation does not mean that the product comes only from that town or village. It can also come from wider geography, depending on the geographic specification. For example, not all of the champagne-growing area is within the historic Champagne region though that region is the heart of the growing area.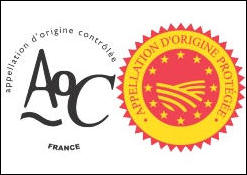 AOP (Appellation d'origine protégée), or PDO (Protected Designation of Origin), is a protection given to a product within the European Union that designates a product whose geographic zone (geology, climate, agriculture and history) and principal production follow a well-established technique. Geography and technique thereby combine to give the product is characteristics. In other words, the product's geographic zone of production is essential for its quality.
AOC (Appellation d'Origine Contrôlée), or Controlled Appellation of Origin, is the French equivalent of the AOP. The notion of a controlled appellation has existed since long of the European Union created the AOP. AOC and AOP products must follow certain specifications and be grown / raised / produced within a specific geographic zone. Some specs are more limiting than others due to the specific nature of the geography and/or history of that particular product. For example, a Chablis must be made from chardonnay grapes, whereas up to 13 different varietals can go into making a Chateauneuf-du-Pape. In France AOCs are validated, regulated and overseen by the Institut national de l'origine et de la qualité (INAO, by its former acronym), The National Institute of Origin and Quality, which operates within the framework of the Ministry of Agriculture, Food and Forestry.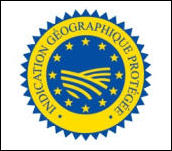 IGP (Indication géographique protégée), or PGI (Protected Geographical Indication), identifies an agricultural product, raw or processed, including wine, whose quality, reputation or other characteristics are linked to its geographical origin. Unlike an AOC/AOP, for which all of the steps of production must be carried out within the designated zone, not all the steps of producing a processed product need be carried out in the zone. IGPs for raw products, however, do indeed indicate that they were grown in a designated area.
Two other labels that our traveler will encounter are LR and AB.
Label Rouge (LR), or Red Label, is a national sign given to products which, due to their terms of production or manufacture, have a higher level of quality compared to other similar products usually marketed. It isn't in itself related to geography but to rather defined specifications for the type of product, though that type of product may in fact be related to a specific area.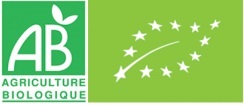 The label AB, indicating organic farming (agriculture biologique), is also not an indicator of a specific geographic zone. Organic farming can, however, be involved in producing a product that bears one of the labels or appellations previously described. In that case the product can bear both a geographic appellation/indication and the AB label.
For the first list in this series see: Market Day in France: The Southeast, Provence-Alpes-Côte d'Azur.
© Gary Lee Kraut