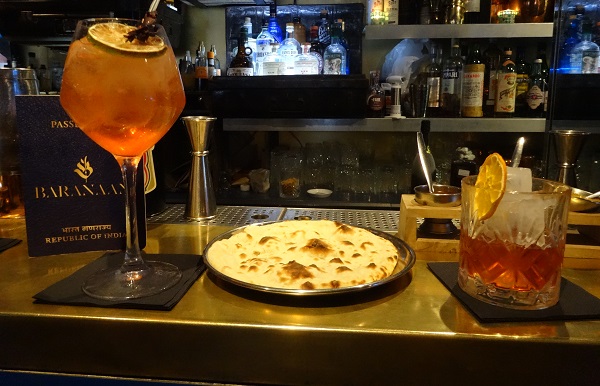 With the assistance of fellow cocktail explorer and writer Jobert Abueva
In this first in a series of Paris cocktail bar expeditions we sipped our way through a sliver of the 10th arrondissement with stops at three very different bars located just off Boulevard Saint-Martin, between the metro stations République and Strasbourg Saint-Denis.
For some cocktail travelers any one of these bars will be enchanting enough for an evening's excursion into cocktail-land, for others the contrast of two will raise the spirit before dinner, while the devoted cocktail explorers will enjoy a delightfully varied journey by taking in the three, all without walking more than 600 yards.
These bars can be visited in any order, at any time in the evening and into the night, but our preferred order progresses from Lavomatic, where we found recipe, to CopperBay, where we enjoyed chemistry, to Baranaan, where we discovered alchemy.
Come before 7pm if you want a relatively quiet cocktail, otherwise enjoy the crowd, either before, after or instead of dinner. Anyone over 40 may feel a bit over the hill as these bars fill, but all are welcome and will soon feel at home. None takes reservations.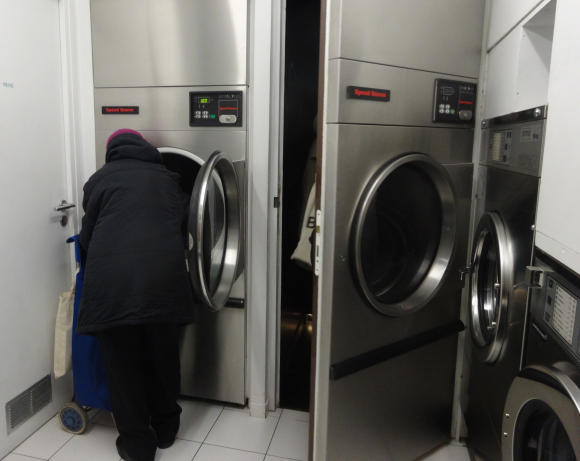 Lavomatic
30 rue René Boulanger, 10th arr.
Metro République
Open Tues. and Wed. 6am-1pm, Thurs.-Sat 6am-2am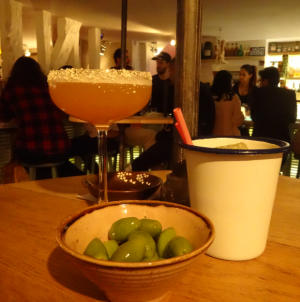 What may well be the world's smallest laundromat is also the front to Paris's most secretive cocktail bar. Well, it would be secretive if this bar, which opened in 2015, weren't already such a hit. Still, not all comers know which button on which laundry machine gives access to the cocktail cycle.
Find it and a door will open to a staircase leading to a compact and lively cocktail scene. Fellow launderers sit on Brillo cubes, swings, bar stools and leaning ledges. Get your suds up with contemporary cocktail recipes for the start of your evening whether out for a quick rinse or the full cycle, cool, warm or hot. 10-12 euro cocktails and nice little appetizers won't take you to the cleaners. Rinse, repeat if necessary.
Best seat in the house: the corner ledge of the bar area.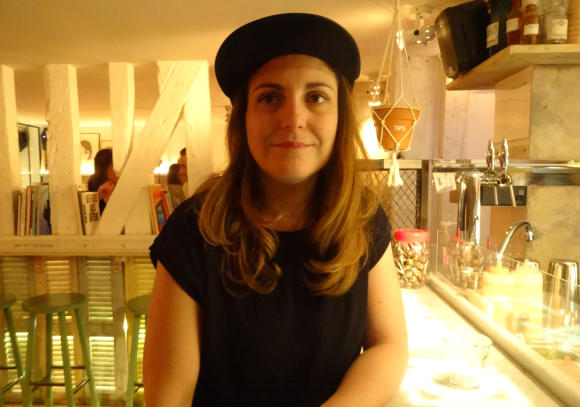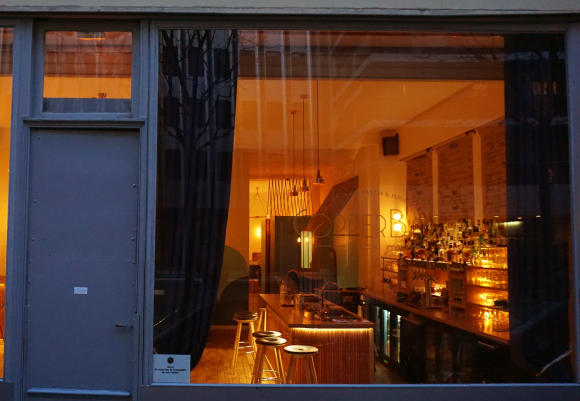 CopperBay
5 rue Bouchardon, 10th arr.
Metro Strasbourg Saint-Denis or Jacques Bonsergent
Open Tues.-Sat. 6pm-2am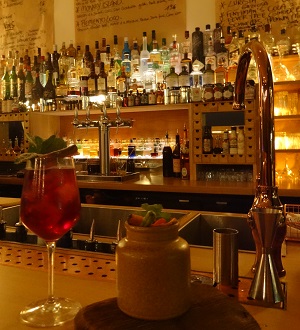 The faraway name and the clean-lined décor of CopperBay may be mildly evocative of the bar of a New England yacht club, but as watched Aurélie and Julien measure out doses, dashes and dollops of the elements of fine mixology we immediately recognized them as highly skilled cocktail chemists.
Choose from the brief description on the wall, from the chemistry cards on the menu rung or simply present your tastes and requirements to the owner-lab techs behind the bar.
While Julien's hand ballet executes state-of-the-art formulas, Aurélie selects, stirs, shakes and shimmies with such self-assurance that she can also simultaneously offer a warm welcome to newcomers while offering advice to a return traveler. Meanwhile, Elfi, the third partner in this smooth-running experiment, largely works behind the scenes.
Canned, jarred and wrapped nibbles can be ordered, but the focus is firmly on beverage at this second stop on our cocktail tour.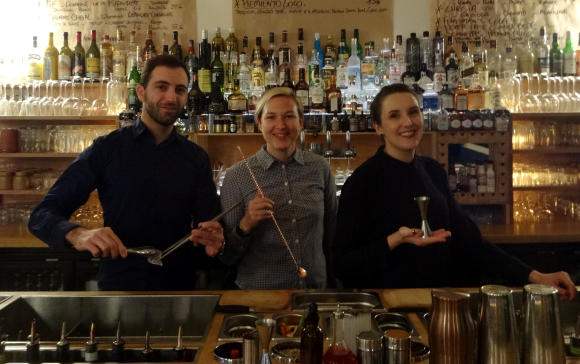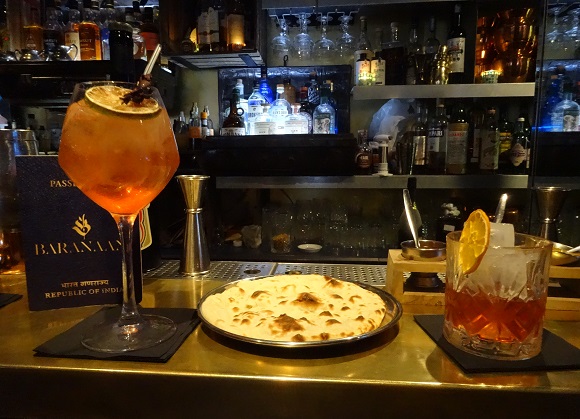 Baranaan
7 rue du Faubourg Saint Martin, 10th arr.
Metro Strasbourg Saint-Denis
Open Tues.-Sun. 6pm-1:30am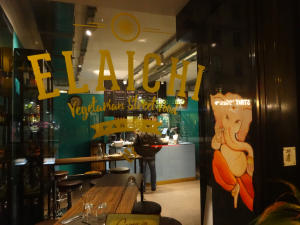 An unmarked door at the back of the vegetarian Indian snack joint Elaichi opens to a subcontinental speakeasy where cultures cross from one cocktail to the next.
Owners Raphaël and Krishane and their team of multiculti alchemists lure us out of Paris and into a joyful world of spirits, infusions, essential oils, spices and liqueurs. This is the cocktail traveler's passport to nearly mystical concoctions. Booths—rather, compartments—along the wall offer a train journey into the Tamil heartland. Gaze through the one-way mirror in the rest room to reflect on your fellow traveler before returning to your seat.
Naans and other noshes allow 10th arrondissement cocktail explorers to ignore dinner and continue their spirit-fueled journey into the night.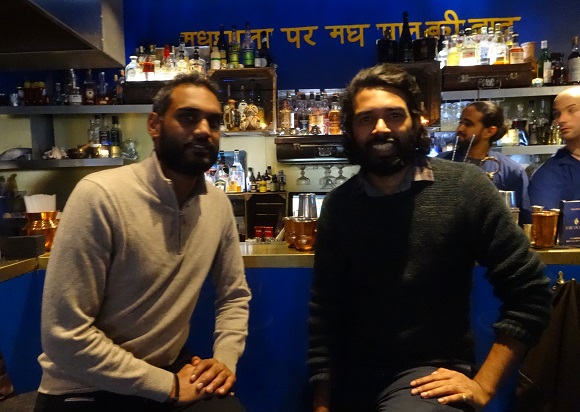 (c) 2016
Want to partake in a France Revisited drinking or eating expedition?
France Revisited occasionally enlists readers to join on cocktail, beer or wine bar expeditions as well as on gastronomic adventures, particularly in Paris, sometime beyond. Expeditionists and adventurers are expected to be willing to try different food or beverages (i.e. you won't be forced, but please don't be difficult) and to give honest opinions that may be integrated into an upcoming article. Expeditionists and adventurers pay their own way or a pre-defined cost. These are not tours but ways in which you help us in our research and we help you enjoy (re)discovering Paris and beyond. Write to gary [at] francerevisited.com if you'd like to join the exclusive list. Another way to be sure to join is by supporting France Revisited, as explained here.