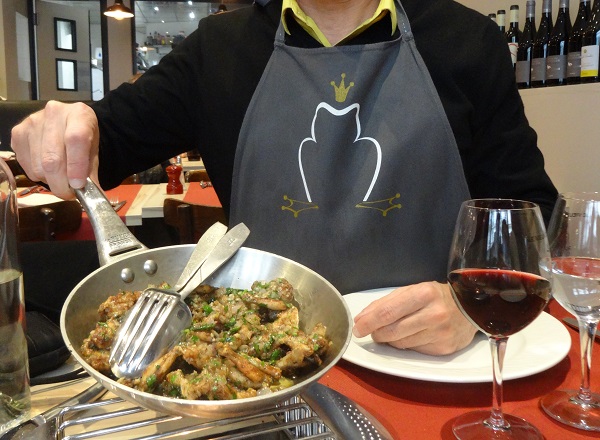 Country fare meets upscale neighborhood near the Arc de Triomphe at Thomas Boutin's Le Vieux Crapaud, where venturesome eaters enjoy frogs, pig's ears, snails and pigeon while their dining companions savor admirable preparations of more familiar traditional bistro cuisine.
* * *
The French have a reputation as frog-eaters, but admit it, Francophile friends, you've probably never seen a Frenchman nibble at a frog—and you may well have never tried fresh frog yourself. How about lightly fried pig's ears? Pigeon? Snails? Well, maybe snails, but possibly fresh only from the freezer.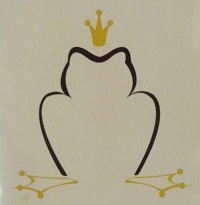 Le Vieux Crapaud (the old toad), near the Arc de Triomphe, is the place to catch up on such tasty, unfamiliar morsels, while also enjoying familiar bistro fare, freshly and earnestly prepared by owner-chef Thomas Boutin.
The airy dining room with well-spaced seating for 42 mostly shuns the decorative vocabulary of the traditional Paris bistro, while the hunting trophies—a pheasant, a boar (Boutin's shot), a goose, antlers—remind diners that the cuisine of this citified restaurant has rural roots, as does its owner-chef.
Originally from the Sologne region of France in the Loire Valley, Boutin briefly attended Drexel University in Philadelphia at a time when he was aiming for a career in business. But he soon left classrooms for kitchens, where he'd felt comfortable since childhood. He returned to Paris to attend the Ferrandi Culinary School. America eventually beckoned again, so for 18 months he worked at Le Charm, a French restaurant in San Francisco—hence his SF cap in the photo. Returning to Paris, he gained further experience by working with gastronomic chefs and as a home chef for hire.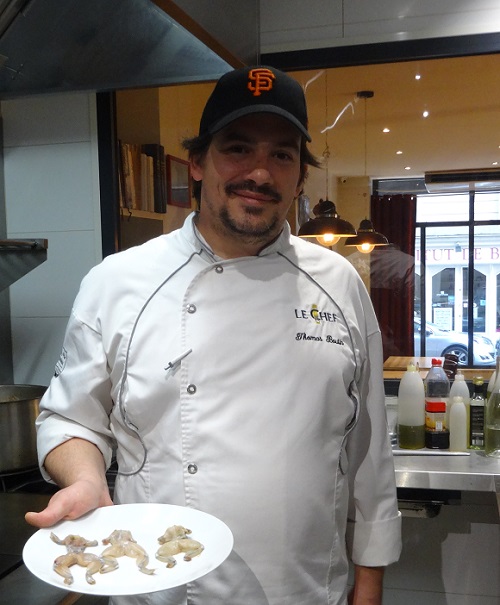 Bottin opened Le Vieux Crapaud in June 2014. Just over a year later, at the age of 38, he was named Officer of the Order of Agricultural Merit (Chevalier dans l'ordre du Mérite agricole), a national honor recognizing his role in maintaining what he calls France's "formidable culinary tradition" and respecting "its formidable terroir."
I initially came to Le Vieux Crapaud to enhance my frog education and have returned several times since. Boutin's frog supplier is Patrice François, France's only major frog breeder. The vast majority of frogs (typically legs only) served in France are imported. While inexpensive imports and regulatory requirements in France are enough dissuade most would-be domestic breeders, François, a well-establish fishmonger in the center of France, took up the challenge. In 2010 he created a frog farm just north of Provence in the Drome region. See this video from Patrice François's farm for more on frog breeding (raniculture).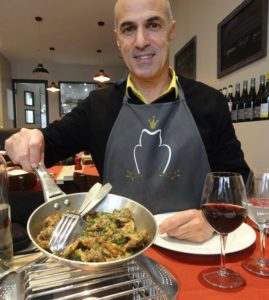 Boutin serves the whole frog at Le Vieux Crapaud, legs, body and forearms—eviscerated and with the head removed, of course. He sautés them with parsley and a bit of garlic, with some lemon in the finish. They're typically served alone as an appetizer though the frogophile can also order them as a main course served with mashed potatoes. In the setting of this restaurant the taste is both rustic and refined, and finger lickin' good. You'll be given a knife and fork in case you wish to use utensils, but frogs are traditionally eaten with the hands, which makes it easier to suck the bones. (Think delicate chicken wings.)
Well on my way to appreciating frog, I next turned my attention to pig's ears (oreilles de cochon) as a second appetizer. A pleasant surprise, Boutin's pig ears are lighter I'd imagined. They have a slight and agreeable cartilage crunch. (Think really good, thick, homemade potato chips.) There's some oiliness to them, which is well balanced by the accompanying lentils.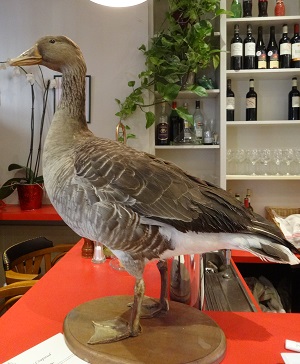 The vast majority of the products that Boutin works with come from France, as is the case in any self-respecting bistro here. The prime exception is the snails. That would appear sacrilegious in escargot country if Boutin hadn't come up with a reasonable explanation. "True fat, wild so-called Burgundy escargot no longer come from France because of strict regulations to produce them," he says. His meaty escargots therefore come fresh from Hungary. They're grilled in a parsley butter, as one would expect, but without the heavy garlic and often oily aspect that one finds in restaurants less concerned about freshness and quality.
"I want to give people an experience," he says of serving less familiar dishes to foreign clients. "I'm offering clients the chance to try things they might not otherwise try. Refuse what you want, but please don't tell me you don't like something before you've even tried it." He isn't opposed to having people send back dishes they don't like, and he rarely finds that someone abuses the offer to do so.
Beyond the less familiar appetizers, there's something to please everyone on Boutin's changing menu that may also include pheasant pot au feu, pumpkin soup, calf sweetbreads, a mature entrecôte, a hearty côte de bœuf to share, along with chicken, pork and fish dishes, consistently direct and flavorsome, I've found over several meals.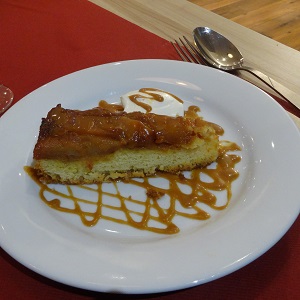 Those seeking in-depth wine discussion may be disappointed to find a lack of vino-conversation with Boutin and the staff. Boutin acknowledges that he is not a wine connoisseur, and there's no sommelier among his small staff (which may include his wife Tatiana at lunchtime). "I know what I like," he says. "We manage to express that to clients who have questions, but please don't talk to us about varietals. If you don't like what you're served I'll take it back."
Le Vieux Crapaud largely draws a local business and non-business crowd at lunchtime. In the evening tourists and business travelers enter the mix, many of them staying in the Champs-Elysées area and some perhaps at nearby luxury hotels such as the Raphael (worth considering for a well-heeled aperitif, especially in summer when its rooftop bar is open) and the Peninsula.
Moderately priced for the area (a 3-course dinner runs 35-55€ without wine), there is a genteel bon-vivantness to Le Vieux Crapaux. That comes not only from the food but from Boutin himself. In designing a restaurant with a window between the kitchen and the dining room, Boutin's intention was not, as in restaurants with a similar configuration, so that clients could admire the chef at work as an actor on a stage. Instead, the kitchen window is a perch from which Boutin can keep an eye on the dining room. From there he can judge where diners are in the progress of a given course, and he'll occasionally step out to give a helping hand in the dining room and to speak with clients, whether regulars or strangers.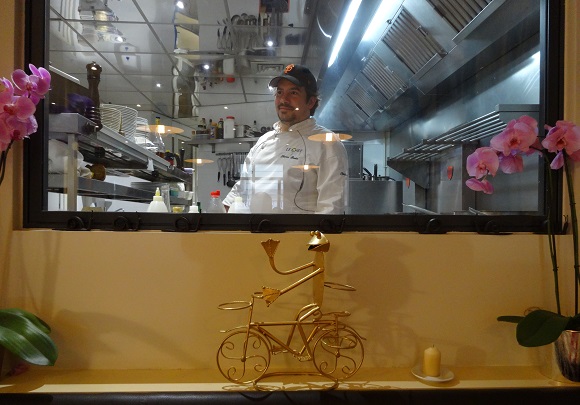 Boutin is an affable fellow who clearly enjoys the give and take with diners, whether in French or in English. His menu is in French only because, he says, he prefers to explain ingredients and preparations to clients who may not be able to decipher a French menu.
Boutin's good-natured approach to his preparations and to his clients would be a nice addition in many neighborhoods in Paris but they are especially welcome in the Arc de Triomphe area, where pretension, hefty prices, tourist fare and/or international branding otherwise dominate the restaurant scene.

Le Vieux Crapaud
16 rue Lauriston, 16th arrondissement. Metro Kléber or Charles de Gaulle-Etoile. Tel. 01 73 75 70 10.
Open Mon.-Fri. for lunch (12:00-2:30) and dinner (7:45-10:30). Available for private events and cooking classes on Sat. and Sun.
© 2016, Gary Lee Kraut