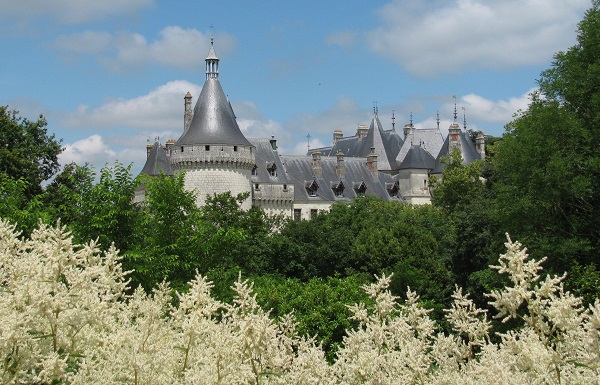 Corinne LaBalme reports on the International Garden Festival at Chaumont, one of the most delightful castle ground strolls in the Loire Valley. With "Gardens from the Coming Century" as its theme for 2016, the festival presents the brave new world of flower beds, hydroponics and botanical fantasies. Castle-hoppers exploring the valley and day-trippers from Paris take note.
* * *
Sitting on a cliff overlooking the Loire River, the castle of Chaumont has great appeal year-round for a drive-by photoshoot. But the true fairy tale is in the backyard from April 1 to November 2 when the annual International Garden Festival, now in its 25th year, makes the castle, its stable and surrounding 79 acres ready for an enchanting variety of close-ups.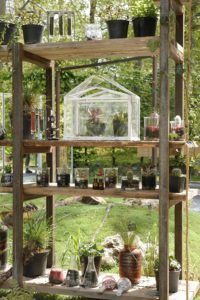 This is not your great-grandmother's garden party. Every year the festival invites creative folk from other fields (e.g. Baroque music conductor Willliam Christie, architect Shiguru Ban, Michelin-starred chef Alain Passard, choreographer Benjamin Millepied) to get their hands dirty in the vast domain of Chaumont, where they're joined by landscape gardeners and architects and botanical-minded individuals more accustomed to playing in the mud. Young garden creators selected in an annual competition for garden projects round out a truly international festival that displays great diversity in conception and execution.
The results are often playful, thought-provoking and unusual, and the current offbeat crop created around the theme "Gardens from the Coming Century" is no exception.
Among this year's headliners is the decadently hedonistic "Perfumer's Garden" created by Hermès "nose" Jean-Claude Ellena, who thoughtfully includes a circle of low-rise lounge chairs. (Message: There's no excuse not to smell the roses and get up-close-and-personal with the roots.)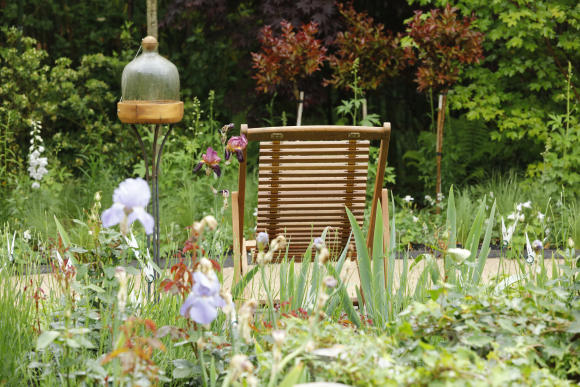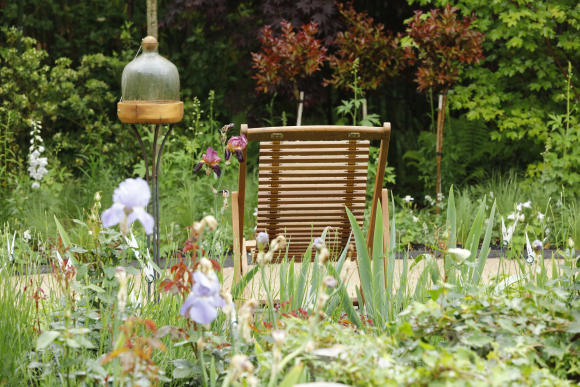 "Explosive Nature," designed by landscape architects Marguerite Ribstein and Grégory Cazeaux, is guerilla gardening at its best, created by "seed grenades" lobbed at random towards a wooden bridge structure. It's a Darwinian Battle of the Buds based on ancient Japanese terra-forming techniques and one of the most classically harmonious gardens of the year.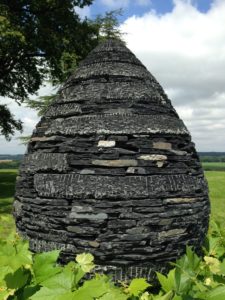 There's so much growing at Chaumont that a map—and at least half a day—is necessary. Besides this year's offbeat ephemeral gardens, there are plenty of old-fashioned art-for-art's-sake flower gardens, a magnificent variety of long-rooted trees and an ambitious indoor/outdoor art show drawing big-name, blockbuster talents like Andy Goldsworthy, El Anatsui and Marc Couturier.
Unlike the gardens, the castle itself, while old enough to have a working drawbridge and to have been a pawn in the 16th-century Catherine de Medicis/Diane de Poitiers Chaumont-for-Chenonceau real estate swap, is definitely your great-grandmother's castle… if she were a party-loving 19th-century heiress, that is.
In 1875 17-year-old sugar heiress (and Kim Kardashian prototype) Marie-Charlotte-Constance Say bought what was then a rundown castle. With her husband, Prince Amédée de Broglie, she turned the castle and its domain into France's premier party venue. The French A-List drank the Princess's bubbly and an Indian Maharajah sent an elephant as a bread-and-butter gift.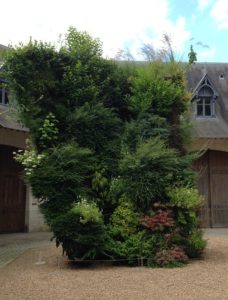 There are lots of elephant photos in the regionally-owned castle (75% self-supporting) since the curators have been banking on emphasizing the site's colorful 19th century history (less expensive to procure) when refurbishing the castle. While there are some "old" rooms, like the quirky salon dedicated to Catherine's astrologer, it's never the "ordinary" Renaissance chateau. The rooms are filled with artworks by the contemporary likes of Sarkis and Gabriel Ozozco.
Don't miss the stables. Not only is this equine manor house architecturally splendid and vintage harness and saddlery equipment (lots of Hermes here), but that's where two of this year's highlight instillations are on view: a fanciful vegetal sculpture signed Patrick Blanc and a gloriously, green marble evocation of the Seine created by Mathieu Lehanneur. The latter was voted by DeZeen Magazine as one of the eight "must see" installations worldwide in the summer of 2016.
Those wishing to explore far and wide on the castle grounds might also go hunting for the princess's dog cemetery on the edge of the woods.
Practical information: Visiting the castle, the stables, the garden festival at a leisurely pace will take at least several hours. There are decent lunch possibilities on site: a snack bar, a pasta bar and an actual restaurant. Entrance to the castle, the stables and the garden festival costs 14€, 6€ for children 6-11 years old and it's free for younger children. Two-day passes are available for the passionate gardener. See Chaumont's website for further details.
Getting there: Chaumont is between Blois and Tour, 165 miles southwest of Paris, about a 2½-hour drive. Trains to Onzain/Chaumont-sur-Loire leaving from Paris's Gare d'Austerlitz take roughly 2 hours depending on the route; the entrance then a 10-minute walk from the station. Trains operate year-round but most frequently in July and August.
Lodging nearby: There's the attractive little 3-star Hostellerie du Château (pool, restaurant) in the village so in walking distance, and the luxurious 4-star Domaine des Hauts de Loire (Relais & Chateau) in nearby Onzain.
Preparing for 2017: The competition is already underway for entries to take part in next year's festival under the theme "Flower Power."
© 2016 Corinne LaBalme