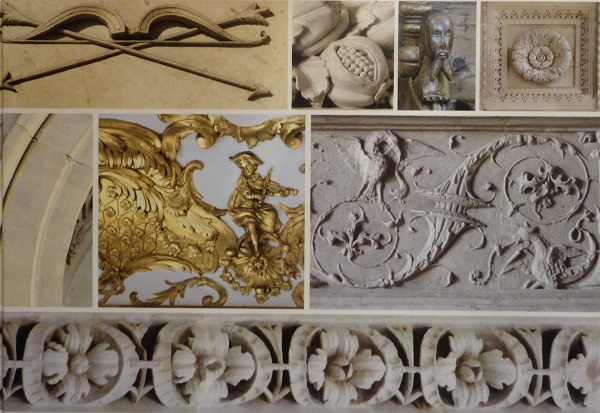 Vocabulaire Illustré de l'Ornament by Evelyne Thomas, an illustrated dictionary of the vocabulary of the ornamental and decorative elements of architecture and other arts.
* * *
We are often at a loss for words when we travel in continental Europe. It isn't only the words for natural conversation that are lacking but also the vocabulary of the things we see.
We admire the architectural and ornamental details of cathedrals, castles, mansions, ornate buildings and interior design without being able to name them: the archivolt, tympanum and gable at the entrance to the cathedral, the rib vaulting and lancet and rose windows inside, or the madillions, scrolled pediments, atlantes and caryatids that draw our attention as we wander through town. Perhaps that's why we take so many pictures, because we don't have the vocabulary, even in English, to describe or remember the details.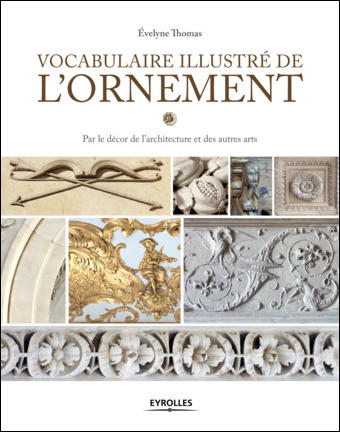 That isn't a failing on our part. After all, we have little to no contact with such elements back home. Still, if you find yourself curious for the name of such things, the handsome coffeetable book Vocabulaire Illustré de l'Ornament by Evelyne Thomas can go a long way in satisfying your curiosity in the vocabulary of ornamentation from Antiquity through the 19th century.
The 320-page book has hundreds of entries alphabetically organized and precisely illustrated with 800 photographs, nearly all of which were taken by the author Though the descriptions are in French, a 12-page lexicon of terms English-to-French and French-to-English adds a touch of accessibility to those unable to read in French.
Evelyne Thomas is a journalist originally from Tours who holds a doctorate in the History of Art. (Disclaimer: She is also member of the board of the Association des Journalistes du Patrimoine as is this writer.)
Vocabulaire illustré de l'ornament par le décor de l'architecture et des autres arts by Evelyne Thomas. Published by Eyrolles. 39.50€. First published in 2012, and recipient of the 2013 Demeure Historique book prize, the book's second edition was published in this year.