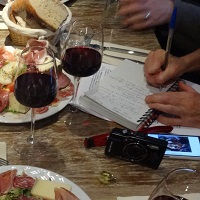 Paris's most original writing workshop meets Monday afternoons and you can join either as a regular, occasional or even one-shot visitor.
Award-winning travel writer and editor Gary Lee Kraut welcomes writers and bloggers on a moveable feast of a writing workshop during which you'll practice developing engaging, original and informative posts, articles and stories about travel, people, place, food and drink.
This off-beat, one-of-a-kind writing workshop meets at a different location in Paris each week: café, bar, shop, garden, artisan's workshop, museum or other setting. There, you'll examine ways in which to develop an eye for telling detail and a knack for recounting experience while folding history and other information into your writing. Your fellow participants will be writers and bloggers working in different approaches to travel, people, place and all things culinary.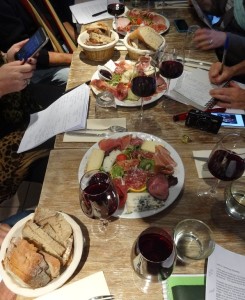 Each session typically includes an encounter with an owner or specialist and a tasting of some kind (e.g. wine, cheese, charcuterie, chocolate, pastries).
Altogether, the neighborhood, the exact setting, the encounter and the tasting will providing participants with the material that will be shared and discussed the following week.
Number of participants: Limited to 7 participants per week. In order to keep this Moveable Writing Workshop flexible, you can join when you want and for as many sessions as you like. Your presence from week to week must be confirmed at least 3 days in advance, prior to the next location being announced. In case of limited space in a given week, priority is given to regular and occasional participants before one-shot participants.
When: Mondays, 4:45-6:45pm, though we sometimes linger beyond.
Cost: 35 euros per session. Cost includes the tasting during the workshop. On the rare occasion the cost can be slightly higher in case of a more costly tasting or extraordinary setting.
For further details and to join on this Moveable Writing Workshop, contact Gary Lee Kraut at gary [at] francerevisited.com.
Movable vs. Moveable? Well, Hemingway spelled in moveable so let's go with that.