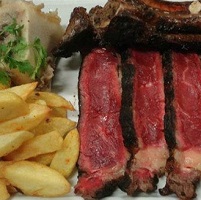 Keep it simple and simply good.
That's my motto when selecting restaurants for many visitors. And there've been a lot these past few weeks: friends, relatives, friends of friends, friends of relatives, classmates, fundraisers, writers doing research, travelers taking most excellent tours. We've had lunch together, dinner, we've been to wine bars, had picnics, stopped for pastries, chocolate, Bertillon sorbet.
"How do you/they stay so thin," they ask, causing me to suck in my gut, "eating like this all the time?"
Now here's a secret the food-bloggers won't tell you: We don't. At least I don't.
Paris can be visited as a perpetual all-you-can-eat deluxe buffet but it's lived as a city with countless venues for a shared meal or drink with friends, colleagues, clients and assorted visitors. Eating well implies choosing well, ordering well, buying well… enjoying good company. There is a form of Parisian self-control in matters of food and drink. One gets a hang of quickly enough. Spending two hours à table doesn't mean consuming four times the amount of someone who sits for 30 minutes. And we actually eat at home sometimes. We have access to good fresh produce. We walk to shops. We do our 10,000 steps, including frequent staircases. We cook in our little kitchens. We may even exercise, gently.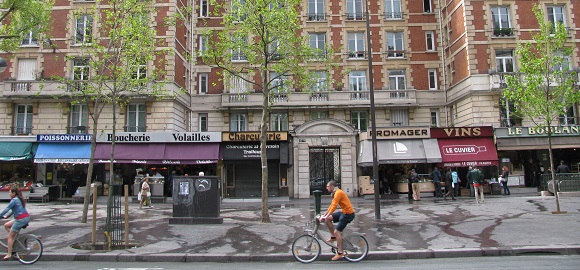 However, there are times when some combination of visitors, work obligations, journalist events, birthday celebrations and ordinary social life lead me on an extended period of wining and dining. And no matter how much I protest when the dessert menu is handed out, there are quite a few crème brulées, moelleux au chocolat, pies and tarts placed on the table with an extra fork or spoon. "I'll just have a little taste," as my grandmother would say.
That period of indulgence can last a few days or a week or, with my most recent schedule of visitors, events and travelers on most excellent tours, a month. Indulgence, however, is not the same thing as overindulgence. Indulgence is a knowing pleasure. Overindulgence is loss of control. Admittedly, there's a fine line of distinction at times.
A friend, in Paris for business, unsure of which side of the line we were on, said during our third straight high calorie wine-infused meal together, "My wife's gonna kill me for putting on weight. I'm gonna tell her it's your fault."
If shared good living is my fault then guilty as charged. I don't know what you're during this afternoon, Scott, but I'm going for a run as soon as I finish this article.
10 Venues for Shared Good Living—Simple Food, Simply Good
What follows is a selection of simple, simply good restaurants and shops that have been on my eating trails of the past few weeks during this most recent bout of shared good living. It's my food diary of the past few weeks, minus the less appealing, the less well served and the more gastronomic meals consumed along the way.
Simplicity is the theme, meaning relatively straightforward fare, meat and potatoes and the like yet unmistakably French. Some will call this restaurant fare "borrrrring," others will call it "just what I was looking for."
All are moderately priced, here meaning 25-50€ for 2 or 3 courses without beverages. All have good to excellent service. None require much, if any, advance reservation, though no harm calling ahead.
1. Le Sully
6 boulevard Henri IV, 4th arr. Metro Sully-Morland.
Tel. 01 42 72 94 80. Closed Sunday.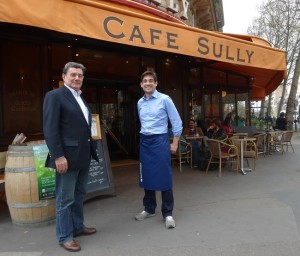 It's easy to overlook this daytime café-brasserie (it closes at 8pm) because the intersection out front appears to be a place of transit only and not of pause. But here—between Ile Saint Louis and the Arsenal quarter of the Marais, between old blocks from the Bastille and a statue of the poet Arthur Rimbaud, between an equestrian center for the Republican Guard and the Center for information, documentation and exhibition for urban planning and architecture of Paris—Le Sully is a place with roots. The same family has operated it since 1917 and their roots still run deep into the Aveyron region of central France. Le Sully is old reliable when it comes to enjoying the café-brasserie experience in Paris thanks to the generous spirit of Robert and Dany Vidal and their son Romain and to their sense of quality. Le Sully proudly sports the government label Maitre-Restaurateur, which signifies that dishes are made in house essentially using fresh ingredients. Aubrac rump steak and other nice lunchtime brasserie fare, Languedoc wines. We linger into the afternoon.
2. La Poule au Pot
9 rue Vauvilliers, 1st arr. Metro Louvre-Rivoli
Tel. 01 42 36 32 96 Open 7pm-5am. Closed Mon.
Ever true the bistro tradition, Paul Racat has for 40 years now maintained this relaxed yet classy home for rustic bistro classics, attentively served, and an atmosphere of unpretentious chic that develops as the evening and the night move on. Come the later the better. Soupe gratinée à l'onion, blanquette de veau, white Sancerre. We linger into the night.
3. Boucherie Roulière
6 rue des Canettes, 6th arr. Metro Mabillon or Saint Germain des Près.
Tel. 01 84 15 04 47. Open daily.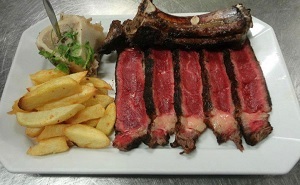 Having long associated this street between Saint-Germain and Saint-Sulpice with creperies, pizzarias and pubs, I thought it a bit risky to head here for beef. But the risk paid off: the sliced rib just right, attentive service, elbow-to-elbow seating that offered up a mix of good cheer and Parisian sophistication. Mille feuilles de tomate et artichaut à l'huile de truffe; côte de boeuf, bone marrow and steak fries; Saint-Estèphe (Bordeaux).
4. 750g La Table
397 rue de Vaugirard, 15th arr. Metro Porte de Versailles.
Tel. 01 45 30 18 47. Open daily.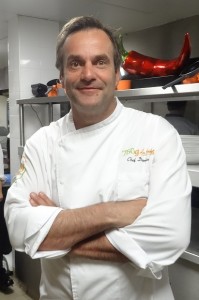 If I lived on the southwestern edge of the city or frequently attended trade shows at Porte de Versailles, I'd be happy to consider Damien Duquesne's Table my neighborhood restaurant for good chicken, good beef, homey side dishes, much freshness, a judicious wine selection and friendly service. But I don't, so I consider 750g La Table as a sign that no quarter is immune to honorable food and wine.
5. Les Petites Ecuries
40 rue des Petites Ecuries, 10 arr. Metro Château d'Eau or Bonne Nouvelle.
Tel. 01 48 24 02 90. Open daily.
Walking by on a sunny day, it was the sight of the pleasantly odd alcove lined with a living green wall that gave me pause for coffee. Though suspecting that the place might be too young and hip for the food or service to be anything but an afterthought, I nevertheless returned for dinner with a visiting friend the following evening. And good thing, too: my duck was delicious, my friend enjoyed his steak, we were kindly served and we barely noticed that we were among the oldest ones there.
6. Le Plomb de Cantal
3 rue de la Gaîté, 14th arr. Metro Edgar Quinet.
Open daily.
Why waste your waistline on the meat and potatoes at an ordinary greasy spoon when you can do some delicious gut-busting in this joyful restaurant in the Montparnasse quarter with Auvergne comfort food, from deep in the center of France? Sausage served with aligot (mashed potatoes with cheese and garlic) or truffade (sliced potatoes, cheese, garlic) is king here, but duck, tripes or beef are also options. Hearty salads as well. It's simple, it's delicious, it's caloric, it's cheerful, it's Paris without needing to be hip or sophisticated. There's an extension around the corner and another outlet across the city near metro Strasbourg-Saint Denis, but come evening the greatest joy is on aptly named theater- and restaurant-filled rue de la Gaîté.
7. Terminus Nord  
23 rue de Dunkerque, 10 arr. Metro Gare du Nord.
Open daily.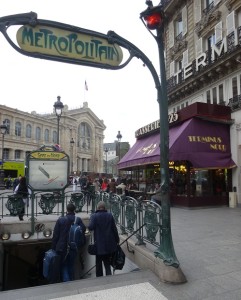 While the Auvergnats accompany their sausages with cheesy potatoes, brasseries of the north, wonderfully exemplified by this large and brassy restaurant across the street from Gare du Nord (the train station that links Paris with London, Lille, Brussels and Amsterdam), serve theirs with sauerkraut. But upon returning from Amsterdam (Café Loetje for lunch) we came here for the other specialties of northern brasseries: fish (cod, sea bass, salmon, sole) and seafood. A reminder that simple fare, simply good, isn't just a beefy affair.
8. Le Village Ronsard
47 Ter Boulevard St Germain, 5th arr. Metro Maubert-Mutualité.
Tel. 01 43 25 07 95. Open daily.
There are many like it, but when in this quarter come lunchtime I've always felt comfortable at this perfectly, excellently ordinary café-brasserie in the Sesame Street of Paris market areas. Poulet-frites, steak-frites, salads, omelets, etc.
9. Fil'O'Fromage
12 rue Neuve Tolbiac, 13th arr. Metro Bibliothèque François Mitterrand or Quai de la Gare.
Tel. 01 53 79 13 35. Open 10am-7:30pm Mon.-Wed. 10am-10:30pm Thurs.-Sat. Closed Sunday.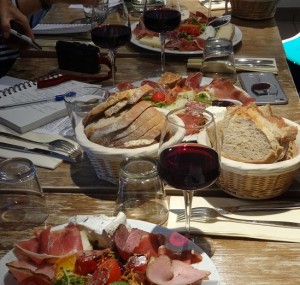 Past the loud brasseries, the cavernous cafés and the undesirable restaurants that first assault the rare explorer of the new Rive Gauche quarter of the 13th arrondissement, Clément Chérif Boubrit ("I'm the Sheriff," he says), philosopher, photographer, cheesemonger, oenologist, operates an off-beat wine and cheese shop and eatery where I recently organized a tasting for a group of eight bloggers/writers. Don't worry, you needn't be eight or even organized to enjoy the Sheriff's approach to tasting wine, cheese and cold cuts vertically, horizontally, blindly or what the hell let's just share-ingly.
10. My kitchen. Leftovers from last night's party. Open 7/7, by invitation only.
© 2015, Gary Lee Kraut