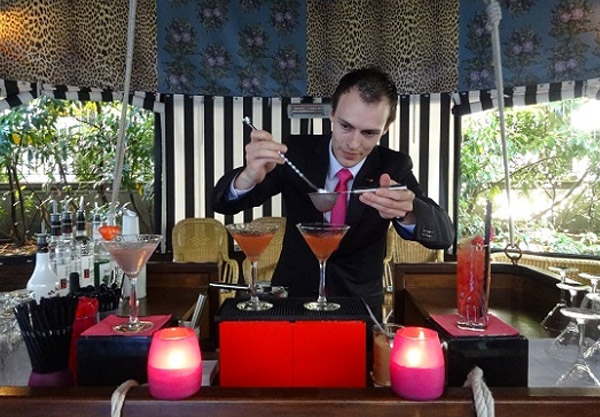 From a glamorous hotel to a hip budget hideaway by way of an elegant BnB, here are seven Paris inns offering unexpected oases, notable whether you're lodging there or just looking for an open-air bar away from car fumes.
(Updated April 2016)
1. Hotel Saint-James
Two metro stops west of Etoile, the site of the glamorous 4-star Saint James was once far enough away from the central Paris to serve as a launch pad for hot air balloons. While tall buildings have sprouted in the area, the lush private garden of this luxuriant refuge, accented with fanciful balloon canopies (photo above), remains intact and serves as an open-air bar during the fine-weather months. Like its classy library bar and Michelin-starred restaurant, the open-air bar is reserved for hotel guests and club members during the day, but all of them are accessible to visitors after 7pm.
Hotel Saint James, 43 avenue Bugeaud. 16th arr. Tel: 01 44 05 81 81. Metro: Porte Dauphine.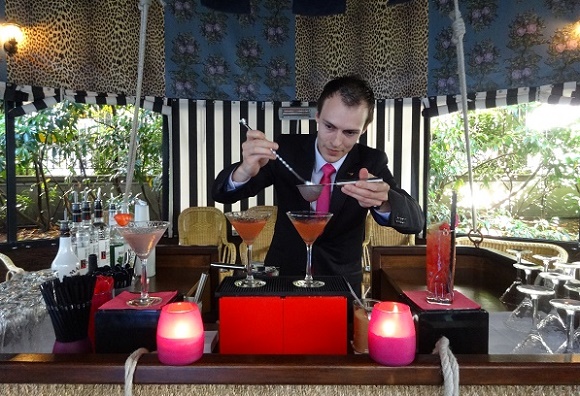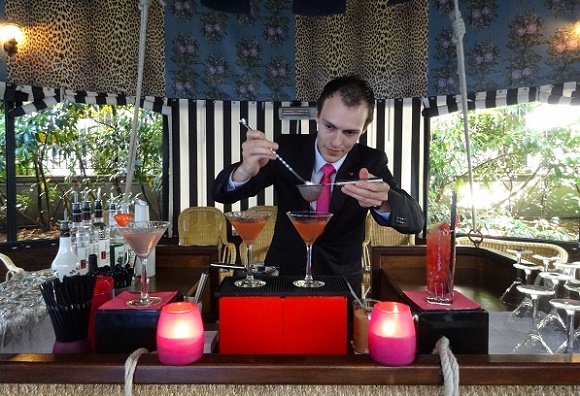 2. Regent's Garden Hotel
Napoleon III liked his private physician so much that he built him a delightful townhouse with an enclosed garden on the western edge of Paris just beyond the Arc de Triomphe. This year the 4-star hotel has made its private garden an even greater draw with an outdoor exhibition of bronze and ceramic sculptures by Mickie Doussy on view through September 30. Beyond breakfast, when open only to guests, the garden bar/tea salon is open to visitors on reservation.
Regent's Garden Hotel, 6 rue Pierre Demours. 17th arr. Tel: 01 45 74 07 30. Metro: Ternes.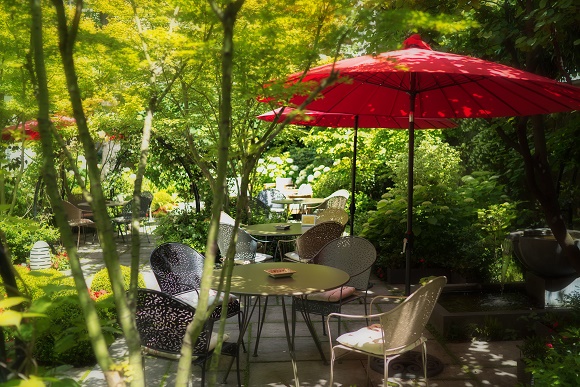 3. Villa du Square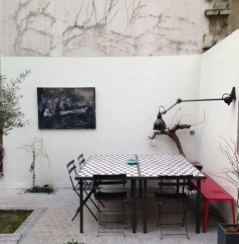 Tucked between Le Corbusier townhouses in the residential 16th, the Villa du Square (open since September 2015) is a B&B offering five luxurious bedrooms in a 1920s mansion lovingly decorated by art collector hosts Marie-Victoire and François-Christophe Gicqueau. The garden—200 square meters of urban Eden shaded by centenary pines—has enough secluded 'corners' that guests won't trip over each other while they smell the roses.
Villa du Square, 26 rue Raffet, 16th arr. Tel: 01 71 72 91 33 Metro: Jasmin. The garden is only open to overnight guests.
4. Hotel des Marronniers
The secluded garden behind this 3-star Left Bank hotel is open to the public from 2pm until 11pm for tea or drinks.
Hotel des Marronniers, 21 rue Jacob. 6th arr. Tel: 01 43 25 30 60. Metro: Mabillon.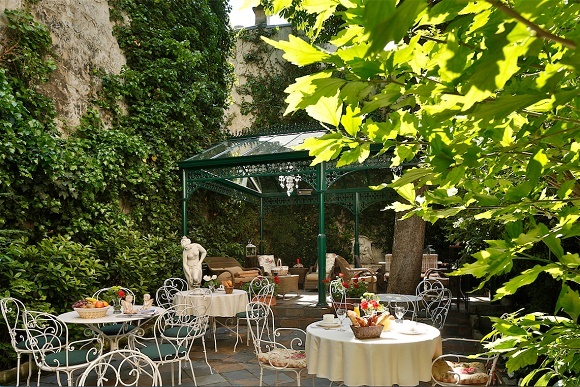 5. Villa Montabord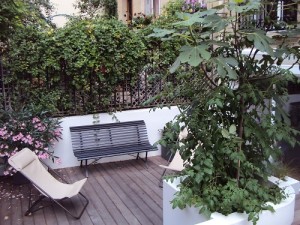 The Cité des Fleurs, a one-block pedestrian street in the Epinettes district on the northwest edge of the capital, is one of Paris's original gated communities. The guidelines laid down by the developers in 1847 mandating at least three flowering and/or fruit trees for every garden are still observed. Thus, the four-room bed-and-breakfast that Isabelle and Jérôme Sciard opened in their 19th-century home has a pocket-sized private garden within a garden community. Expect fluent English (Jérôme is a former submarine commander who was stationed in Newport, RI for a year) plus large, luxurious bathrooms, WiFi and television.
Villa Montabord, 3 Cité des Fleurs, 17th arr. Tel: 06 14 88 74 06. Metro: Brochant. The garden is only open to overnight guests.
6. Hotel Eldorado
This hipster enclave in rapidly gentrifying Batignolles is one of the last places in Paris where budget-minded visitors can get a double-digit priced room with facilities "down the hall," in a decor that mixes fake leopard skin throws and real cat-hair from resident felines. The hotel may have two stars but its popular Bistrot des Dames restaurant/wine bar, nestled in a pleasant but not-overly-groomed garden, goes by its own standards and is open to the public.
Hotel Eldorado, 18 rue des Dames, 17th arr. Tel: 01 45 22 35 21. Metro: Place de Clichy.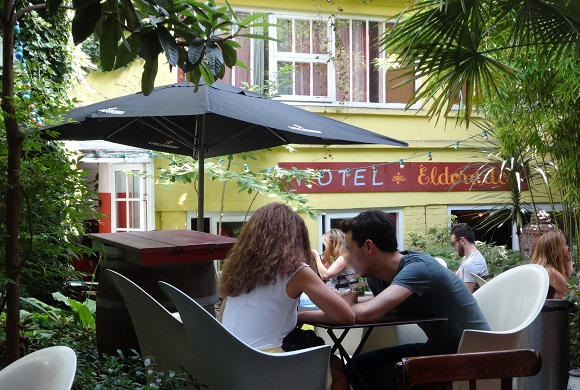 7. Novotel Paris Les Halles
With a giant, custard-colored canopy hovering over the Châtelet shopping center, catching "a patch of blue" in Les Halles is as rare as it was for Oscar Wilde at Redding Gaol. Given the forbidding façade  of the Novotel Les Halles, it's a triple-fine surprise to find a delightful, tree-shaded garden terrace-bar nestled within its walls. An oasis of calm in a chaotic neighborhood.
Novotel Paris Les Halles, 8 Place Marguérite de Navarre, 1st arr. Tel: 01 42 21 31 31 Metro: Châtelet.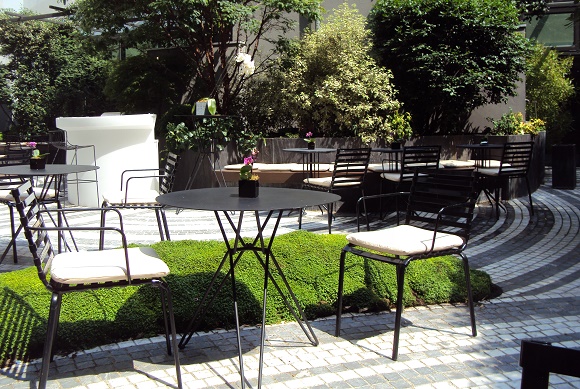 © 2015-2016, Corinne LaBalme
Updated April 2016