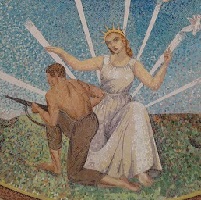 June 6, 2015—On the eve of the 71st anniversary of the D-Day landing in Normandy, Dan Schlossberg of Travel Itch Radio invited France Revisited's editor Gary Lee Kraut onto the show to discuss D-Day and other American War Memories in France.
For 30 minutes Schlossberg, his co-host Christine Tibbetts and Kraut discussed American war memories in France.
They spoke the Invasion of Normandy and questions about to the best way to visit the Normandy war sights. How long should a traveler devote to visiting the Landing Zone? Can travelers do it on their own or is it preferable to have a guide? How and why to travel as a family.
You can listen to the show in podcast here. (A technical glitch caused the guest to disappear for a few seconds at the start of the phone interview, but the conversation was soon underway.)
Check Out Travel Podcasts at Blog Talk Radio with
NDB Media
on BlogTalkRadio
Dan Schlossberg,  who lives in New Jersey, is a multiple award-winning journalist (broadcast and paper) especially known for his work in travel and baseball.
Chistine Tibbetts,  who lives in Georgia, has been reporting far and wide for over 40 years.
Travel Itch is an internet radio program that can be heard live on Thursdays from 8 to 8:30pm East Coast Time.