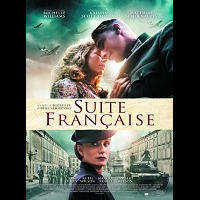 Suite Française by Irene Némirovsky took the literary world by storm when it was first published in France in 2004, followed up with an English translation in 2006. The sensation had to do with the quality of the work itself in conjunction with the backstory, the sidestory and the epilogue relative to the author herself and her daughter Denise Epstein.
The book presents two novellas concerned with the lives of individuals during the German advance into France in the spring of 1940 and in an occupied village in the months that followed. Suite Française, a work of fiction, was drawn from draft manuscripts written by Irene Némirovsky between 1940 and 1942 as she lived through those wartime events. As such, it is an extraordinary example of documentary fiction from that period, even though first published over 60 years later.
The movie, based primarily on the second novella, Dolce, is a Hollywood-style adaptation that is refreshingly old-fashion in its telling of a tension-filled story of love, sex, resistance, collaboration, survival and redemption in an occupied village near Paris. Neither the treatment nor the characters are new to those with any familiarity with WWII war movies, but even in its broad strokes and polished romanticism, the intimacy of the film, the quality of the acting, the seductive sentimentality of the music, and the concise (if sometimes slow) nature of the scenes draws us into its depiction of the social and economic structure an occupied village, where individual choices have lasting consequences.
Having already been released in the UK, Suite Française, starring Kristin Scott Thomas, Michelle Williams and Matthias Schoenaerts, will be released in France on April 1.
I would like to think that those who have not read the book and are unlikely to do so would find the above sufficient information to decide whether or not to see Suite Française, and if yes then whether to see it on the big screen, on the medium-size screen at home, or perhaps on the small screen of your next overseas flight. (For those in France, there is also the choice of seeing it in the original English version or dubbed in French, which is how I saw it.)
But even before finding this text one is likely to have already encountered far more information about the book. This is true whether or not one has read it. And that's where the potential trouble with this film begins.
I'm a fan of ignorance in this case—I believe that the film is more effective, enjoyable, even moving without the added baggage—since those elements of non-fiction force the fiction of the film (and of the book) into a stance that it doesn't have without meta-analysis. But those elements are too tied up in Suite Française to ignore. Even before comparing book and film, one is preoccupied by the backstory, the sidestory and the epilogue.
Némirovsky was born in Kiev in 1903 to a Jewish family that fled the Russian Empire when she was a teen. She became a writer in Paris, publishing in French, married Michel Epstein (a Jewish French banker), converted to Catholicism in 1939, fled Paris in 1940 for a village in Burgundy when life in the capital become untenable, and was eventually arrested for being a foreign Jew and deported to Auschwitz, where she died of typhus. Némirovsky's arrest for deportation in July 1942 was followed several months later by her husband's (he went second because he was French). When Denise, their elder daughter, then 13, and their younger daughter Elisabeth, then 5, were taken into hiding, Denise took with her a suitcase containing her mother's manuscripts. She claimed she didn't read the manuscripts for the next 50 years because she thought them to be her mother's wartime diaries that would be too painful to read.
In 2004, Suite Française was finally published including those biographical details and many more, and it takes a special kind of reader to avoid having them color their reading of the book.
Those who have read the book and are now considering seeing the movie might read reviewer Deborah Ross's take on book vs. film question in an article published in The Spectator.
But those considering seeing the movie without having already read the book should stop reading the meta-analysis (fascinating and thought-provoking as it may be) and go enjoy Suite Française on the screen. Because enjoyable it is. The heavy hand of Hollywood awaits the characters in their film fate here, but even so the story on the screen is as tense as it is revealing of village life in occupied France.
Those who know the book may shirk at some of the broad strokes and character transformations and particularly the stock ending, but I shirk more at the thought of the movie that might also have been made with this material: a movie about a Jewish-cum-Catholic writer named Irene Némirovsky, forbidden from publishing due to France's wartime anti-Jewish laws, writing a fiction about the mostly Catholic inhabitants of an occupied village as she is about to be arrested for being Jewish… and then there's a knock at the door. Thankfully, the filmmakers resisted the temptation to make such a movie, though they couldn't resist the infidelity of adding a character whose identity card is stamped Jewish and her daughter into the movie along with an unambiguous ending.
It's best then not to read too much about the book or about the author if you want to enjoy the film for what it is: a memorable wartime drama situated in France (though filmed in Belgium), earnestly played by a few familiar faces, accompanied by sentimental music, about characters living in tough circumstances who make tough choices with heavy consequences, some of whom exude sex appeal (if not necessarily together).
I am reminded very much of Casablanca, a film released in Nov. 1942. That's about the time Némirovsky's first two novellas might have been published had Rick managed to get the manuscripts onto that plane with Ilsa and Victor.
© 2015, Gary Lee Kraut