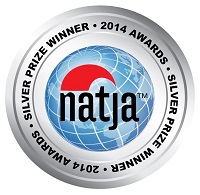 PASADENA, CA (Feb. 11, 2015)– The North American Travel Journalists Association (NATJA) today announced that France Revisited won the Silver Award as first runner-up in the 2014 NATJA Awards Competition in the Online Travel Magazine category. This awards competition, now in its 23rd year, honors the "best of the best" in travel writing, photography and promotion that cover all aspects of the travel industry worldwide.
NATJA Awards recognize excellence in travel writing, photojournalism, social media, multimedia platforms, advertising, marketing and public relations for the travel and tourism industry. This year, NATJA received over 650 submissions from all over the world.
Gary Lee Kraut, editor of France Revisited, also personally won a Silver Award in the Culinary Travel category for his series about the Ardennes region of France. The article 25 Paris Restaurants: A List Beyond The List, written by Kraut and including suggestions from six other Paris-based foodies and food writers, was named a finalist in that category.
Last year Kraut won the Gold Award in the Culinary Travel category for his series about France's Drôme region.
"NATJA received an overwhelming number of entries in this year's awards competition. The stories and photographs were so compelling and life-like that they placed the reader in that moment. This made it challenging for the judges to select the winners," said Helen Hernandez, CEO of the organization. "The award entries this last year were clearly, the best ever in NATJA's history. We congratulate all of the Grand Prize winners, Gold, Silver and Bronze winners for bringing to life their travel experiences for the general public."

NATJA is the second largest travel media association in North America. Members include travel media professionals, convention and visitors bureaus, social media, hotels and attractions, and other travel marketing agencies. Members are provided with professional development workshops, peer-to-peer evaluation, web tools and networking opportunities. NATJA also publishes TravelWorld International Magazine.
For more information about NATJA or a complete list of 2014 award winners and finalists, visit www.natja.org.