Paris, France/Ewing, NJ (Feb. 3, 2015)—While the recent terrorist attacks in Paris caused some travelers to push the pause button on their immediate European travel plans, we can all be armchair travelers this month when New Jersey native and award-winning Paris-based travel writer Gary Lee Kraut explores France during a tour in New Jersey, Pennsylvania and Washington, D.C. from Feb. 16 to March 2, 2015.
Kraut will be exploring France from five different angles during his upcoming lectures. He'll be speaking about American war memories in France, with an emphasis on Normandy, at the Alliance Française de Doylestown, PA (in French) on Feb. 18 and the Alliance Française de Washington, D.C. (in English) on Feb. 25; about culinary travel in Paris at the public libraries in Lambertville, NJ on Feb. 20 and Yardley, PA on Feb. 21; about Jewish travel in Paris at the Lawrence, NJ Public Library on Feb. 19; about travel and travel writing beyond the clichés at Bucks County Community College (Newtown, PA) on Feb. 16, and about cultural heritage and preservation at The College of New Jersey on March 2 .
In addition to his upcoming lectures, Kraut will also be meeting with travel agents, individual travelers and Francophile groups discuss their concerns about and interest in travel to France.
Gary Lee Kraut is the author of five guidebooks and hundreds of articles about France. He is the founding editor of France Revisited www.francerevisited.com, a premier web magazine exploring life in Paris and travel in France. This month France Revisited received the North American Travel Journalists Association's Silver Award as first runner-up in NATJA's annual Best Online Travel Magazine competition. Kraut also received a Silver Award in the Best Culinary Travel Article category for a series about the Ardennes region of France. Last year he received NATJA's Gold Award in the Culinary Travel Article category for an article about France's Drôme region.
As a travel consultant and private guide, he has worked with a wide array of individuals, including a U.S. senator, a Hollywood actress, a best-selling author, top-flight travel agents, corporate presidents and many curious travelers from across the U.S. and from a half-dozen other countries.
Kraut's area lecture schedule is as follows. All lectures are open to the public.
Travel and Travel Writing in France Beyond the Clichés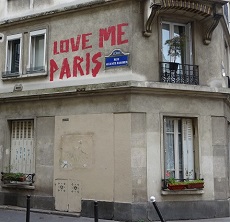 Date: Monday, February 16 at 11am.
Address: Bucks County Community College, 275 Swamp Rd. Newtown, PA 18940. The lecture will take place in the Gallagher room on the second floor of the Rollins Building.
Info: Free. Those not affiliated with the BCCC community are welcome to attend but should first send an e-mail to Theresa.Montagna@bucks.edu or call the Language and Literature Dept. at 215.968.8103 to let them know that they're coming.
Description: "The clichés of Paris and of France are wonderful," says Gary Lee Kraut, "but our most rewarding travels are those in which we develop a personal connection with our destination."
Using insights, experiences and anecdotes from his work in travel and tourism in France over the past 25 years, Kraut will reveal how travel and travel writing are enriched by seeking those connections and by the surprises found along the way. He'll speak about his own evolution over the years from a tenderfoot journalist working for a suburban New York paper to a top American specialist on travel in France, discuss the magic of "the perfect travel moment," and provide useful tips on how and where to look.
***
American War Memories in France: Exploring the WWII sites of Normandy and the WWI sites of northern and eastern France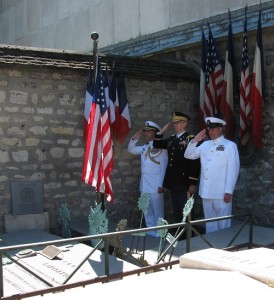 Dates: Wednesday, February 18 at 9:45am in Doylestown, PA (in French) and Wednesday, February 25 at 7pm in Washington, DC (in English
Address 1: Feb. 18: Alliance Française de Doylestown, St. Paul's Lutheran Church, 301 North Main Street, Doylestown, PA 18901.
Address 2: Feb. 25: Alliance Française de Washington, DC, 2142 Wyoming Avenue, NW Washington, DC 20008. Tel. 202-234-7911.
Description: An illustrated lecture that examines American WWII war sites in Normandy and WWI sites in northern and eastern France and various approaches to visiting them. Along with a survey of a variety of sites and museums and an analysis of the future of the Normandy Landing Zone, Kraut will tell about some of the fascinating people he's met during his work as a travel writer and travel specialist, from a brandy producer on a historic farm near Omaha Beach to encounters with the children of WWII veterans and with travelers who were unexpectedly and indelibly touched by what they experienced.
In Nov. 2014, at the end of the commemorative year of the 70th anniversary of the Invasion of Normandy, Kraut organized and moderated on behalf of France's Heritage Journalist Association a round-table discussion at Paris's International Heritage Fair about the future of the Normandy Landing Zone.
***
Jewish Travel in Paris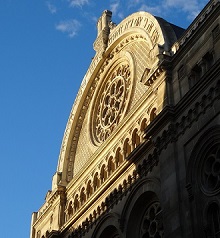 Date: Thursday, February 19 at 7pm
Address: Lawrence Public Library, 2751 Brunswick Pike, Lawrenceville, NJ 08648. 609-989-6920
Info: Free and open to the public. Registration is suggested by calling 609-989-6928.
Description: "Jewish travelers invariably ask me about anti-Semitism in France but rarely set out to meet French Jews or learn about French Jewish history beyond anti-Semitism when in Paris," says Gary Lee Kraut. "The effect is a skewed view of Jewish life in Paris. Without denying or apologizing for anti-Semitism, I want to show travelers and armchair travelers that Paris is an extraordinary place to explore Jewish history and contemporary Judaism in Europe."
In this illustrated lecture Kraut will examine the history of Jews and Judaism in France as seen through various sights and neighborhoods that can be visited in Paris, covering medieval Paris, the emancipation of Jews during the French Revolution, financial and political success in the 19th century, Askhenazic and Sephardic immigration, the Dreyfus Affair, artists of the 1920s, the German Occupation and the Vichy Government, and recent events. He'll also discuss questions of the identity that Americans and in particular American Jews carry with them when traveling abroad.
***
Culinary Explorations in Paris: A Delicious Bite of Historical and Contemporary Gastronomy in the French Capital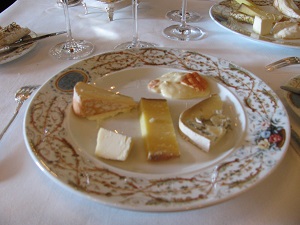 Dates: Friday, February 20 at 7pm at the Lambertville (NJ) Free Public Library and Saturday, February 21 at 2pm at the Yardley-Makefield (PA) Public Library.
Address 1: Feb. 20, Lambertville Free Public Library, 6 Lilly Street, Lambertville, NJ 08530. For further information call the library at 609-397-0275.
Address 2: Feb. 21, Yardley-Makefield Public Library, 1080 Edgewood Road, Yardley, PA 19067. Tel. 215-493-9020.
Both events are free and open to the public.
Description: Gary Lee Kraut treats foodies, gastronomies, bons vivants and simply hungry travelers to a tasteful exploration of food and drink in the great culinary city of Paris. He will examine the history of markets and gastronomy in Paris, describe the development of French cuisine as we know it, explain the interest of experiencing the various types of eating and drinking establishments in Paris, and give tips on how to enjoy culinary travels today in Paris and beyond.
***
Got Heritage? Understanding and Exploring Patrimoine and Preservation in France
Date: Monday, March 2 at 7pm.
Address: The College of New Jersey, in the auditorium of the college library. 2000 Pennington Rd, Ewing Township, NJ 08618. Tel. 609-771-2131
Patrimoine is translated into English as heritage yet patrimoine is used in French in ways that are much deeper and more complex than our use of the word heritage. This lecture explores the notion of patrimoine that is so deeply engrained in the consciousness of the French that it is applied to everything from cathedrals to chateaux to old mills to cuisine to wine culture to craftsmanship to horseback riding and much more. Gary Lee Kraut will explain the scope of patrimoine and reveal through anecdotes and other examples the ways in which he encounters patrimoine through his work as a travel writer and journalist and the wonderful and varied ways in which travelers can come into contact with patrimoine throughout in France. In November 2012 Gary became the first foreign journalist to be elected to the board of France's Association des journalistes du patrimoine (the Association of Heritage Journalists).
***
Private consulting: During his stay in the area, Kraut will also be meeting with individuals and travel agents to discuss their interests and concerns about travel in France. For more information contact Gary Lee Kraut directly at gary [at] francerevisited.com.
###
Media Contact
Beth Brody, Brody PR
609-397-3737
beth [at] brodypr.com