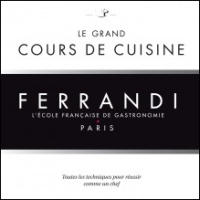 The Ferrandi School in Paris's sixth arrondissement is known as the most hands on of Parisian culinary academies. Educating chefs since 1920, the school has laid the groundwork for culinary skills practiced far and wide, whether by an amateur single-handedly preparing for friendly dinner party at home or an accomplished professional conducting the full orchestra in a stellar restaurant.
The Ferrandi faculty and some of their illustrious alumni and friends have contributed their savoir-faire and 143 recipes for the mega-cookbook Le Grand Cours de Cuisine Ferrandi (The Great Ferrandi Cooking Class).
Named by Le Figaro as Best Cookbook of 2014, this book digs into the nitty-gritty: deboning a pigeon, un-shelling a crab, shucking an oyster, dressing a duck, filleting a sole, roasting a peach. There are even 18 large color pictures that give the step-by-step process of de-choking an artichoke.
However, there's no pressure to start out with Yannick Alléno's go-for-baroque Oyster/Chorizo medley or Olivier Roellinger's mega-complex Chocolate/Sherry Lobster, a dish that—even with pictures—looks like it requires a sous-chef armed with a sonic screwdriver from Gallifrey. Less accomplished chefs can begin by learning how to pull off a perfect hard-boiled egg before professing at their own speed to an airy omelet.
Two "simple" versions of blanquette de veau (beginner, intermediate) are explained, while black-belt chefs may head straight for the Michelin-starred version by Alsace star Olivier Nasti.
A significant part of the book's 695 pages are devoted to recipes from restaurant celebrities like William Ledeuil, Adeline Grattard (both Ferrandi grads) and Thierry Marx.
Le Grand Cours de Cuisine Ferrandi offers no helpful tips on catching your rabbit, but once you've bagged your bunny, it will show-and-tell you everything else you need to know about turning it into cuisses de levreau en civet à l'échalote grise with candied apples and chanterelle ravioli on the side… a recipe contributed by Eric Briffard at the Hôtel George V.
The Ferrandi cookbook is perfect for the aspiring or confirmed chef on your gift list, whether in bicep-building hardback (the book tips the scales at 4.1 kilos) or in its e-book version. Published by Hachette, 49.95 €.
© 2014, Corinne LaBalme
For more about The Ferrandi School on France Revisited read this.