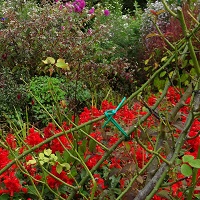 October 2014 — The current issue of France Revisited contains a snippet of romantic news from Paris and some advice about visiting Monet's gardens at Giverny, and I'm especially pleased to present you with a 3-part series about what is for English-speaking travelers one of the least known areas of France.
Tell a Parisian that you're heading south into deep France, la France profonde, and, after warning you that you'll miss Paris after one day, he'll eventually concede that one can eat well there, mention some magnificent chateau or landscape and finally confess that he has fond memories of once visiting with a friend or lover or cousin. But tell him that you're headed to the deep France of the north and he'll look at you with complete bewilderment. His only recollection of France's northern border is likely to be a collective memory of German invasions.
So when I told friends in Paris that I was going to the French Ardennes, an area that accompanies the Meuse River as it pokes into Belgian forests just west of Luxembourg, I got nothing but a blank stare followed by a stunned "Pourquoi?"
Actually, one friend had been Charleville-Mézières, capital of the French Ardennes. "There's a beautiful square there," he said. Still, he thought I needed a better reason to go.
I did: beer. For three days I would set out to meet producers and purveyors of craft beer in the area.
But before taking a swig I had to deal with the ghost of poet-cum-explorer Arthur Rimbaud.
Part 1 is found here.
Part 2 is found here.
Part 3 is found here.
Travel advice : Giverny, with images of Monet's garden in October
When visitors without much interest in Monet follow the paths around his pond and through his garden they inevitably find them lovely. For those curious about the artist, his sustained form of Impressionism and his family life, the garden and lily pond are magnificent. But are Monet's House and Garden worth the daytrip? This article explains the interest of adding a stop at the nearby village of La Roche-Guyon on a trip to Giverny or further into Normandy.
A clear view of Paris
The City of Paris has begun investing in the fight against love locks on its famous bridges by placing glass panels that bring back the stunning views that attracted people to place locks there in the first place.
Happy travels always,
Gary
Gary Lee Kraut
Editor, France Revisited