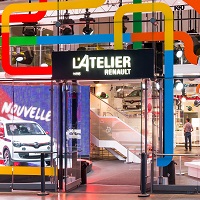 Corinne LaBalme test drives the Fall 2014 menu at Renault's newly re-conditioned showroom/restaurant on the Champs-Elysées.
* * *
When car-conscious journalists showed up at Renault's Paris showroom for a press conference about the 3rd Generation Twingo last month, the F-word (femme) was on everybody's lips.
"C'mon, it's a very girlie car," explained one (male) automotive blogger who avowed that he would never be seen at the wheel of the latest model painted in glossy Cappuccino or Powder Blue.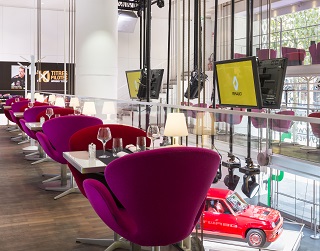 Indeed, ever since the first curvaceous Twingo shifted gears down the asphalt catwalk in 1993 (with a name engineered to blend tango, twist and swing), it's been billed as a feminine ride. Twingo designers describe the car's personality as affectif and sympathique. There was even a 21st-century feminist backlash about an ad campaign (hastily-pulled) that suggested Twingo-drivers have "cute" problems with parallel parking
Thus said, the new Twingo is a city car with appeal to anyone who needs to negotiate tight corners and urban traffic. "We've put the motor in the rear for added maneuverability," says Laurent Negroni, part of the Renault creative team. "With this Twingo, u-turns are a piece of cake."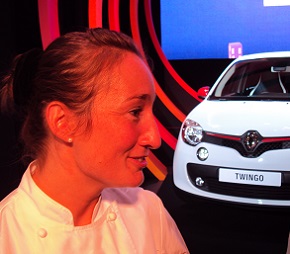 Coincidentally, "cake" was also on everyone's mind.
The Bertrand Group, owners of Angelina and the Hotel Saint James, took over the restaurant concession last May, bringing Michelin-starred chef Virginie Basselot from the Saint-James to supervise the menu. The pastry cart is fueled by Angelina.
Basselot, who acknowledges her own tween-age dreams about owning a Twingo in the 90s, designed an ephemeral autumn menu that speaks to her attitudes about the automobile. The first course, a deconstructed salade niçoise featuring a velvety tuna foam with dippable raw veggies, incarnates the adaptability of the Twingo.
For the cod aïoli with whelks, Basselot chose products that are "simple, efficient and colorful, like the car" and topped off the meal with deliciously exotic coconut panna cotta "because it's all about travel, isn't it?"
The sticker price on the ephemeral menu is 43€, although you'll likely be tempted by fuel options like a "Cointropolitan", 12€, or one of the very good wines available by the glass. The restaurant just installed a nitrogen machine that keeps those Clos Vougeots from corking.
The food, good enough to merit a trip, combined with an upstairs restaurant offering panoramic views of the Champs-Elysées, make this venue one of the avenue's more notable dining experiences. There's also a smaller wine bar in back, set up as a table d'hôte, that can be privatized.
L'Atelier Renault Café. 53 avenue des Champs-Elysées, 8th arrondissement. Metro Franklin D. Roosevelt or George V. Open daily. Sunday through Thursday 10:30 am to 11pm; Friday and Saturday 10:30 am to 1 am.
© 2014, Corinne LaBalme