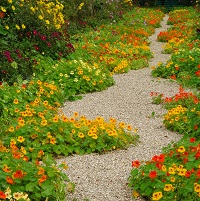 How and why to combine a visit to Monet's House and Gardens at Giverny with a visit to the chateau of La Roche Guyon, whether on a daytrip from Paris or a longer excursion to Normandy.
* * *
Over the years I've visited Monet's gardens and lily pond at Giverny at various times during its open seasons, late March to early November. I've witnessed it in their various stages of bloom and rebloom, and each time their expression is different. That was, after all, Monet created them and returned to them so often in his work, especially in his 70s and 80s. I visited Giverny again recently in early October (the photos in this article are from then) and was once again impressed by how it had maintained its lushness and color into the fall. The season's calm, flower-friendly weather had certainly helped.
When visitors without much interest in Monet or in his work follow the paths around his pond and through his garden they inevitably find them lovely. For those curious about the artist (1840-1926), his sustained form of Impressionism and his family life (two children with his first wife who died shortly after the birth of their second child, cohabitation then marriage with a long-time friend who had six children of her own after their father had abandoned the family), the garden and lily pond are magnificent. With the naked eye rather than through a camera lens they are extremely telling and will invariably send a visitor back to Paris with intentions to revisit Monet's work at the Orsay Museum and more particularly at the Orangerie Museum and at the Marmottan Monet Museum.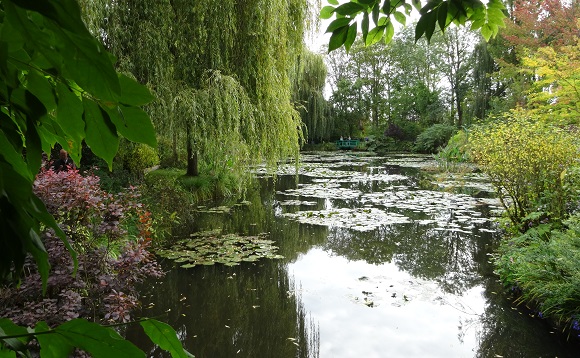 I often feel uplifted after a visit to Giverny, both for the view of the (controlled) nature itself and for my own interest in the man and in his work. Though I'd rather visit with sunny skies or white clouds, overcast weather also allows insights into Monet's world and outlook. I'm less fond of a rainy-day visit, but from beneath an umbrella I've come to appreciate Monet's gardens at Giverny more than Louis XIV's at Versailles.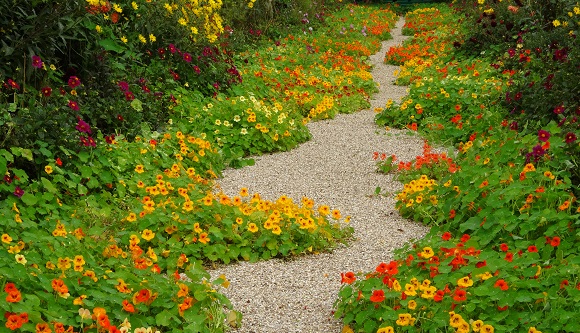 Yet I often find myself less than encouraging when advising travelers on whether or not to trek out to Giverny, 45 miles west of Paris, on a daytrip. I'm concerned that the weather will be bad (Giverny is, after all, at the entrance to Normandy, which is not known for sunny days) and/or the crowds overwhelming, and that even on a pleasant day they will spend 90 minutes or more getting out there only to find Giverny lends itself to a 45-minute visit.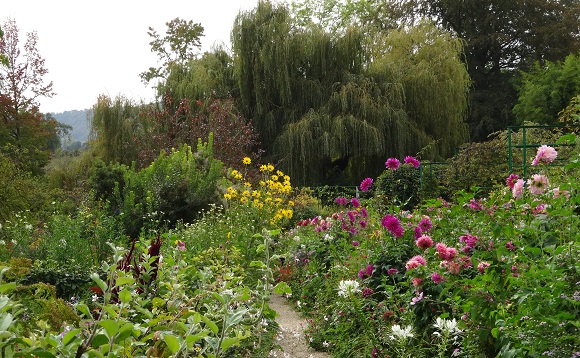 I know, there's more to do in Giverny than visit the house and garden and lily pond; there's the Monet boutique (as you can imagine, Monet's work lends itself to appealing merchandising) and some pretty (yawn) art galleries, there's the enjoyable and occasionally insightful Giverny Museum of Impressionisms, whose restaurant is a decent place to lunch, and there's the relatively little visited tomb of Monet in the village churchyard. So it is possible to spend a couple of hours here. Also, though often ignored, the nearby town of Vernon, which is where you stop if coming this way be train, gives a nice and ordinary sense of small-town France for those who know little of that life. Still, I'm just not always convinced that it's worth the time for those who have little of it in Paris. As I say, I'm a big fan of Monet's garden and lily pond. But I don't think that making it a destination in and of itself is right for all those who say they would like to see them.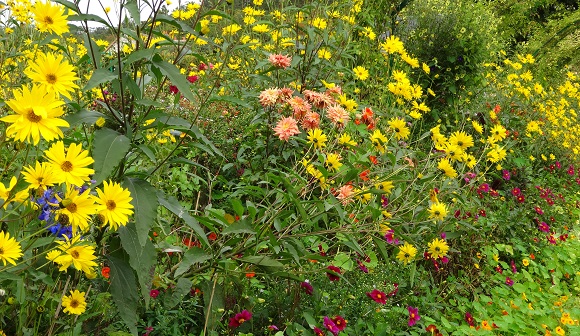 However, add La Roche-Guyon to the day and I'm sure to encourage a visit to this area. La Roche-Guyon is a village along the Seine just 5 miles to the east Giverny, on the opposite side of the Normand border. Though the castle of La Roche-Guyon is mostly empty inside (that is, the public parts are since a portion is private chateau, which belongs to the La Rochefoucauld family, is still inhabited and used for artist residencies) it nevertheless gives a glimpse of some strong points in French history, including the importance of its strategic site overlooking a loop in the Seine (a 12-century dungeon is accessed through stairs cut into the cliff) to its stories from the Enlightenment and the Revolution (the 18th-century portion and rehabilitated garden) to its WWII history (this was Rommel's headquarters during the lead up to D-Day 1944)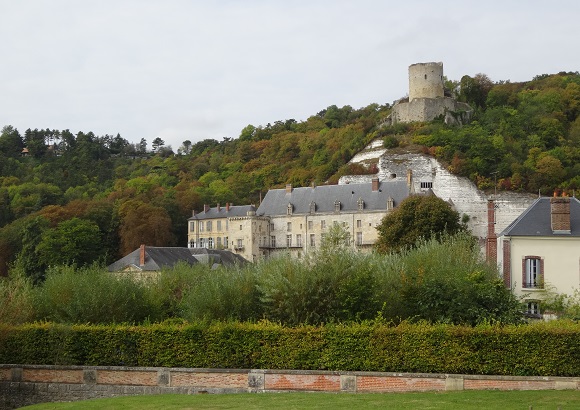 Maybe you don't feel like climbing many steps up to the dungeon or don't have enough time to visit the castle at all. Still, the view is impressive. Furthermore, La Roche-Guyon makes for an easy-going lunch stop at Les Bords de Seine, which offers one of the best inexpensive lunch deals you'll find anyway. Or the edge of the Seine is a wonderful spot for a picnic made from bread and cheese and such purchase in the village.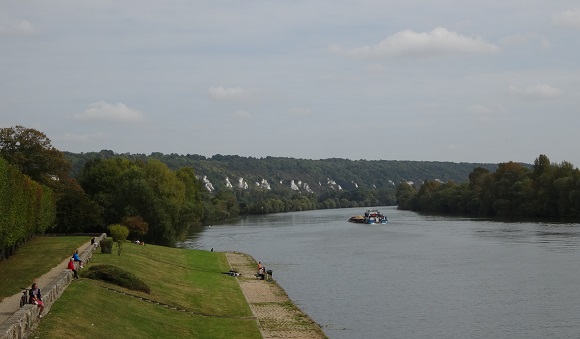 You'll need your own wheels, however, to visit both Giverny and La Roche-Guyon, either a rental car or a bike rented in Vernon, which is why so few visitors to Giverny ever make it to La Roche-Guyon, despite its proximity.

I especially recommend the Giverny – La Roche-Guyon combo to those flying into Paris and wishing to drive directly to Normandy to visit the D-Day Beaches. It makes for a nice break in a tiring day between the airport and whatever hotel you'll be staying at in Normandy.
Alternatively, you can stop at both Giverny and La Roche-Guyon on the way back from Normandy, but the timing can be more difficult if returning in the afternoon since you'll want to avoid driving into Paris during rush hour.
I write this with fond memories of my own recent October visit to both villages on the route between Charles de Gaulle Airport and Bayeux.
© 2014, Gary Lee Kraut