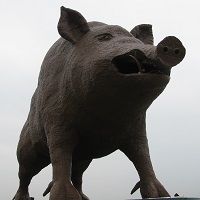 The Ardennes is a department (something like a county) in the Champagne-Ardenne region, the latter generally referred to in tourism and drinking circles as "the Champagne region." But this grapeless northern part of the region has greater imbibing affinity with Belgium, and so the beverage of choice contains malt, hops and water rather than pinot noir, chardonnay and pinot meunier.
From Charleville-Mézières, capital of the Ardennes, I drove north, following the loops of the Meuse River on a misty May morning. The winding corridor sticks like a bedspring into Belgium's southern border. Though the weather didn't lend itself to photo-ops promised the tourist brochures, I nevertheless had a wonderful sense of meandering otherworldliness as I crossed and re-crossed the Meuse at the riverside villages of Joiny-sur-Meuse, Bogny-sur-Meuse and Monthermé, driving slowly and stopping frequently to take in the grey yet inviting view.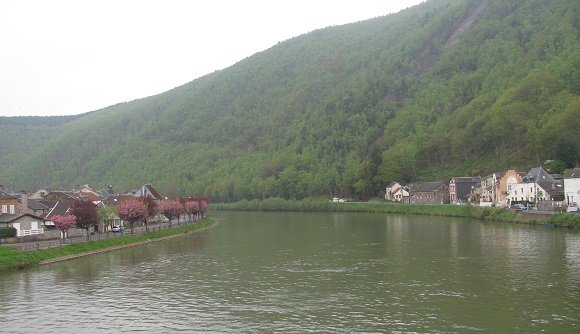 I was on the lookout for a café by the river that morning but at Monthermé a sign for a little bar called Le Palais de la Bière (The Beer Palace) on the opposite side of the road reminded me of my quest for beer joints, so I went in.
It was rather insular bar, the kind of place where, in the movies, a stranger walks in and everyone stops talking. But no one stopped for the simple reason that no one had started. I said "Bonjour Messieurs-Dames" to the six people inside and, turning friendly enough, they all responded "Bonjour Monsieur." Four men and a woman stood at the bar (one beer, one juice, two coffees, a white wine) while an older man sat at a table nearby (coffee). The mistress of the Beer Palace was arranging glasses behind the counter. I stood at the counter and ordered coffee. The place was strangely quiet without being ominous, as though they/we were all waiting for something to happen.
And it did.
A roundish fellow in his comfortable 30s walked in. I'd seen him outside as I'd parked the car. A thin older man had been berating him on the sidewalk. The term "sad sack" had come to mind; I thought that he might be a slow-moving public employee being given some tough love by his employer. Here though he appeared taller, more confident. He shook hands with all of the men, including me, kissed the female client and went behind the counter to kiss our host. His presence lifted everyone's expression. He joked politely, commented on how he'd heard that this one was having trouble installing a new door, how that one's dog had been barking again through the night. He remarked that the one female client must have fallen in love since he hadn't seen her in a while. He accused our host behind the counter of being too beautiful. We travel as witnesses or as strangers but are often aware that we don't quite belong. Here, though, it was impossible not to feel a part of the scene. I'd come to the right place. Conversation flowed.
I asked the man standing next to me which road I should take to the top of the hill.
"Haven't been up there in a while," he said. He asked the man on the other side of me if he knew. They talked about the hill as though it were another country, speculating about distances and weather. Finally the friendly fellow whom we'd all come to count on said: "You go the intersection about 200 meters that way then wind around until you come to a little inn. Then turn left."
On a given morning—a Thursday it was—Le Palais de la Bière in Monthermé may well be one of the best beer bars in France, even though only one in six was having a beer and I have no idea what kind they serve.
It was a grey, misty day, still a view to remember… I share here my photo, with nothing to envy of the promise shot provided by the tourist office.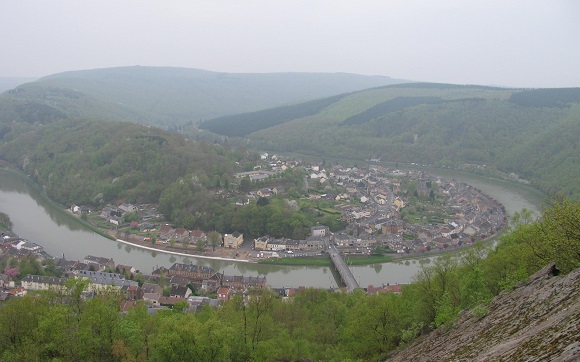 The map was inviting me to continue north to Deville, Laifour and Revin so as to eventually step on the Belgian border just past Givet, but I had a beer call to make further south in the more central portion of French Ardennes.
Woinic and Ardwen
Little did I know as I drove from Bogny-sur-Meuse to the center of the department of Ardennes that I was more or less following in the trails of Woinic, the wild boar that is the symbol of the department of Ardennes.
Standing 33 feet high, 46 feet long, 16 feet wide, and therefore the world's largest boar sculpture, Woinic was completed in late 1993 following an 11-year labor of love by artist Eric Sleziak, who created the mammoth pig in a hangar in Bogny. The department acquired Woinic in 2008 and the sculpture was moved to its current position with great fanfare (and lots of cut overhead wires) for inauguration at the entrance to the natural regional park of the Ardennes from the plains of Champagne on the emblematic date of 08-08-08.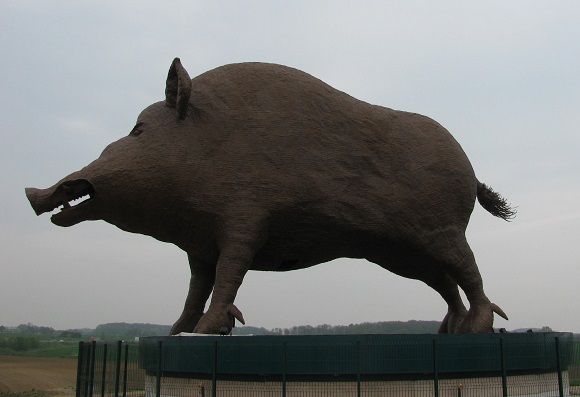 The trademark Woinic, which belongs to the department of Ardennes, is the object of various licenses, including its designation as an 8.08-degree "triple" beer produced by the brewery Ardwen, located in Launois-sur-Vence.
Created in 2006 and producing about 2100 hectoliters last year, Ardwen is too large to be considered a microbrewery and is in fact the largest brewery in the department, still it's quite small. Geoffrey Stevenin took over as the brewmaster here in 2012 at the age of 22 and works with one assistant. In 2014, to celebrate its eighth year of existence and its 1000th brew, Ardwen began producing its eighth type of beer, an amber-colored triple called Obscure which uses four types of hops and four types of malt, a celebration of beer making. Ardwen is available mostly in bottles and is sold though large distribution channels throughout Champagne-Ardenne region, principally in the Ardennes.
Founder Daniel Guerin, who previously worked in agriculture, said that he founded the brewery "out of love for the department of Ardennes." He lauded the local spring water (otherwise sold in bottles under the Cristaline brand) and Launois-sur-Vence's position in the heavily agricultural center of the department as reasons for selecting this location to produce Ardwen beer.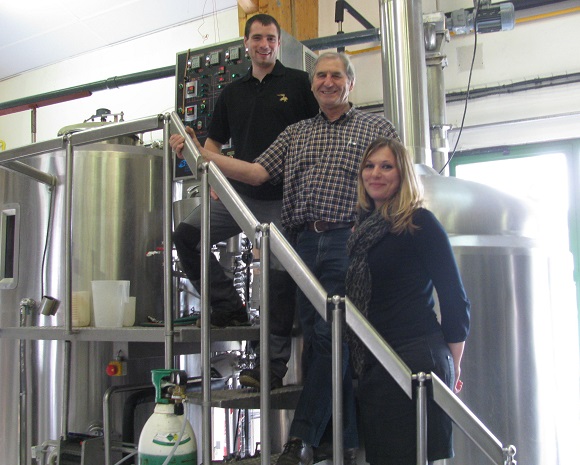 "The French have managed to maintain variety in their cheeses as the Belgians have in their beer," Guerin pointed out. But while the beer-making tradition of France went dormant with the human and territorial destruction of First World War, he explained, the beer-drinking tradition continued, particularly in non-winegrowing zones such as this. So there was a ready thirst for the revival of beer-making in northern France, as the regional success of Ardwen shows.
Attached to the brewery is Ardwen's brassserie-restaurant, the occasion to try several small glasses of their beer over lunch. (Don't forget to appoint a designated driver, please.)
Sedan
Sedan sounds like an old car to American ears. To Kansans in particular it also sounds like the hometown of famou clown Emmett "Willie" Kelly. But to the French, and perhaps to Germans as well, Sedan calls to mind the site of the overwhelming Prussian siege that brought about the capture and fall of Napoleon III in 1870 and opened the way to France's defeat in the Franco-Prussian War.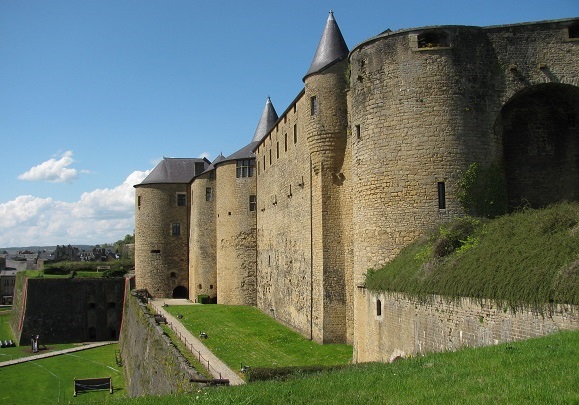 At the center of the former military stronghold of Sedan, now with a population of 20,000, stands a fortress (château fort), much of it a remnant of the 15th and 16th centuries, the largest of its type in Europe. One enters its thick walls through a cool damp tunnel and into a museum that reveals the development of artillery through the centuries. It's an impressive stop on the trails of military explorations in northern France, but while a fortress can certainly hold its own as an attraction for traveling families and soldierly visitors, I had beer on my mind.
Brasserie Artisanale du Château Fort
La Sedane, a local brand of beer, is brewed across the street in the vats at the back of the Brasserie Artisanale du Château Fort (Craft Brewery of the Fortress), under the brewmastery of Jean-Christophe Viot.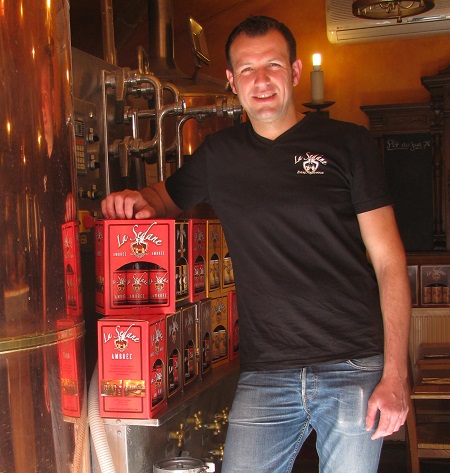 Viot began making home brew in 2005 and took over producing the La Sedane beer in 2008. The microbrewery now produces about 600 hectoliters per year, with about 60% being sold in bottles.
Despite the presence of brewing vats in the back, this isn't a bar but rather a restaurant serving homey dishes such as calf's head, calf's knuckle, grilled meats, moules frites, sauerkraut and meat, and the boudin blanc from Habyes (a traditional white, i.e. bloodless, pork sausage that's very much at home in the region) served with fries that I enjoyed with a glass of triple (a malty high-fermentation pale ale). Due to the Belgian influence to its beer production, triples are more commonly consumed along France's northern border that further south.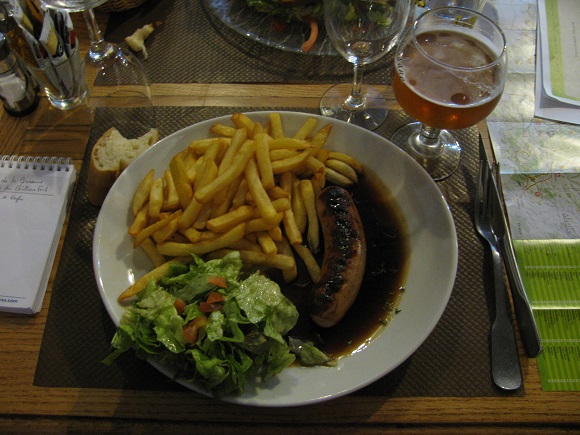 I have no regular affection for either boudin blanc or triple beer. They do grow on you though. The French Ardennes grow on you. Walk around the corner to the pub Le Roy de la Bière (The King of Beer) and that'll grow on you too.
Le Roy de la Bière
Lionel Passe reigns here as the third-generation owner, along with co-owner Annette, his ex-wife. In 1943, during the German occupation, Lionel's grandfather Robert purchased what was then called Le Grand Bar Ardennais. Lionel's father Michel took over in 1951, at the age of 21, and renamed it Le Roy de la Bière five years later. Lionel claims with pride that his father's bar was one of the first in France to serve Guinness in the 1960s. With a pool table already installed in the back since his own father's time, Michel looked to the British Isles for further inspiration, adding a dart board, a wide selection of beers on tap, dark wood and a red British telephone booth. Lionel, a commanding publican, took over the taps in 1990 at the age of 35. He set my glass on the table in the back (I now had a designated driver) and stated that he operates the first true pub in France.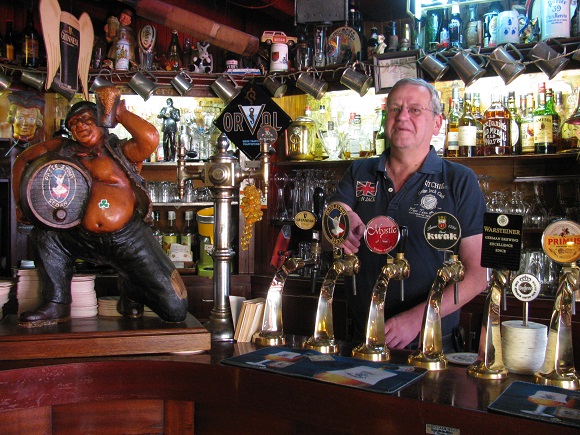 Adding to its wide selection of craft and other beer, in 2013 he enlisted Jean-Christophe Viot at the nearby brewery to produce the bars 70th-anniversary brew, Le King's Beer, using a combination of three hops: American, Czech and French. The Sedan brewery also produces Passe's signature Passe Stout. The table on which my King's Beer sat was once a door at the prison of Sudan. Nearby, old photographs show the room as it was during his father's tenure. And among the historical paraphernalia and signs there's a notice from the German Commander in Chief of the Army during the Occupation asking residents to "abstain from rash actions, sabotage of any kind and passive or even active resistance against the German army."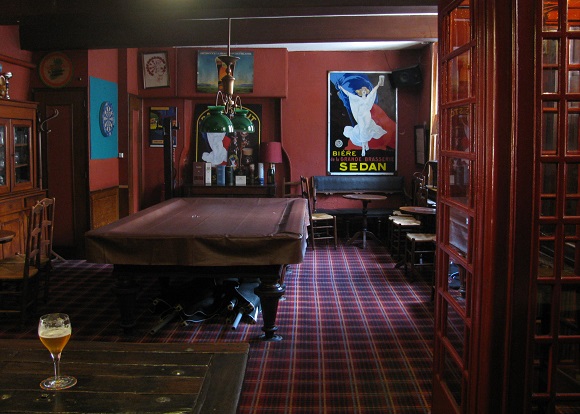 Passe is the kind of large, voluble, initially wary but inevitably welcoming personality that one hopes to meet in a local pub. One might also meet his ex-wife Annette, co-owner, though Annette is more ready to retire and would like to sell the pub. Passe told me that he'd like to keep working the 80-hour weeks required to run the place but they've nevertheless put Le Roy de la Bière up for sale. "It's tough to find a buyer because banks won't lend money for bars," he says, "including to me to buy her out, and for now that suits me fine."
There are stories to be told here but I leave them for travelers to discover on their own—that's part of the pleasure of visiting a watering hole such as this. You might then swallow enough of those stories to end up buying the place and settling in for the long run.
© 2014, Gary Lee Kraut
Return to The French Ardennes, Part 1: Charleville-Mézières: Beer, the Run-Away Poet and the Giant Lizard
Return to The French Ardennes, Part 2: Charleville-Mézières: Place Ducale and the Bare-Ass Casserole
***
Tourist information for the Loops of the Meuse and its affluent the Semoy
Monthermé Place Jean-Baptiste Clément, 08800 Monthermé
Tel : 03 24 54 46 73
www.meuse-semoy-tourisme.com
Le Palais de la Bière
70 rue Pasteur
08800 Monthermé
Tel. 03 24 53 06 31
Ardwen (Brewery and Restaurant)
20 avenue Roger Ponsart
08430 Launois-sur-Vence
Tel. : 03 24 35 46 50
www.ardwen.fr
Office de Tourisme de Sedan et Pays Sedanais
35 Rue du Ménil
08200 Sedan
Tel. : 03 24 27 73 73
www.tourisme-sedan.fr
Brasserie Artisanale du Château Fort and restaurant
45, Promenoir des prêtres
08200 Sedan
Tel : 03 24 53 13 52
Open Tues.-Sat. noon-2pm and 7-10pm and Sun. Noon-2pm.
Bière La Sedane (Jean-Christophe Viot)
www.biere-sedan.fr
Le Roy de la Bière (Lionel Passe)
19 Place de la Halle
08200 Sedan
Open 10am-2am Tues.-Sun.