Corinne LaBalme forgoes the Saint Tropez glitz-krieg and heads for the refreshingly quirky (and under-hyped) port of La Ciotat to enjoy great food, unspoiled beaches and affordable prices in one of the all-too-rare Mediterranean enclaves that's escaped paparazzi pollution.
* * *
Don't you get tired of running into Kim and Kanye in Monaco, Brad and Angie in Cannes, Elton and David in Saint Tropez?
Then set your GPS for La Ciotat, a breezy Mediterranean port 18 miles east of Marseille that mixes the raw beauty of the Côte d'Azur with the je-ne-sais-quoi of Cleveland. It's a paparazzi no-fly zone where the beaches, the prices, and the food are better than you'd expect and a low-profile port that gives the town a whole lot of 'come hither' for tourists with an allergy to $500 bikinis.
It's not that La Ciotat never got up-close and personal with celebrity tourism. Back in late 19th century, when the Lumière brothers, Henri Stendhal and Georges Braque vacationed here, the town was a notably fashion-forward destination.
In 1857, the establishment of the Messageries Impériales gave La Ciotat a parallel raison d'être as the hub for France's naval shipyards, a function that gradually eclipsed its tourist vocation. When the yards closed in the 1987, the port sunk into a deep, dark depression.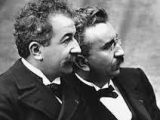 Both facets of this comparatively recent past co-exist with an old town replete with photogenic 17th-century penitential chapels and 18th-century stone façades.
The Eden Theatre, fully restored in 2013, is the world's oldest movie palace, screening the first Lumière moving pictures in 1895. (Here's one of them, a 1-minute film of a train arriving at La Ciotat.) Its current eclectic, line-up (e.g. Pasolini's Mamma Roma, Godard's Adieu au language, Chaplin's Modern Times and The Rocky Horror Picture Show) continues to draw film buffs.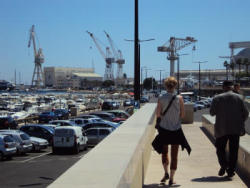 And while the city is pluckily re-inventing itself as a hospital for the yachts of the 1%, it hasn't forgotten its working class romance with oil and methane freighters of yesteryear. Giant cranes loom over the old city's skyline. Instead of deploring these rust-friendly relics, La Ciotat jauntily sought (and received) landmark status for one of the largest hulks.
That's the back view. The beauty shot, however, is full frontal, whether by day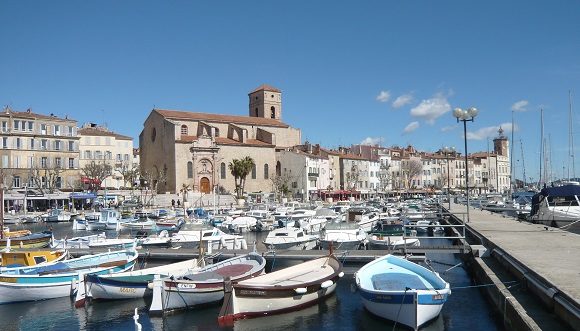 or by night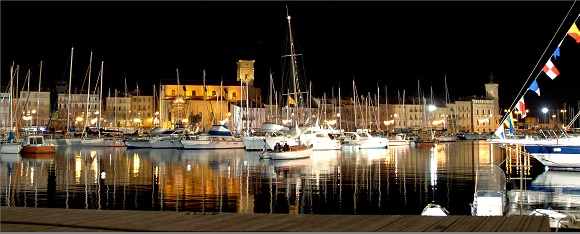 Back to the beach
For some reason, guidebooks insist that only Marseille and Cassis have calanques, the hilly, Mediterranean inlets that can be best be described as Scandinavian fjords lined with pines and cacti.
Forget that: La Ciotat's botanical Parc de Mugel, has some of the prettiest and best-protected calanques in Provence. Keep it a secret that only you and the locals will share. These isolated beaches are accessible by car, bus and boat. But remember, mum's the word.
Closer to town, going east of the Old Town and the harbor, there are lots of scenic beaches in city limits as well. And no, these are not in any sort of industrial zone.
In fact, La Ciotat is quite ahead of the times with a 21st-century spin on segregated sand. There's one beach, inaugurated in 2011, that's an entirely cigarette-free zone. Another, opened in 2012, welcomes dogs.
Party like it's 1720
When most cities look around for a party theme, they don't come up with "The Plague." However, La Ciotat is not like most cities, so the locals break out in pustules every October for a festival that, quite literally, flirts with the Black Death.
The whole thing was the brain-child of Mireille Benedetti, the guiding spirit of the Bastide Marin (see further below) just outside town. The swashbuckling, three-day event takes place around the Old Port, requires over 1,000 costumes, and draws up to 100,000 attendees.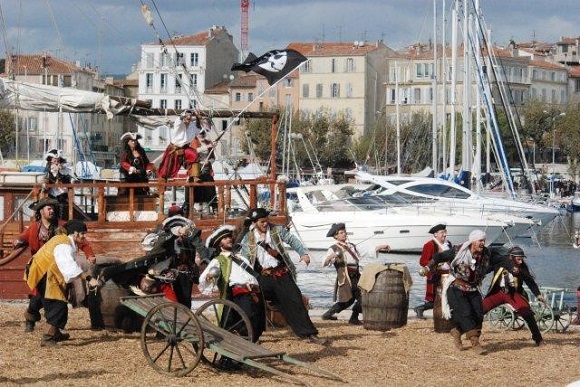 This year's fever fest is slated for October 17th-19th. (Get a preview of former fêtes here.)
Pack an umbrella because, according to Liliane Siréta, director of the La Ciotat Tourist Office, it always rains on this particular parade. "Mud makes everything more authentically 18th century," she adds cheerfully. (By the way, La Ciotat residents always know if it's going to rain. When the clouds touch the 'Trois Secs' hilltops outside of town, they never wash the car.)
Back to Nature
When pirate raids and plagues got too pesky for La Ciotat's population, the citizenry headed inland to an area known as Céreste. The Bastide Marin is the optimistic (and sadly underfunded) response to keep this part of the area's history alive.
Centered round a delightfully dilapidated aristocratic manor house studded with mysterious underground chapels and cabalistic mosaics that have yet to be deciphered, the property now encompasses organic gardens, period arts 'n crafts, beehives, livestock and a farmyard filled with the sort of geese and chickens that were popular in medieval times.
Where to stay, where to eat
In its own quiet way, without Michelin-star fanfare, people eat very well in La Ciotat without paying Côte d'Azur prices.
Check out the seafood specialties at the informal L'Oustaou (12 Bd Anatole France, Tel. 04 42 08 28 26) on the waterfront just outside the Old Town. An anchovy pizza is only 10€, the moules grantinées à la provençale with frites maison are 18€, and our Italian dining companions licked their plates of squid tagliatelle clean. (Added bonus for families: There's a handy playground right across the street.)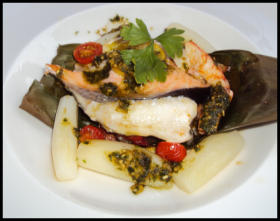 Guestrooms start at only 119€ (in high season!) at the seaside 3-star Hôtel Plage Saint-Jean. There's WiFi, a covered pool, and a sauna… and better yet … an in-house restaurant serving some of the best bass and elegantly epicurean fruit tarts on the coast. Make dinner reservations even if you're staying elsewhere.
Also make note of Damien Arnaud's Mediterranean cuisine at the Roche Belle, (Corniche du Liouquet, tel. 04 42 71 47 60).
Further information: La Ciotat Tourist Office, Boulevard Anatole France, 13600 La Ciotat. Tel. 04 42 08 61 32.
Getting There: Frequent TER trains from Marseille to La Ciotat take 25 minutes and cost roughly 7€.
© 2014, Corinne LaBalme