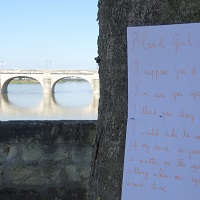 Remember when travel was less about fooding and more about flirting, less about getting reservations and more about losing inhibitions, less about looking for recommendations and more about following your nose? Remember when your eyes met an attractive stranger for the first time… and then the second?
I do, and I was recently reminded of that while visiting Saumur.
It happened when I was exploring Saumur and the surrounding area, Le Saumurois, with friends, enjoying for several July days the calm and sweetness of the Loire Valley, a UNESCO World Heritage Site.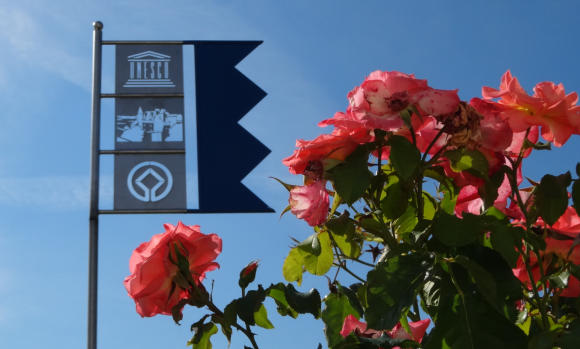 The fruit was young on the vine. The white tuffeau limestone shone bright in the sun.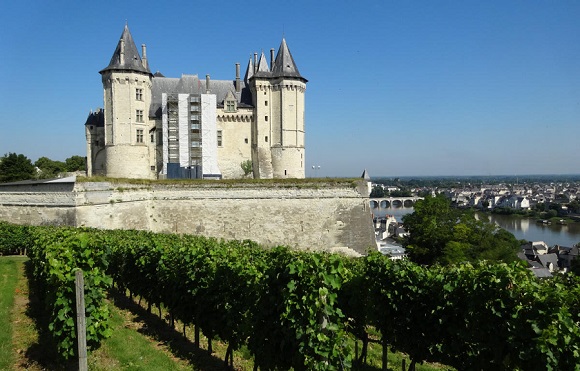 And it shone bright in the lamp light.
We were staying in Montsoreau, 8 miles upstream from Saumur.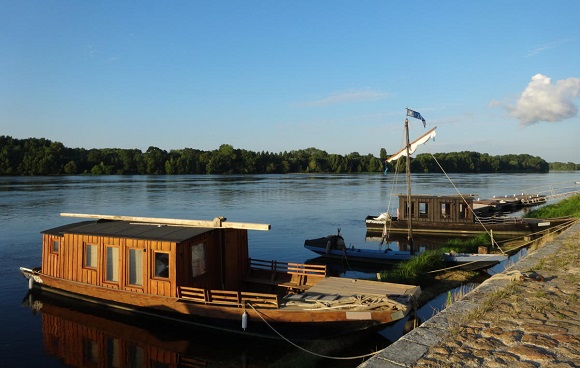 We lodged in a pleasing little rustically chic hotel named La Marine de la Loire, where an explosion of purple hydrangeas galore greeted us in the lobby.
The sunsets over the river were lovely.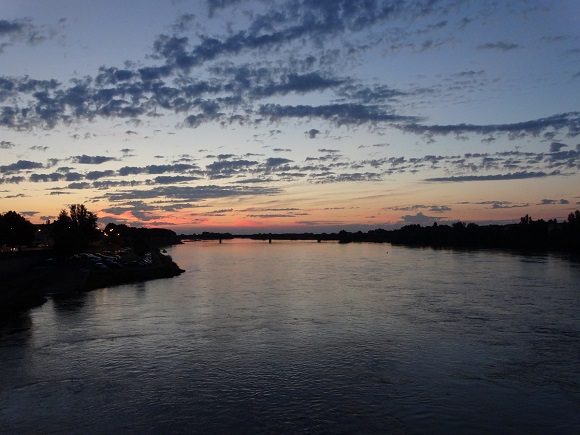 One evening, on the way to the local creperie, a hot-air balloon passed overhead.
One afternoon we visited the former Abbey of Fontevraud, where the recumbent statue of Eleanor of Aquitaine, lying beside her second husband, Henry II, reminded us to cut back on social media time and pick up a good book.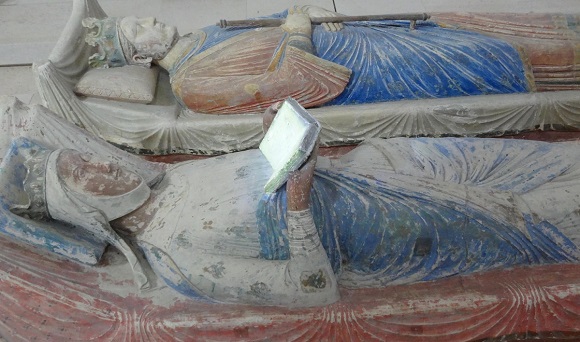 We had a glass of local sparkling wine and some regional cheese at the bar in one of the abbey's former chapels, where we were the only clients.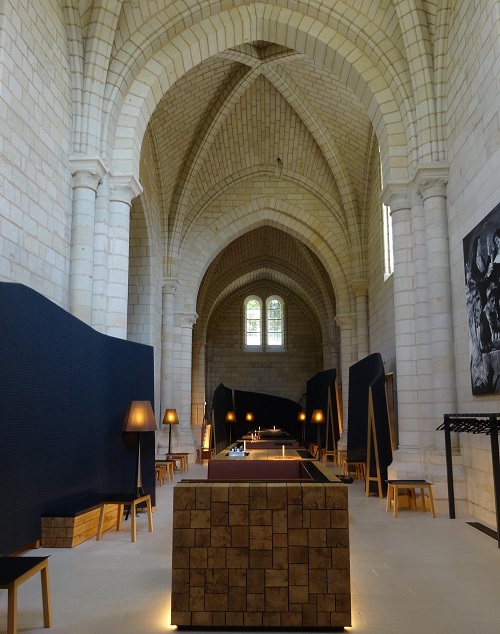 Before leaving the abbey I bought a refrigerator magnet.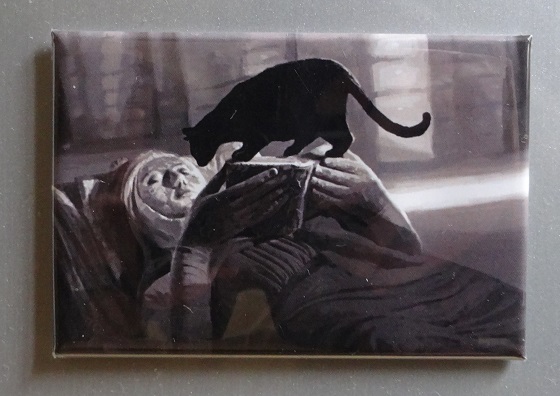 Just outside the abbey, we had a fine dinner at Le Plantagenêt, restaurant of the village's appealing hostellerie La Croix Blanche.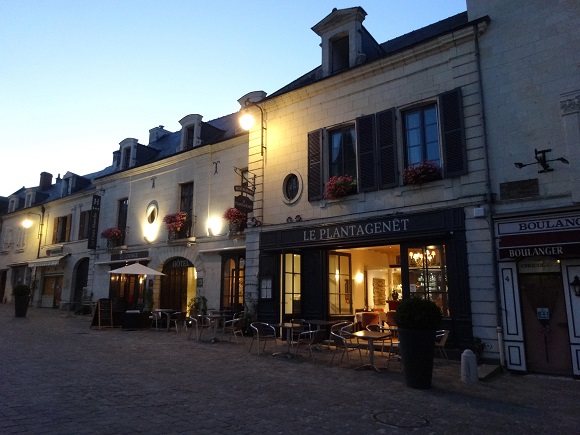 In the morning we drove past fields of sunflowers, wheat, scallions and roses to Rochemenier, where the bell tower was missing one eye.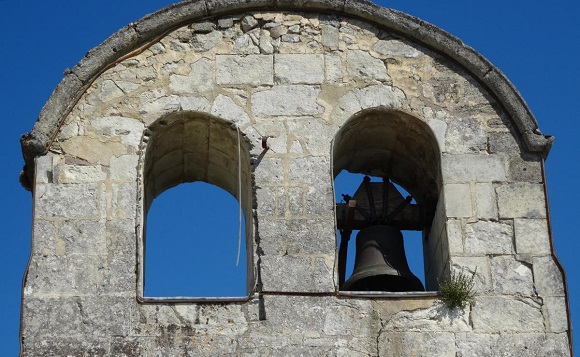 We enjoyed lunch in the shade at Les Délices des Roches before stepping down to explore Rochemenier's troglodyte abodes and farmyards.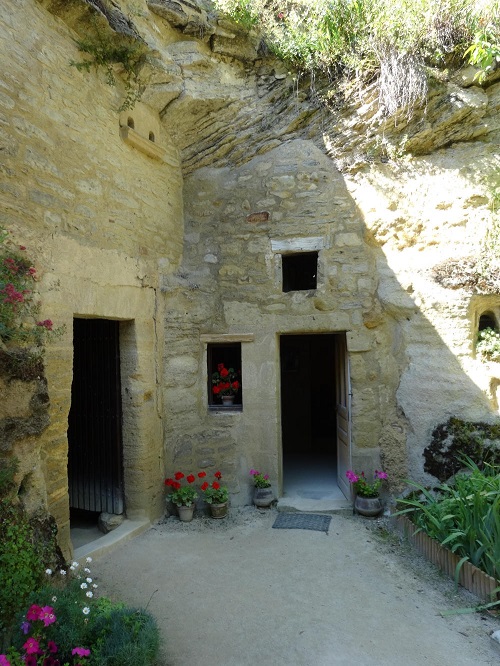 After several days we began our drive back to Paris, crossing to the right bank of the Loire, where we stopped for one last view of Saumur.
Returning to the car we noticed that someone had posted a note on a tree.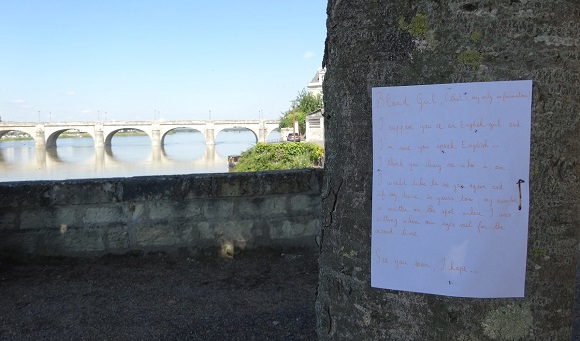 It read like poetry.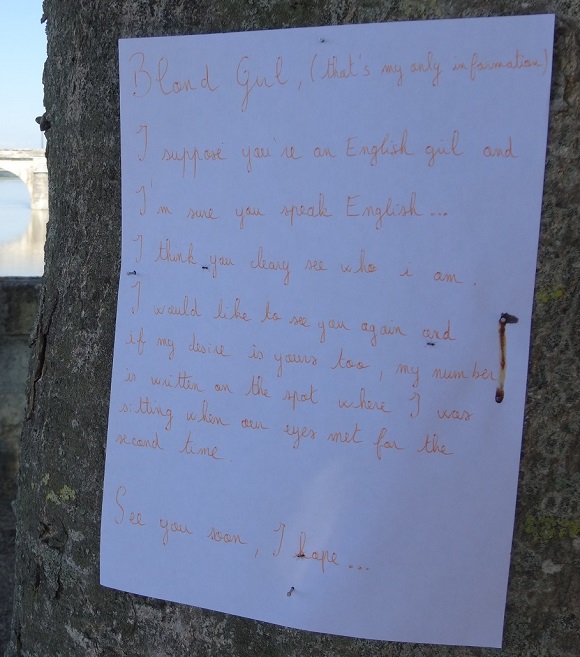 Blond Girl, (that's my only information)
I suppose you're an English girl and
I'm sure you speak English…
I think you cleary see who I am.
I would like to see you again and
if my desire is yours too, my number
is written in the spot where I was
sitting when our eyes met for the
second time.
See you soon, I hope…
© 2014, photos, videos and text by Gary Lee Kraut, except for the text of the letter, author unknown.