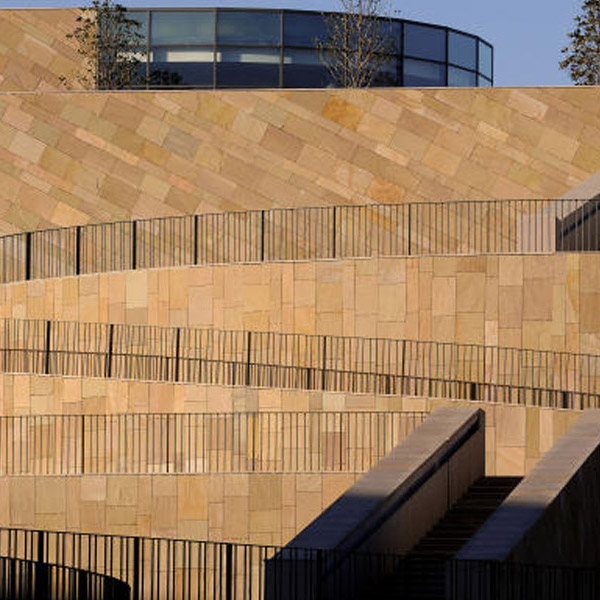 The Provençal college town of Aix-en-Provence, celebrated for Cézanne, bel canto and fountain-side cafés, puts the finishing touches on a massive urban renewal project. Corinne LaBalme sets out beyond the town's tawny-tinted 17th-18th century façades to discover 21st-century Aix.
* * *
No casual tourist would describe Aix-en-Provence as a hotbed of the architectural avant-garde. From the terrace of Café des Deux Garçons, the Aix skyline looks just about like it did back when Paul Cézanne sipped his tisane with Emile Zola.
And yet the ultra-modern Sextius Mirabeau quarter, a showcase for Rudy Ricciotti, Kengo Kuma and some of the hottest 21st century design on the planet, is only a few blocks away. As one sips one's pastis and looks around at the tawny-tinted 17th-18th century façades, the only question is "Where?"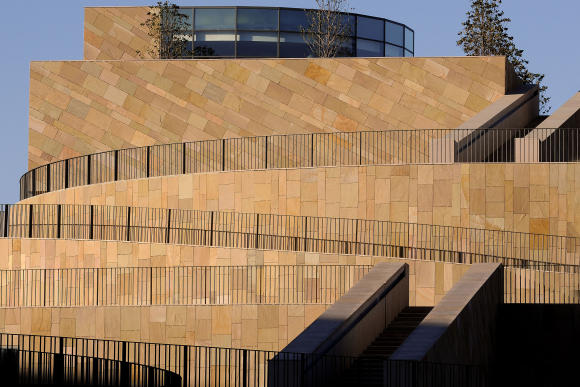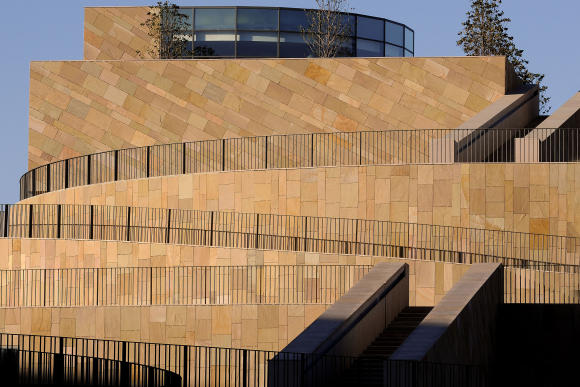 Closer than you think
Like most 2000-year-old towns, Aix-en-Provence faced a severe space crunch in the mid-20th century. The population had exploded (from 30,000 in 1945 to 100,000 in 1975) and its summertime Lyric Festival, which started small and provincial in 1948, had gone global.
But unlike most 2000-year-old towns, Aix had a magic mushroom: 46 acres of friche—abandoned and under-used industrial land—that started right where the tree-lined Cours Mirabeau ended. City planners had coveted this terrain since the 1950s but given the multiple ownership couldn't gain title to it.
Eventually, sorely-needed housing projects simply hop-scotched over the zone to new settlements west of the city, such as Jas de Bouffan, where the Fondation Vasarely broke ground in 1976. This left a void that started just west of the 19th-century Rotonde Fountain.
That's not to say that nothing happened in this sector in the late 20th century. The Marseille autoroute bull-dozed through in the 60s, and a defunct match factory morphed into the Cité des Livres library complex in 1986. But the area wasn't cleared for construction until negotiations were finalized over land held by the French railway company SNCF and the 1989 sale of the Thompson factory.
All these delays produced some happy results. The nastier brut abuse of the Pompidou era of the 1970s passed Aix by, and city planners had enough time to note that public opinion was against skyscrapers. Although the first set of plans had to be scrapped due the 1980s financial crisis, what emerged is all the more impressive.
Touring the new Aix
Head for the Napoleon III-era Fontaine de la Rotonde at the end of the Cours Mirabeau. It's topped with three goddesses representing commerce, justice and the arts. One of those ladies, probably Miss Business, is staring hard at the brand-new, glass-walled Apple boutique that popped up last month. The gateway to New Aix is Les Allées Provençales, a series of sleek shopping and housing corridors (ca 2007) leading right across from Apple and the brand-new Tourist Office. Between Les Allees Provençales and the Grand Théâtre, you cross the Esplanade des Justes, inaugurated in March 2014.
The high architectural drama starts a few meters west at the Grand Théâtre de Provence, designed by Milan-based architect Vittorio Gregotti and inaugurated in 2007.
The choice of Gregotti as one the spirit guides for this new district is significant in itself. Gregotti is considered an anti-modernist of the Jane Jacobs/Robert Venturi ilk, believing that new architecture should harmonize with the existing urban context rather than make a stand-alone "statement" (e.g. Paris's Tour Montparnasse).
Thus the curved, amphitheater-like entrance to the 1,366-seat building appears to nestle into its site, its stones carefully chosen to mimic the changing colors of Mont Sainte-Victoire. (Fact: The proximity of train tracks meant that the whole structure had to be mounted on springs.)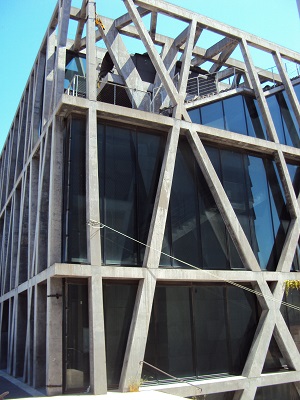 The rear of the theater, more linear but just as attractive, is visible from a high parvis (built above transit) that is home to two other 21st-century bijoux: the Centre Choréographique National d'Aix-en-Provence, nicknamed the Pavillon Noir, designed by Rudy Ricciotti (2006), and the comparatively virginal-looking, all-white Conservatoire Darius Milhaud (2013), signed Kengo Kuma.
Ricciotti, designer of Marseille's drop-dead gorgeous MuCEM Museum (2013), used an angular, black concrete grid over sheets of glass for an effect that he has described as "sado-maso" for the Aix Ballet's home-base. It's perfectly in line with the edgy work of Angelin Preljocaj, director of the Aix Ballet, famously quoted as saying "La création se fait dans le noir" (Creation takes place in the dark).
Next door, the angels (literally) sing in the Music Conservatory that Tokyo/Paris-based Kengo Kuma coated with shimmery, silver-white anodized aluminum that has been folded, origami-style, to create asymmetric zones of light and shadow. The concert hall, seating 500, is fashioned with wood-paneling in a similar origami treatment.
And below all this?
Remember the autoroute that was paved through the center of the neighborhood in the 1960s? Efforts have been made to beautify it as well. On one side on the tunnel, drivers see a vegetal wall developed by landscape artist Patrick Blanc in 2008. (Parisians know his work from vertical gardens at the Pershing Hall Hotel, the Quai Branly Museum and the BHV Homme store, among other places.) On the other side, yet to be completed, there will be a "water wall" (mur d'eau) commemorating Aix's natural springs, designed by Christian Ghion.
Where to stay in the Sextius Mirabeau neighborhood?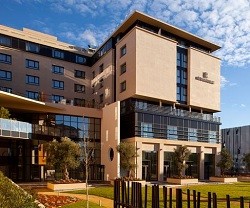 This is a no-brainer. The glamorous, 5-star Mariott Renaissance opened right across from the Conservatory Darius Milhaud (Pavillon Blanc) in Feb 2014. Marseille architects Claude Sabon Nadjari and Rémy Saada drew up the plans which include a spa, a pool, and a gourmet Provençal restaurant that poached Aix's top chef, Jean-Marc Banzo, from Le Clos de la Violette. The gastronomic restaurant (closed Sunday and Monday) serves dishes like grilled red mullet with zucchini spaghetti, calamars in squid ink and a reduced bouillabaisse sauce on its 90 € and 130 € prix fixe menus. (There's also a bistro, open daily serving a 25 € lunch and a 39 € dinner.)
Christian Ghion designed the sleek furniture for the 133 guestrooms that are long on creature comforts: king-size beds, rain showers, AC, coffee/tea service, WiFi and iPod music chargers.
Even in a luxury hotel, however, you won't get away from the fact that Aix, with 40,000 students, is youth-oriented. (There's Gatorade right next to the Rémy Martin in the mini-bar.) To fit in better, book yourself a "face-modelling massage" at the spa or go directly to the bar and order the Renaissance cocktail (orange vodka, amaretto, lemon juice, ginger and sesame oil) and test its Phoenix effect.
Note that from many rooms like N° 18, you'll have a great view of the Water Wall, which, when finished, will be the largest of its kind in Europe.
Marriott Renaissance Aix-en-Provence. 320 avenue Wolfgang Amadeus Mozart, 13100 Aix-en-Provence. Tel: 04.86.91.54.50.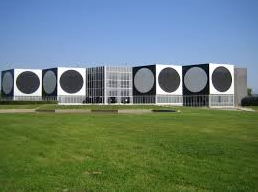 Exterior Aix
Modern art doesn't stop at the city limits. Forgo the all-too-familiar Cézanne route and check out the Fondation Vasarely, an Op Art palazzo presided over by Pierre Vasarely, grandson of the artist Victor Vasarely. It's rare to be able to see this artist's illusionistic work on a large scale… and 'large' for Vasarely was as tall as a two-story building. It's a hike out of town, but the N° 2 bus takes you up to the doorstep.
Fondation Vasarely. Jas de Bouffan, 13690 Aix-en-Provence. Tel: 04 42 20 01 09. Closed Monday. Through September 2014, the museum showcases the work of Venezuelan op-artist Carlos Cruz-Diez.
Count on a half-hour drive due north to the Château La Coste and get an early start because it's worth a day-long visit. Irish businessman/bio-dynamic wine entrepreneur Patrick McKillen has spiked his vineyards with works by a Who's Who of contemporary artists.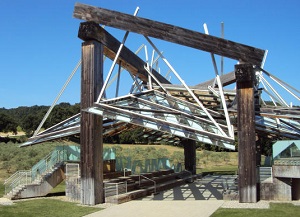 Tadao Ando created the striking entry, Jean Nouvel designed the wine production area, and the surprises on the grounds include a Louise Bourgeois spider, a Calder stabile, a Frank Gehry music pavilion "rescued" from its Serpentine sojourn in London, Liam Gillick screens, a Druid-like subterranean vault by Andy Goldsworthy and Michael Stipe foxes… and that's not all.
It takes at least three to four hours to see all the installations… and new ones are being built all the time. (Kengo Kuma, Ai Weiwei, Carsten Holler and Renzo Piano are on the coming attractions list.) Eventually, the owner plans to create a hotel.
In the meantime, there's wine to drink and food to eat in two different restaurants. One—slightly more formal, overlooking a Hiroshi Sugimoto sculpture in a reflecting pool—serves quinoa tabbouleh and foie gras. The second—set in a village-like townscape which is actually where La Coste vineyard workers live—serves gazpacho and salads. Open daily. Call ahead for information about wine tastings and special evening events.
Château La Coste. 2750 Route de la Cride, 13610 Le Puy-Sainte-Réparade. Tel: 04 42 61 92 90.
© 2014, Corinne LaBalme