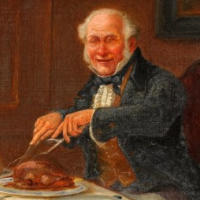 The primacy of French gastronomy may have gone the way of the rotary phone, still the hungry traveler continues to explore France with a desire to taste its native tang, to savor its cultural heritage and, from time to time, to experience the flavors of long-gone imperial and royal glory served at Versailles or Chantilly or… (drumroll, please)… Vichy.
Over the weekend of April 25-27, 2014 Vichy parties like it's 1865 as the town celebrates its annual Napoleon III festival in honor of the emperor who raised Vichy to the rank of "Queen of Spa Towns." Throughout the week from April 20 to 27 a group of chefs is proposing a taste of 150 years of gastronomic tradition by revisiting and reinterpreting some of culinary achievements of the Second Empire. In particular, these chefs will be taking as inspiration the culinary know-how transmitted by Jules Gouffé (1807-1877), one of the great names of French cuisine.
On the tree of culinary genealogy, Gouffé represents a hearty branch between Antonin Carème (1784-1833) and Auguste Escoffier (1846-1935). The recipe's of Gouffé's 1867 Livre de cuisine (translated into English as "The Royal Cookery Book" by his brother Alphonse, culinary officer for the English Court) inspired chefs for generations. A master of decorative cuisine—all those pièces montées—Jules Gouffé largely worked in Paris: his father had a shop near what is now the Pompidou Center, and Gouffé opened his own on rue du Faubourg Saint-Honoré, later cooking for Napoleon III and leading the charge at the Jockey Club.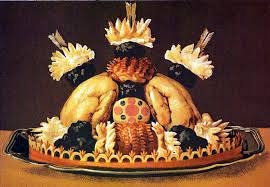 His cookbook, editions of which are still available in French and in English, gives precise instructions in preparing, on the one hand, rather simple dishes for the cook at home and, on the one hand, creations for emperors, kings and their financiers, la grande cuisine. Gouffé also penned cookbook about pastries, preserves and soups and potages.
Those chefs specifically honoring Gouffé during the festival weekend and the days leading up to it are: Olivier Tajetti at La Brasserie du Casino, Jérôme Piombini and David Vendemond at Le Lutèce, Emmanuel Basset at Les Caudalies, Gilbert Beurrier at Le Napoléon (Hôtel Les Nations), Marlène Chaussemy at La Table de Marlène (La Rotonde du Lac), Antoine Souillat at La Table d'Antoine, Pierre-Yves Lorgeoux at Le PYL-PYL, Daniel Vincent at Le Piquenchagne (in Saint-Yorre), Albert Caille at La Véranda (Aletti Palace), and Gilles Bettiol (otherwise director-chef of the caterer Le Montognon ) conducting the festival's grand Napoleon III historical dinner "A la table d'hôte de l'Empereur" (49€) in the Convention Center-Opera complex.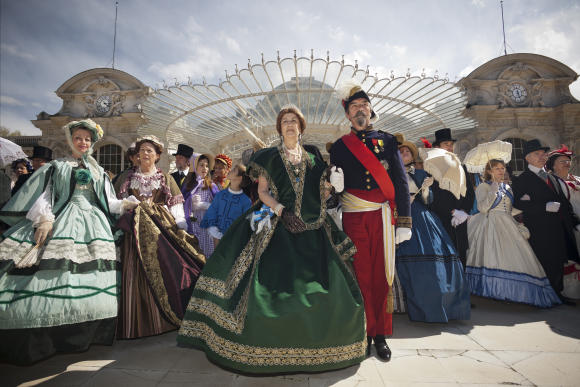 The Napoleon III festival also celebrates the golden age of the Second Empire with music (Offenbach, naturally), costumed parades, balls, an absinthe tasting, carriage rides, a Viennese cocktail hour in honor of this year's imperial guest The Austro-Hungarian Empire, and a reconstruction of a Second Empire military camp.
Also echoing Vichy's chic of yesterday is an exhibition this spring of fans (éventails) from Napoleon III's time, "The Fan during the Second Empire, between art object and fashion accessory" at Vichy's Opera/Convention Center. The exhibition presents exquisite examples from private collections as well as from the Palais Galliera Fashion Museum in Paris and the Fan Museum of London.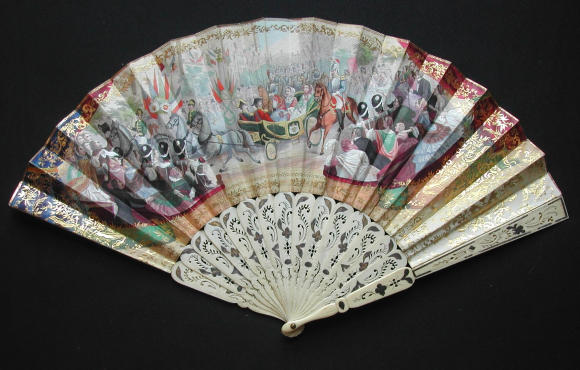 For complete details on how to party like it's 1865 see the site of the Vichy Tourist Office, 19 rue du Parc, 03206 Vichy. Tel. 04 70 98 71 94.
By train Vichy is 2:50 from Paris, 1:45 from Lyon. Vichy is a 4-hour drive from Paris and just under an hour's drive from the Clermont-Ferrand Airport.
For an article on France Revisited about Vichy's architectural history, including an accompanying audio slide-show, see Vichy: Not That Vichy, This Vichy.