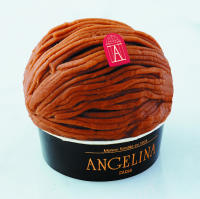 Don't be seen with last year's cream puff!
In Paris, haute couture extends all the way to the dessert trolley. Even a venerable let-them-eat-cake institution like Angelina, founded in 1903, has to keep up with the trifle trends.
On April 29, with the accompanying pops of pink champagne, Angelina unveiled the dernier cri on the calorie chart with its spring-summer 2014 pastry collection. Dark chocolate and truffles are beating a retreat, and sunny color combinations—raspberry with ecru-tinted Earl Gray cream; mellow peach with casual crumble accents—are on the rise.
Even the ultra-classic mont blanc, the Hermès scarf of the Angelina empire chocking up 600 sales a day, gets a summer makeover. It's keeping its famous sugar-dusted toupée of chestnut spaghetti cream… but adding a light, bright strawberry center to its Chantilly/meringue base.
Angelina has a history of adopting new food-stuffs from outside Europe. (Think of how it perfected the chocolat chaud adored by the French royal family since the early 17th century.) This season, Angelina has looked even farther afield for rare and unusual ingredients…
… Eastern Pennsylvania.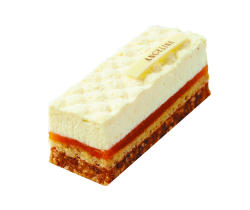 Yes, this summer Angelina débuts its first cheesecake and the fromage in question comes from Philadelphia. However, Angelina's Chef Christophe Appert is quick to deny any undue American influence. "American cheesecakes are always baked," he explains. "Ours consists of an uncooked cheese froth served on a bed of confit d'abricot and madeleine-inspired sablé crust."
(Apparently, soggy graham crackers just don't make the cut.)
These treats – rounded out with other ephemeral Angelina creations like peach/vanilla tarts, raspberry/macaroon courtisanes, and strawberry/whipped cream/hazlenut éclairs – can be sampled for under 7€/each at Angelina's nine French locations in Paris, Versailles and Lyon.
Angelina. 226 rue de Rivoli (75001), 108 rue du Bac (75007), 19 rue de vaugirard (75006), Chateau de Versailles, and other locations.
© 2014, Corinne LaBalme